There was a time; I had to make manual to-do lists and try to keep myself organized. But, now with a variety of productivity increase apps, I have not been saving time but also energy. In this post, I am sharing my best Productivity apps for Windows 11/10 from the Microsoft Store.
The goal of these productivity apps is to help you organize and get tasks done without having to hovel through needless materials and data. So, if you have been looking for apps that help you get super productive and utilize your time efficiently then the list of the best apps for productivity on Microsoft Store, maybe the thing you need.
Best Productivity Apps for Windows 11/10
Here's the list of free productivity software from the Microsoft Store:
BreeZip: Rar, Zip & 7z Extractor
Microsoft To-Do: List, Task & Reminder
SHARE.it
Microsoft Remote Desktop
Trio Office
Alarm Clock HD
My Notes
Resultivity
Dropbox
Microsoft Whiteboard.
1] BreeZip: Rar, Zip & 7z Extractor
A convenient tool to have if you are on the receiving end of many documents. The BreeZip will help you open all archived files. You can use this for all formats, Zip, RAR, 7-zip, Tar, Gzip. You also can organize the folders with passwords, making it very easy for you to view and work on your files.
It is free too. Download it from here.
2] Microsoft To-Do: List, Task & Reminder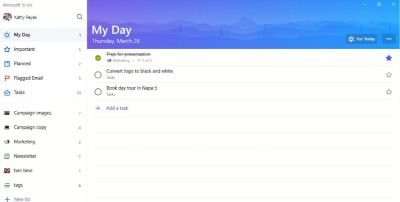 Attach file up to 25MB, get your color-coordinated to-do lists, access your task timelines on any device, and share with colleagues and friends too. You can straighten up your work life with this instrumental and free Microsoft To-Do List & Task Reminder.
Download it from here.
3] SHARE.it

You to download it and use your hotspot to share files with anybody who has "Share.it" downloaded too. All you need to have is the person on the same LAN. That is how easy it is to share files with this super-efficient software.
It is free and helps you share data smartly too. Download it here from the Microsoft Store.
4] Microsoft Remote Desktop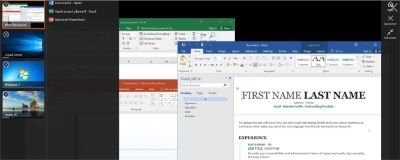 If you wish to configure your Windows PC for the remote access, then download the Remote Desktop assistant to your PC from here.
That's it, and you can access your PC from anywhere no matter where you are to help you to keep yourself productive and never fall behind. Download this app from here.
5] Trio Office

While Microsoft Office is impressive, it is expensive. Even the limited subscriptions come at a cost. If you are looking for a free substitute for MS Office without compromising a lot on the basic features, you could try Trio Office. The app offers editors for Word, Excel, and PowerPoint. Check more about the same here.
6] Alarm Clock HD
Are your usual alarm clocks failing you? Need something interactive and also a platform to get your daily checks of weather and exchange rates done? Then the Alarm Clock HD is set to make your day productive. Organize and head out to start your day.
Download the app from here for free. It gives you much more than an alarm clock. If you travel a lot for work, it keeps your timeline synched with the world clocks too. It is one of the must-have software for Windows 10.
7] My Notes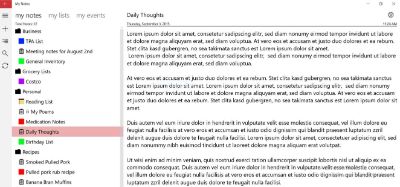 Probably one of the most underestimated apps but for people who work with multiple projects. My Notes can be a lifesaver to streamline work. Making your deadline meets and you can work faster with proper guidelines with this free app.
Download it from here.
8] Resultivity

The toughest part while trying to be productive is to battle procrastination. Setting a schedule and following it is the best way out. Bringing all this to an app makes things easier.
Unlike most other similar apps, Resultivity forces you to follow the schedule. The app rewards you upon completing the intended tasks and sends stinkers if you don't. Get this helpful app from the Microsoft Store here.
9] Dropbox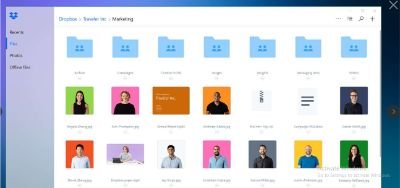 If you will be sharing large size files, then Dropbox is set to help you do that efficiently. The person you are sending it to do not necessarily have to have a dropbox account either. You can also use it as your one-stop file dropper for your whole team so you can access your files from anywhere.
It is free to use, and you can download this app form the Microsoft Store.
And finally!
10] Microsoft Whiteboard
The Microsoft Whiteboard is perhaps the funkiest way to brainstorm over your work. Work becomes much easier when you have everything on a white board in front of you. You could use the application to work in real time, create plans for websites, draw tables, or save your personal information on cloud. The app is available on the Microsoft Store.
EndNote
In the end, being productive doesn't just mean making notes. It also means learning to utilize software that helps you work smartly and efficiently without wasting away precious time. You can easily use the above list of apps to help you do exactly that.
Put those stationary and yellow stickers away because the below apps are set to help you work smartly and check off tasks efficiently.
Which Productivity apps are you using?