Artificial intelligence has come into every industry and it is impacting the functionalities in some way. There are some of the best tools for students that they can use to learn and understand things easily. Students can use those AI tools to better their learning process as well as know the nuances of the concepts they are learning. In this guide, we show you a few best AI tools for students.
Best AI tools for Students
If you are a student and looking for AI tools that can help you to learn or help you do projects, you can use the below tools.
ChatGPT
Programming Helper
TutorAI
Explain Like I'm Five
Scholarcy
Let's get into the details of each tool.
1] ChatGPT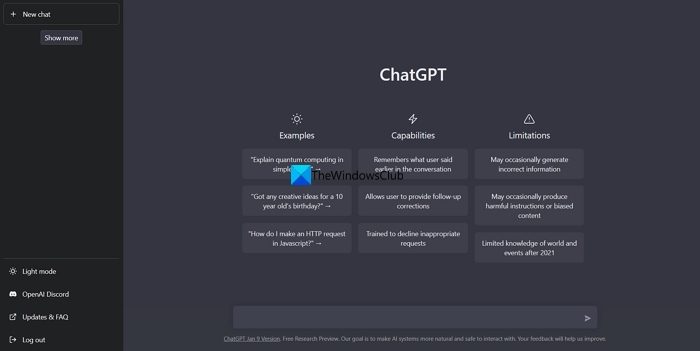 ChatGPT is one of the best tools available for everyone. It can benefit a lot to students to understand the concepts that are hard to learn. You can use this Chat bot to simplify, analyze and explain the concepts of your curriculum. All you need to do is type in your queries and wait for them to answer you as you like. You just have to read the output. ChatGPT can also make the note-making process easier by showing you the important points of a topic and easing the learning.
Read: Free online courses from top universities
2] Programming Helper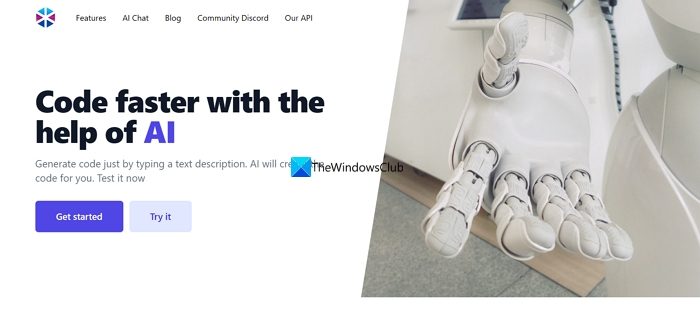 If you are a programming student and stuck writing code for a project or personal work, you can use Programming Helper to write code for you using AI. You can use the code and compare it with the code you have written. This way you can understand the nuances of code, mistakes you have made, and different ways to write code. Programming Helper is a free-to-use platform that you can use to generate code for various projects.
3] TutorAI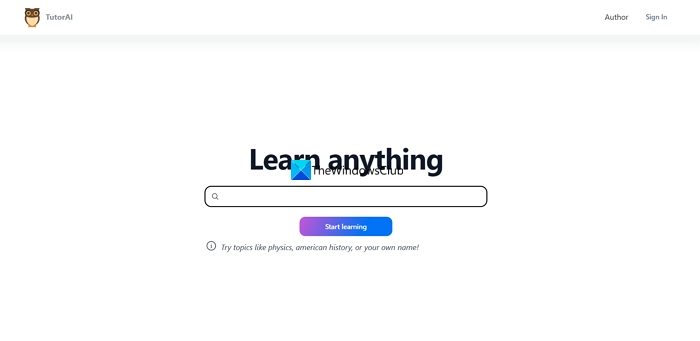 TutorAI is a learning platform where you can learn anything. It is based on generative AI that is updated to the latest news and trends. All you have to do is input your queries and read the output. When you search for something on TutorAI, it loads different modules related to that topic. The modules are segregated into beginner, intermediate, and advanced levels.  To use TutorAI, you need to sign up using an email id. It is currently a free-to-use tool and you can learn everything using it simply by inputting the text.
Read: Best AI tools for Developers
4] Explain Like I'm Five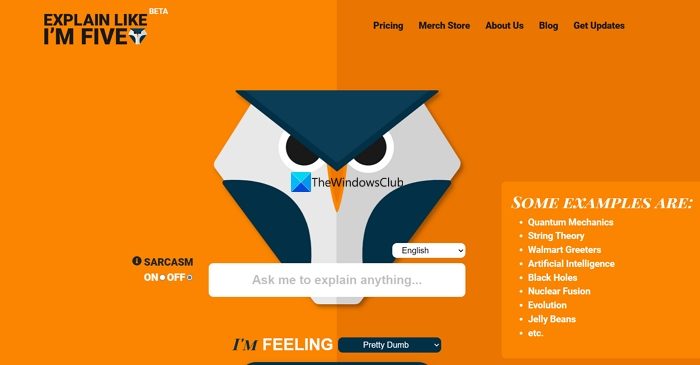 Explain Like I'm Five is a simple-to-use web application that is powered by AI to simplify topics that can be understood by a five-year-old child. You need to ask it to explain any topic. It can explain topics in many different languages and can also explain topics with sarcasm added to them if you enable the Sarcasm option. Explain Like I'm Five can be useful in preparation for exams and interviews. It is also a great tool to learn the basics of a subject that makes the solid ground to learn the subject even better with time. You can also choose the level of explanations from Pretty Dumb to Pretty Smart. Explain Like I'm Five is a paid tool that is very useful in learning subjects of your choice.
5] Scholarcy
Scholarcy is an AI tool that lets you read smarter by simplifying and summarizing articles and the input you give. You can use it to learn from articles on the internet about your subject as well as your lessons. It is very tough to go through thousands of pages of research papers. To bypass that, you can use Scholarcy to summarize the key concepts for you. You can try Scholarcy for free for 14 days. If you like the service, you can opt for its paid plan.
These are some of the best AI tools available for students to ease their learning and understand complicated concepts. The tools can even be used to do homework and complete assignments.
Read: How to apply for a Students Scholarship to Microsoft
How AI can be used in online learning?
AI can be used in online learning to simplify and organize topics in such a way that every student can understand. AI can also be helpful to make an outline of the subjects that are up to date with the current trends and happenings. It can also help students learn faster and easier.
How is AI used by students?
Students can use AI tools to simplify and summarize complicated concepts in their subjects. It can also be used to guide students on their assignments and test preparations. If a students need to do a project in the holidays without the teacher's intervention, AI can help guide the student in the right direction without wasting time.
Related read: Best essential & useful apps & services for Students,