Recording the screen on your Microsoft Windows computer can sometimes seem very important. You may use it for a myriad of purposes and thus, it helps to have the tools necessary for it handy. Lucky for you, some built-in utilities provide a screen recording feature in Windows 11/10. In this article, we will be looking at 3 ways in which you can record your screen in Windows 11/10.
How to record your screen in Windows 11/10?
Record screen using the Xbox Game Bar
Record screen using PowerPoint
Record screen using ShareX
1] Record screen using the Xbox Game Bar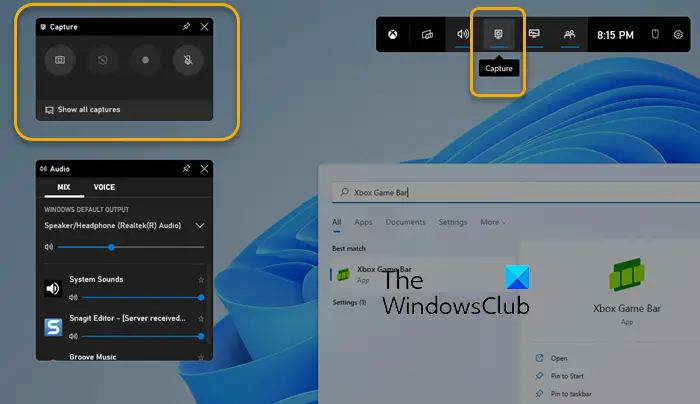 The Xbox Game Bar is built into Windows 10 and Windows 11 by default. Among the many features, it offers is the screen recording feature. This feature is primarily meant for gamers to record clips of their gameplay, but it can very well be used by anyone to record the computer screen.
A limitation that you should keep in mind is that you can only record the screen of one particular application using this feature. So, a screencast that may involve you going through several windows on a browser won't go through. Here's how you can use it.
Open the program you want to record and have it open so the screen recorder picks it up
Search for the Xbox Game Bar on the search menu of the Taskbar and open it
Here, click on the Record button from the upper-left corner
You'll then find that your recording has started, with its timeline prompt on the top-right corner of the screen, so you can monitor how long the screen recording has been
Once you're done recording, click on the square icon to stop it
If you want to access this recording, open Xbox Game Bar again and select Show all captures. This will put in front of you the list of all the recordings. Here, you can view the video(s), delete them or open them in their saved folder.
TIP: You can now record Videos using the Snipping Tool in Windows 11
2] Record screen using PowerPoint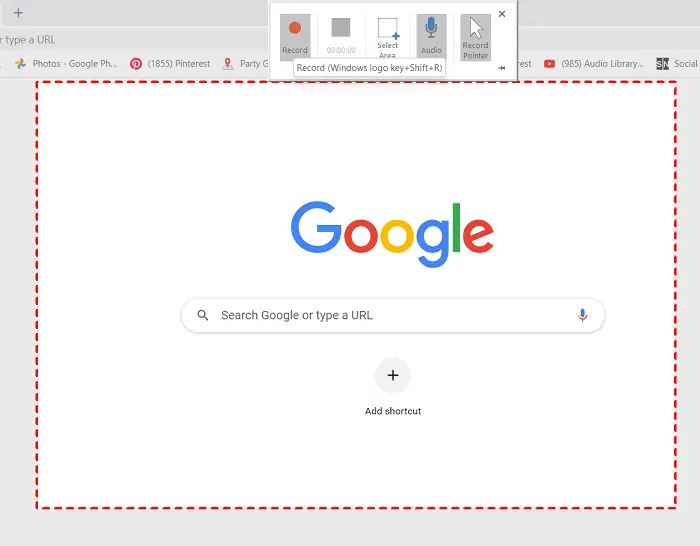 The Xbox Game Bar is a lesser-known utility and thus, most people resort to PowerPoint. PowerPoint also has a built-in recording feature, which helps you record your computer screen in the form of a slideshow. Here's how you can do so:
Open PowerPoint and further click to open a blank presentation
Click on the Insert tab and select Screen Recording from the Media section
Doing so will take you to the last opened application, so make sure the work you want to record is the last thing you open before PowerPoint
Click on the Select Area box from the small strip of options available and move your cursor over the area you want to record
Once selected, click on the red-colored recording button
Once done, select the blue-colored square button to stop the recording
After exiting the record screen, you'll find that the screen recording you've just made has been copied on a slide in the open PowerPoint file. You can now save it as a media file on your computer by right-clicking on it and selecting Save Media As.
On most days, these two tools perform a good enough job of screen recording on Windows, but on the off chance that you're not satisfied, there is free software that provides the same service. One of them is ShareX.
3] Record screen using ShareX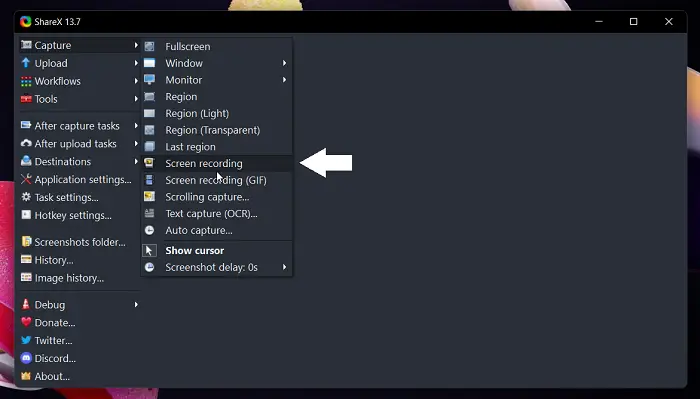 ShareX is a free screen capturing application. You can use it to make screen captures in an MP4 or GIF format. Here's how you can use it:
Open ShareX on your PC and click on Capture from the options to your left. This will present you with a dropdown where you can select to record screen in either MP4 or as a GIF
Select the area you want to record, as you did with PowerPoint. If you're not happy with the selected portion and want to record some other area of the screen, you can move around the box as well
To capture a particular window, hover the mouse over it and then click on it
Click on Stop to stop the recording. You can then choose to save the recording or discard it (abort)
Windows may ask for permission before installing the application, citing the fact that it is not an official source, but you can confirm that with assurance.
Here are some more free Desktop Recorder & Screen Recording Software for Windows that may interest you.
How do you capture a screenshot on a PC?
Taking a screenshot in Windows, on the other hand, is a much easier task. On the keyboard of your computer is a button named 'prt sc' which is short for print screen. Clicking it once captures the screen and copies it to your clipboard. You can then save it locally or modify it via Paint or a third-party image editor. There are several, very highly-rated screen capturing freeware like the Snipping Tool as well. Even ShareX described above can help you take screenshots with ease.
How do I save a Print Screen as a PDF?
If you have a peculiar demand where the screenshot you capture is to be saved in a particular format, there are tools in place for that as well. Online tools like FastStone Capture and browser extensions like Webpage Screenshot make it very convenient to copy a screenshot to your clipboard or save it as a PowerPoint, PDF, Word file, etc. with just a click or two. You can also save screenshots as PDFs using Photos App.
We hope this helps!