There is no dearth of free screen capture software or screen recorder software available, but here is another one called ChrisPC Screen Recorder that is worth looking at too as it lets you do both and more. It lets you capture screenshots, record the screen and edit the video For a person like me, screen capturing tools are part and parcel of my job and this further forces me to choose the best one out there. I have been using Chris PC Screen Recorder free version from quiet some time now and it seems pretty good. If you are into making tutorials and letting other people learn then the ChrisPC Screen Recorder for Windows is one of the most compelling choices out there.
ChrisPC Screen Recorder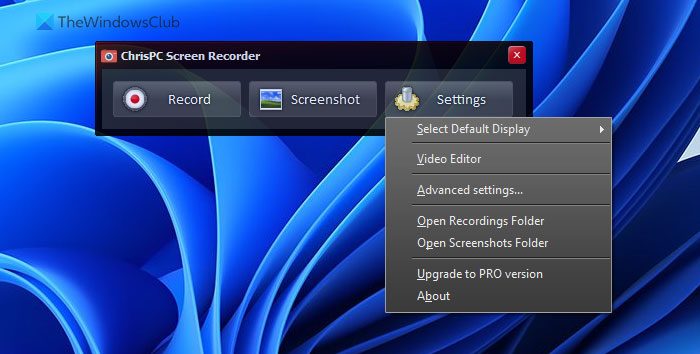 Installation and Core Features
Typical straightforward installation – download the .exe file and run it. Thankfully the program is more like an applet and is light in nature. I personally found the user interface to be clutter free and intuitive in nature. Starting up is pretty simple.
Clicking on "Record" will open a dropdown that displays three options, "Full Screen", "Selected Area" and "Selected window." These options are very useful since the screen recorder will be auto-locked in the aforementioned locations without the need to adjust it during recording.
Video Editor
Well, the Video Editor is bare basic but again this is kind of a bonus feature considering that ChrisPC Screen Recorder is a hardcore screen recording tool. The video editor prompt comes up at the end of the recording, and in cases, you want to expel some unwanted bits from the video you can do so with the editor.
Video Quality
While recording the screen video, the resolution is of prime importance, and ChrisPC Screen Recorder lets you choose the quality of the video from the "Settings" section which will help you fine tune the entire process. Furthermore, the options will also let you decide if you want the cursor to be visible and also the FPS.
Screen Capture
I couldn't possibly imagine the world without screenshots, from tutorials to troubleshooting screenshot has a quintessential role to play. In the "Settings" one can select the format for screen grabs and the output location is customizable. The best feature, however, is that the program uses your inbuilt mic to record the sound so that you could do voice over on a real time basis.
Limitations of the free version
I tested the free version. But it's very natural for us to want to know what features are left out of the free version but have been included in the Pro. Features like Watermark, countdown timer toggle are not available i the free version. Plus the free version allows only 10 minutes of screen recording and that can be a letdown for some. Personally, the free version sufficed for me and I could go about and work without any shortcomings.
How do I edit a screen recording video?
There are countless apps to edit a screen recording video on Windows 11 and Windows 10 computers. For example, you can ise Shotcut, PawEditor, Vidiot, VideoPad, Movavi Video Editor Plus, VirtualDub, etc. However, you can also add various effects using the in-built Photos app.
Can a screen record be edited?
Yes, a screen recording can be edited without any problem on your Windows computer. Whether you use Windows 11 or Windows 10, you can edit the screen recording as per your requirements. Whether you want to trim the video, add effects, change colors, or anything else, you can do everything on your Windows PC.
Verdict
The program has been pretty stable and has never hung up on me also I particularly love the simplicity with which one can switch between screen recording and screenshots. If you are on a lookout for a comprehensive screen recording tool you might want check out ChrisPC Screen Recorder. It is available from its home page.