In this tutorial, we will show you how to print a test page in Windows 11 without using any third-party tool. This can come in handy to check the alignment issue, ink flow for text and image quality, etc., before you start printing straight away, especially with a new printer. Though there exist some good free tools to test your Printer, Windows 11 provides built-in ways to print a test page. So, for those who prefer native options, this post will be helpful.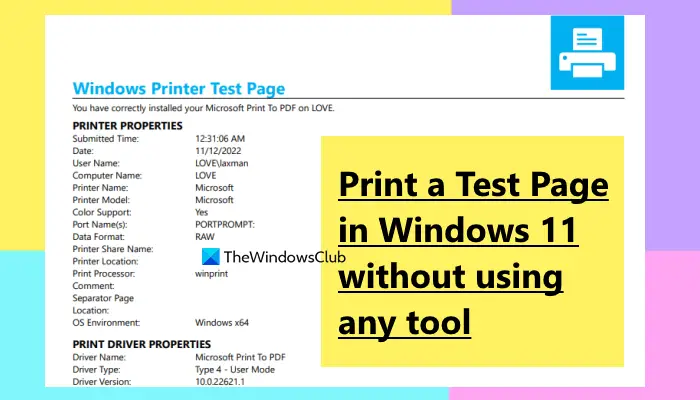 You will get a meaningful output as the test page will provide technical information about the printer which includes printer properties (name, port name, computer name, OS Environment, etc.), print driver properties, and more.
Print a Test Page in Windows 11 without using any tool
There are two native options to print a test page in Windows 11. These are:
Using the Settings app
Using the Printer Properties.
Let's check both options one by one.
1] Use Windows 11 Settings app to Print a Test Page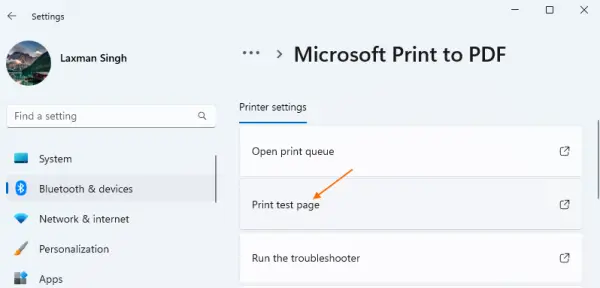 Follow these steps to print a test page using Windows 11 Settings app:
Use the Win+I shortcut key to open the Settings app
Click on the Bluetooth & devices category on the left section
Select the Printers & scanners page from the right section
Select your printer from the list of available printers. If the printer is not available, then first install or add a local printer and then select your printer
Click on the Print test page option.
The page will be added to the printer queue and then the test page will come out. Now you can check if your printer settings are OK. If not, adjust or change the printer's default settings and print a test page again.
2] Print a Test Page using Printer Properties in Windows 11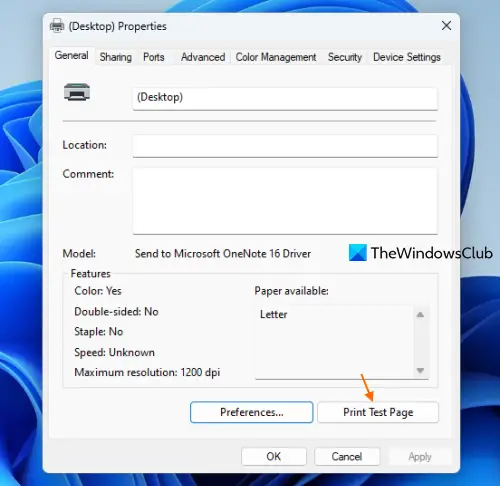 You can also access Printer Properties to print a test page on your Windows 11 system. This is useful when you want to adjust some printer preferences such as, set page orientation (Landscape or Portrait), and changing paper size (A3, Legal, Tabloid, B4 (JIS), etc.) before printing a test page. Here are the steps:
Access Bluetooth & devices category
Access the Printers & scanners page
Select a printer
Click on the Printer properties option and a separate box will open
Switch to the General tab in the Printer Properties box
Press the Preferences button if you want to change page orientation, print quality, paper size, etc. Or else, leave this option
Press the Print Test Page button available on the bottom right part of the Printer Properties box
Press the OK button to close the Properties box.
That's it.
How do I Print in Windows 11?
Almost all applications (Office apps, browsers, desktop programs, etc.) come with a Print option that you can access from the File menu to take a print of your document. Use that option or press the global hotkey Ctrl+P in an application. This will open the Print settings where you can select your printer, set the number of pages to print, page margins, page size, and more, and then hit the Print button.
Read: How to check Print History in Windows
Why can I not Print a test page?
If you try to print a document or a test page in Windows 11/10 and the computer freezes when printing, then use Windows built-in Printer Troubleshooter and see if it helps. You should also restart the Print Spooler service or launch the print application with admin permissions. If this doesn't work, then you should reinstall the printer. If you installed and configured your printer correctly, you won't have any issues while printing.
Read next: Why is my Printer Offline in Windows?