The 4K video quality is the highest video quality available for general systems. It is popular among gaming users. However, a lot of users report that they are not able to play 4K videos on their system. If you are facing the same problem on your computer, please read this article.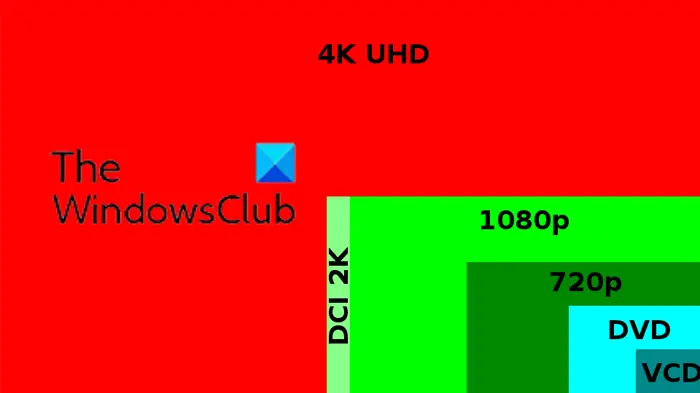 What is 4K video quality?
The 1080p resolution has been popular for long. This is called 2K video quality. If you double this figure to 2160p, then the video quality is called 4K. 2160p is the frame width and the height could differ depending on the requirements of the creator. The most common dimension is 3840×2160.
How to play 4K video on Windows PC smoothly
If you wish to play 4K videos on your Windows 11/10 smoothly, then keep the following points in check:
Make sure that your monitor supports 4K videos
Use an external GPU
Use a third-party media player
Update your Graphics Card drivers
Change the Power Plan to High Performance
Set your computer to run on Best Performance
Downsize the file
Disable Hardware Acceleration
1] Make sure that your monitor supports 4K videos
If your monitor doesn't support 4K videos, they won't play on your system no matter what software you try. Since 4K monitors aren't the most popular ones in the market (1080p ones are) yet you could make sure to check this parameter before buying the monitor. The same applies to laptop screens. Other than this, we recommend preferring a curved monitor since most 4K videos need the same to adjust to the higher resolution.
2] Use an external GPU
While the newer versions of Intel and AMD processors support powerful internal GPU units, they are still not in comparison to external GPUs. You can still play a 4K video with an in-built GPU, but it won't be smooth. To play a video on your computer smoothly, use an external GPU. The most popular brands for them are NVIDIA, MSI, and AMD.
Read: Fix 4K choppy video lagging issues in VLC Media Player
3] Use a third-party media player
The Movie media player and Windows Media Player are excellent tools to play videos on your system. However, they neither support all codecs nor are they the best media players for playing 4K videos. In this case, you are advised to try a third-party media player, especially VLC Media player. Third-party media players are updated from time to time in order to accommodate the latest video qualities including 4K.
4] Update your Graphics Card drivers
If the monitor, software, and GPU support 4K videos and you are still not able to get the right experience, try updating the Graphics Card driver of your computer. This can either be done by installing optional Windows Updates on your computer, or by running driver update tools like Intel Driver and Support Assistant or AMD AutoDetect on your computer. If you are using an external GPU, then you can also download the drivers from the manufacturer's website.
5] Change the Power Plan to High Performance
4K videos need a significant influx of power and need more system resources than usual. In this case, you can change the power plan to suit the needs of the 4K video. This can be done by changing the power plan to the High Performance mode. This mode will consume a lot of power on your computer but is ideal for playing 4K videos and games with 4K video quality.
Read: Best free 4K Video Players for Windows
6] Set your computer to run on Best Performance
Once you have set the Power Plan of your computer to High Performance, you can also adjust the settings of your computer to run at Best Performance. In the Best Performance mode, the appearance of elements on the computer will be compromised. However, it will not impact the video itself, which is a separate entity. The procedure to do so is as follows.
Search for "performance" in the Windows Search bar.
Open the window to Adjust the appearance and performance of the computer.
In the Performance Options window which opens, check the radio button at Best Performance.
Click on Apply and then on OK to save the settings.
7] Downsize the file
Let us assume either of the following cases:
You do not have a monitor which supports 4K videos.
You cannot change the GPU of your system.
Your system crashes or freezes upon trying to play 4K videos.
You can still watch the video in the situations as mentioned above by downsizing it to lower video quality. This can be done by using free third-party video conversion tools. The video quality could be downsized to 1080p or 720p. Also, if you can play 4K videos but the system hangs, downsizing it to a lower quality will allow you to view it smoothly.
8] Disable Hardware Acceleration
Disable Hardware Acceleration and see if that helps in any way.
All the best.
Why is 4K video quality needed?
A simple logic is that beyond the original size of the video frame, the larger the frame, the more blurred the video. Thus, if the video's original frame is large, it will be streamed in the same quality even on much bigger screens. 4K is the largest frame width for screens and software products manufactured in the common user market.