If you don't want to spend money for a secure flash drive, then these freeware utilities may be of interest to you, should you wish to password protect your USB Drive. These free software will help you lock and password protect your removable drives and help secure and protect it, by preventing unauthorized access.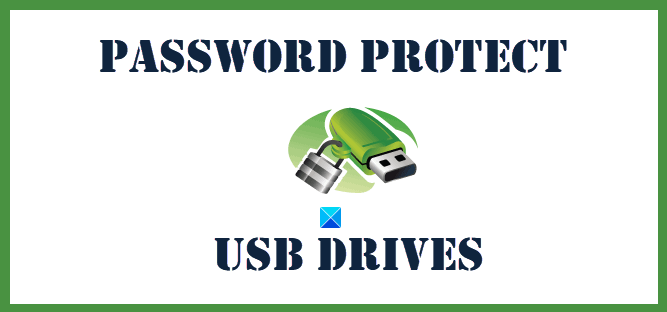 Password protect USB Drive
You have the following ways to password-protect USB Drives:
BitLocker To Go
USB Safeguard
KASHU USB Flash Security
Rohos Mini Drive
TrueCrypt
USB Write Protect
Cryptainer LE.
1] BitLocker To Go
Encrypt USB Flash Drives with BitLocker To Go. Microsoft has extended Bitlocker functionality in Windows 7. BitLocker To Go extends BitLocker data protection to USB storage devices, enabling them to be restricted with a passphrase. In addition to having control over passphrase length and complexity, IT administrators can set a policy that requires users to apply BitLocker protection to removable drives before being able to write to them.
2] USB Safeguard
USB Safeguard is a portable freeware that lets you lock your pen drive and make it write-protected. This will help prevent access to your removable drives should you ever misplace it and keep your data, safe and hidden. The software works by encrypting your data using the AES 256 bits encryption algorithm.
3] KASHU USB Flash Security
KASHU USB Flash Security is a program, a free utility for password protecting USB keys and other sensitive data stored in it.
4] Rohos Mini Drive
Rohos Mini Drive creates a hidden and encrypted partition on the USB flash drive memory. You work with the files on the hidden partition without opening a special program. Those who have megabytes of sensitive files on the USB drive and seriously concerned with data security, cannot imagine their USB stick without the hidden volume that is created using this tool.
5] TrueCrypt
TrueCrypt lets you create a virtual encrypted disk within a file and mounts it as a real disk. It encrypts an entire partition or storage device such as a USB flash drive or hard drive. The encryption is automatic, real-time, and transparent. It can encrypt a partition or drive where Windows is installed (pre-boot authentication) and provides for plausible deniability, in case an adversary forces you to reveal the password.
6] USB Write Protect
USB Write Protect is a tiny application that will write-protect your USB drives from accidental file deletion or modification. This can prevent anyone from modifying the contents, deleting the files, or writing on to it impossible. It can also consequently prevent virus infections, thereby making your flash drive more secure.
7] Cryptainer LE
Cryptainer LE  is a freeware utility that creates encrypted vaults of up to 25 MB each to store any type of data. You can encrypt files and folders by simply dragging and dropping them into this vault. Additionally, it lets you create secure e-mail files that you can send to anyone. It also includes a 'Mobile' feature, which allows it to encrypt all media, including, USB, CD ROM, etc. It works on all 32-bit versions of Windows.
Know of any more such 3rd party freeware utilities? Do share!
Go here if you want to have a look at some free file encryption software. You can use them to protect your folders from prying eyes.
Want to check out some of these posts!?