If you need to disable or enable the writing permissions on your USB drives easily, USB Write Protect may be the tool you are looking for. While you can enable USB Write Protection using Group Policy or Registry Editor, this tool makes things easy.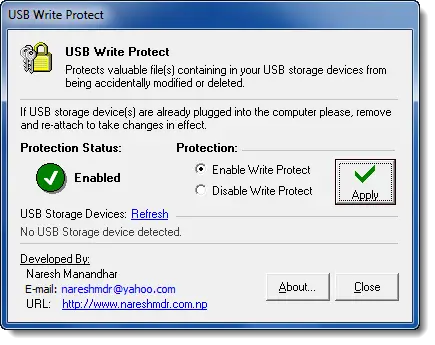 Write-protect the USB Flash drive
USB Write Protect is a tiny application that will write-protect your USB drives from accidental file deletion or modification.
This can prevent anyone from modifying the contents, deleting the files, or writing on to it impossible. It can also consequently prevent virus infections, thereby making your flash drive more secure.
If any USB storage devices are already plugged into your PC, you will have to first remove them, run this tool and then re-attach them.
USB Write Protect is a freeware portable Windows utility, sized at only 11 KB only.
USB Write Protect free download
You can download it from its Home Page.
Here are some more tools that will help you Password Protect USB Drives.
Related reads, you may want to have a look at:
How to remove the Write Protection on a Disk.