In Windows 11, Microsoft Edge is set as a default browser and comes with loads of features, such as a customizable home page, and an easy-to-manage interface with solid privacy settings and app support. In this article, we will explain what is Edge Safe Mode and how to open the Microsoft Edge browser in Safe Mode.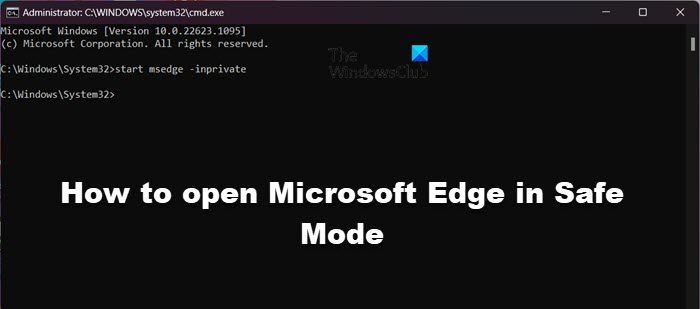 What is Safe Mode in Microsoft Edge?
If you face any issue during your browser's startup, the Edge has a diagnostic mode called Safe Mode which helps users to troubleshoot their browser issues. When you run the Edge browser in Safe Mode, it will start with all the necessary browser extensions disabled, thus preventing any 3rd-party process from interfering with your browser and allowing you to find the root causes of your issue.
Some users are, at times unable to launch Microsoft Edge on their PC. For others, it causes issues like freezing, crashes, or loads slowly. To resolve the issue, you can launch the browser in Safe mode to find the exact cause of the error.
Read: Create a shortcut to open Edge browser in Safe Mode or InPrivate mode
How to open Microsoft Edge browser in Safe Mode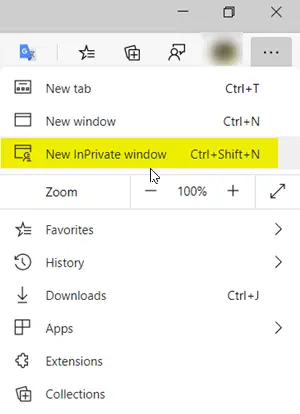 In Microsoft Edge, Safe Mode is combined with InPrivate mode. To use Edge in Safe Mode, open a new InPrivate window. To exit Safe Mode in Edge, close the InPrivate browser window.
Use these steps to run Edge in safe mode.
Open the Microsoft Edge browser.
On the top right corner of the screen click on three dotted lines.
Now select the New InPrivate window.
Alternatively, you can run the Edge browser in safe mode through the Command Line:
Press Windows + R key to open the run dialog box.
Type cmd and hit Ctrl + Shift + Enter to open Command Prompt with administrator privileges.
Now in the command prompt type start msedge –inprivate to open Edge in InPrivate mode or Safe mode.
Hopefully, now you know how to open Edge in Safe Mode.
TIP: You can make Microsoft Edge always start in Safe Mode by editing the Windows Registry.
If you are a fan of Safe Mode or want your browsing to be as safe as possible, you can try the Super Duper Secure Mode in Edge. Well! Yes, that's exactly what it's called. It is made to prevent your data from cybercriminals, who can access and exploit bugs in the app and cause harm to you.