This guide will show you how to make Microsoft Edge always start in InPrivate mode by editing the Windows Registry. By doing so, New window mode (Ctrl+N) in Microsoft Edge is disabled, as a result, whenever you launch the Edge browser using its taskbar icon, Start menu, or desktop shortcut, it opens with InPrivate mode only.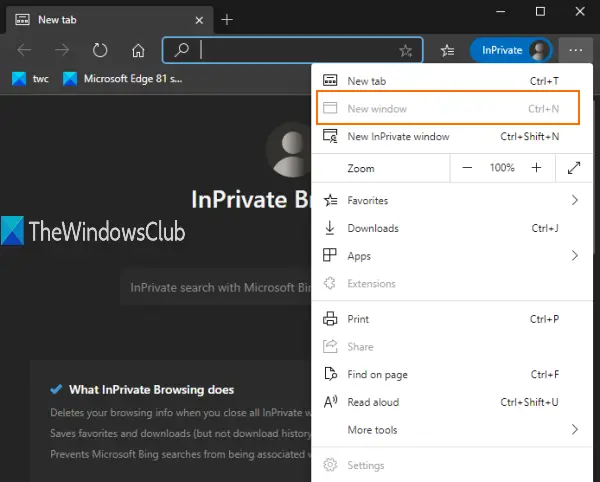 Also, when you will open a new tab, that tab will also open in the private window only. You can do all this with a simple Registry tweak. This post covers all the steps. You can also undo this change and use the normal window anytime.
As normal window mode is disabled using this trick, you won't be able to access Favorites manager and Settings of Microsoft Edge, because those require a normal window.
In the image added above, you can see that the New window option is greyed. That simply means only InPrivate or incognito window mode will work in the Edge browser.
Always start Microsoft Edge in InPrivate window mode
We have seen how to start Microsoft Edge browser in InPrivate mode, now let us take a look at this Registry tweak. As this is a Registry tweak, you should backup Windows Registry or create a system restore point.
Now open the Registry Editor and navigate to this key:
HKEY_LOCAL_MACHINE\SOFTWARE\Policies\Microsoft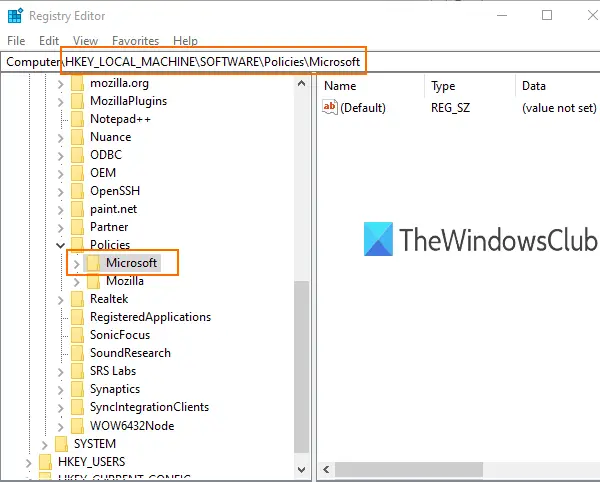 In Microsoft key, create a new key.
For that, you can right-click on the Microsoft key and use New option. Rename that new key with name 'Edge'.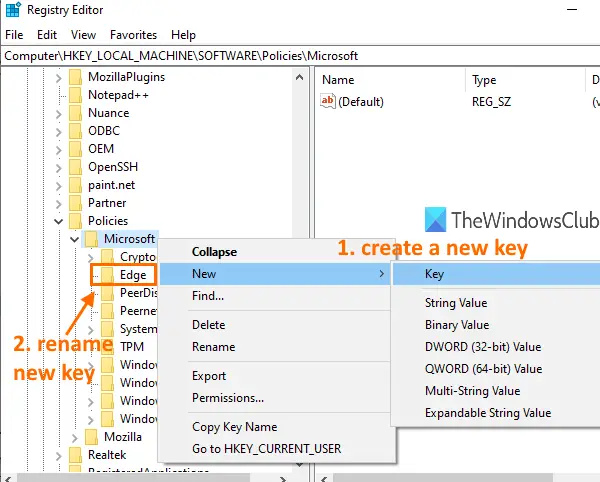 Select the Edge key that you created. After that, on the right-hand part, create a DWORD (32-bit) value using the right-click context menu, and rename that value as:
InPrivateModeAvailability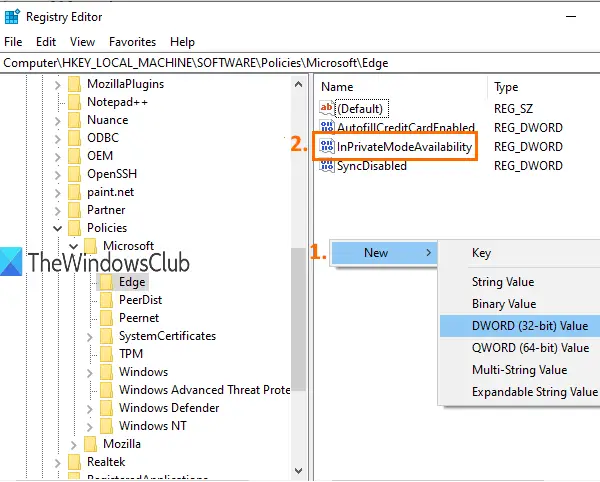 Double-click on that value and a small box will open.
Add '2' in the Value data field of that box. Save this change by clicking on OK button.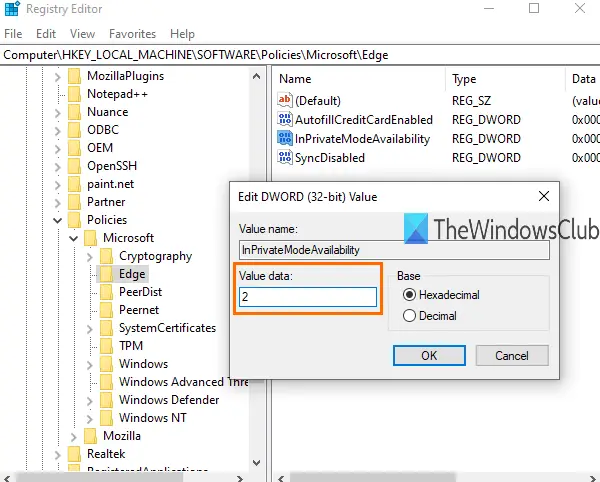 Now launch the Microsoft Edge browser and it will open with InPrivate mode.
To undo the changes, you can follow the above steps, and add 0 in the Value data field of InPrivateModeAvailability. This will enable new window mode again and the Edge browser will open with normal window.
TIP: This post shows how to automatically clear the cache when you exit the Edge browser.
That's all.
Incognito mode or InPrivate window mode is good to use when you don't want to store cookies, keep your browsing info, download history, etc.
I hope this trick will help you disable normal window mode with ease so that you can always use only InPrivate window mode in the Microsoft Edge browser.
Read: How to launch Microsoft Edge without Extensions.