Internet Explorer has been a big part of Microsoft's rich history for over 30 years. When Microsoft came out with Windows 11, one of the biggest departures from its ecosystem was that of Internet Explorer. They hadn't completely gotten rid of it then, but since the discontinuation of its last rendition, IE 11, Microsoft no longer supports Internet Explorer. This makes life especially difficult who conduct their day-to-day browser activities on Internet Explorer and have saved bookmarks on it. In this tutorial, we will see how you can move your Internet Explorer Favorites over to Microsoft Edge in Windows 11/10.
How to import Internet Explorer favorites to Microsoft Edge
IE 11 was Microsoft's last working version of Internet Explorer, which they decided to stop granting support to Windows devices. This was done to pivot existing IE users to Microsoft Edge, given the Chromium-based browser is capable of loading both legacy and modern websites and apps.
Microsoft didn't leave organizations operating around Internet Explorer-based legacy sites high and dry and made provisions to access the same with the Internet Explorer mode in Microsoft Edge. For this tutorial, we will be using the Internet Explorer mode only.
How to open Internet Explorer in Windows 11
While it is easy to open IE in Windows 10, the workaround in Windows 11 is a bit different. Before we begin migrating the Internet Explorer extensions to your Edge browser, let's look at how you can open Internet Explorer on a Windows 11 computer.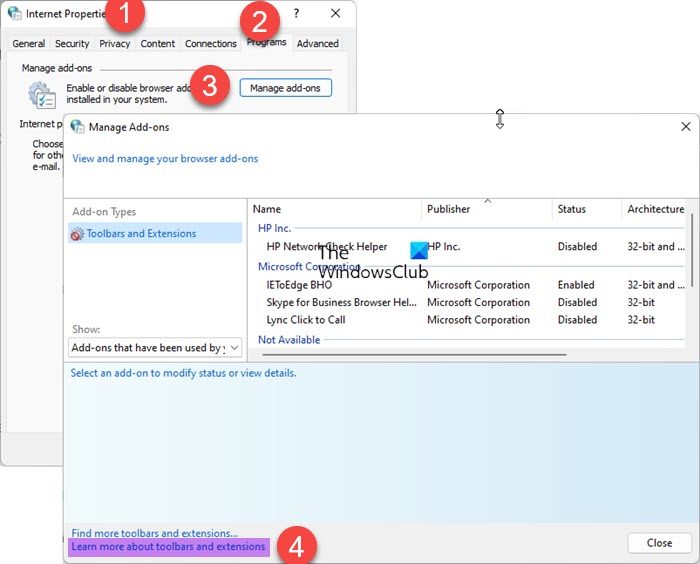 If you wish to actually open and use the Internet Explorer browser in Windows 11, do the following:
Using Search, Open Internet Options
Click open the Program tab
Click on Manage Addons button
In the next Manage Addons window, click on Learn more about toolbars and extensions
Internet Explorer browser will launch.
Now, let's look at the steps you need to follow to move your Internet Explorer favorites to Microsoft Edge.
Read: How to manage Favorites in Microsoft Edge browser
Export Internet Explorer Favorites
Open Internet Explorer and press Alt + C to open the View favorites, feeds, and history section
Click on the Import and Export option under the Add to Favorites section
Select Export to a file, and from the list of options, click on Favorites
Select the folder and location where you'd like to store this and click on Export to initiate the process
Once complete and the Favorites are exported in an HTM file format, move it to the Windows 11 system on which you're using Edge
This post shows how to backup or export Favorites, Password, etc. in Internet Explorer.
Import the Internet Explorer Favorites into Microsoft Edge
Now, let's see how you can import Internet Explorer Favorites into Microsoft Edge.
Open Microsoft Edge on your PC and click on Favorites
Now, select More Options and further select Import Favorites
This will open a separate Settings page. In the 'Import from' drop-down, select Favorites or Bookmarks HTML file
Then, choose the file that you'd previously exported and once the process is finished, your exported IE Favorites will begin to appear as your Microsoft Edge Favorites
These Favorites can then be played around with or customized like any other link you'd bookmark on Microsoft Edge.
Related: Internet Explorer End Of Life; What it means for businesses
How do I restore my favorites to Microsoft Edge in Windows 10?
If you have an avid habit of saving links as Favorites and then following up on them later on, then losing your favorites can be a big deal to you. There exists an easy way to retrieve lost Microsoft Edge Favorites on a Windows 10 computer. Simply enter 'edge://flags' on the Edge address bar, search for import in the search prompt, and set the Import data from the Microsoft Edge Legacy drop-down to Enable. Restart your browser to save these changes and post that, you'll find your lost Favorites back in the Edge favorites section.
Read: How to import Bookmarks into Edge from Chrome, Firefox, etc.
How do I sync my favorites to the Edge?
Syncing your Edge bookmarks allows you to share the same, original bookmarks you'd made across as many devices on which you choose to run Edge i.e., it provides flexibility and mobility to your favorites. Follow the steps below to sync your Edge favorites:
Click on the triple-dotted icon and go to Settings
You'll find the Sync option in the Profile section. Click on it
Select Turn on Sync and enable your Favorites to be synced
You will then be able to use your favorites cross-devices. We hope that you find this post helpful and will be able to move bookmarks from Internet Explorer to Edge on a Windows 11 device successfully.