Internet Explorer survived in the digital space for long (more than two decades) amid stiff competition from its rivals. However, Microsoft has made it clear, the Desktop application will go out of support and be retired on June 15, 2022, for certain versions of Windows 10. Yes, Internet Explorer is retiring. So, what it means for commercial organizations, IT admins, developers, and end-users. We'll try to answer these questions in our today's post.
Internet Explorer End Of Life; What it means for businesses
Launched in 1995, Internet Explorer was the dominant browser on Windows computers until it faced a real challenge from the likes of Google Chrome and Mozilla Firefox. Thereafter, people started ditching IE and began switching to newer browsers. Still, many businesses continued to remain dependent on Internet Explorer support for their business-critical apps. Now, the new date has set the final deadline.  Here's what you should know or be aware of.
1] Will the Internet Explorer desktop application be removed from devices?
The very first thought that comes to an IE user's mind is following this announcement will Internet Explorer 11 desktop application be removed from devices?
Well, that's not likely to happen since the IE11 engine is required for IE mode to function. However, after the IE11 Desktop application is retired on June 15, 2022, it will be disabled permanently.
2] Will iexplore.exe be removed from devices?
No! However, if a user tries to access it, they will be unable to open IE11 and will be redirected to Microsoft Edge instead.
3] Will the retirement affect my browser default? What if IE is not configured as my default browser?
Again, the answer is in 'No'. The retirement will only change your browser default if your default had been set to Internet Explorer 11. So, if IE11 is set as your browser default, it will change to Microsoft Edge.
Which platforms will be affected by the IE11 Desktop application retiring on June 15, 2022?
Internet Explorer 11 Desktop application delivered via the Semi-Annual Channel (SAC)
Windows 10 client SKUs (version 20H2 and later)
Windows 10 IoT (version 20H2 and later)
Which platforms will be unaffected?
Internet Explorer mode in Microsoft Edge
Internet Explorer platform (MSHTML/Trident), including WebOC
Internet Explorer 11 desktop application on the following versions of Windows – Windows 7 Extended Security Updates (ESU), Windows 8.1, Windows Server SAC (all versions), Windows Server LTSC (all versions), Windows 10 IoT Long-Term Servicing Channel (LTSC) (all versions) and Windows 10 client LTSC (all versions).
4] How will it impact organizations worldwide?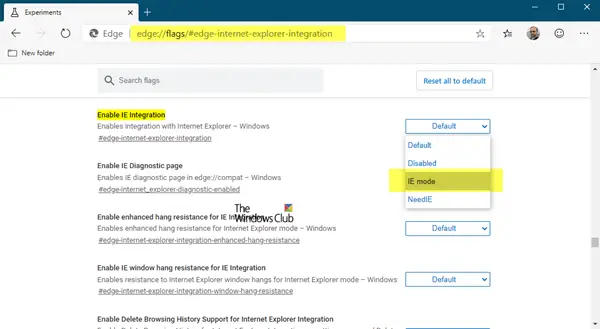 Microsoft says, if your organization has legacy browser dependencies, you'll need to enable legacy browser support in Microsoft Edge by switching to Internet Explorer mode.
That said, if you have Microsoft Edge already installed, you have automatically cut short the process to help you with migration.
5] What IE functionality is replicated in IE mode of Edge? Does it support  Active X controls like Java & Silverlight?
The answer is Yes. IE mode supports all document and enterprise modes, Active X controls (such as Java or Silverlight), and more. You can find a complete list of it on this page.
What functionalities IE mode doesn't support include, Internet Explorer toolbars, Internet Explorer settings and Group Policies that affect the navigation menu and IE11 or Microsoft Edge F12 developer tools.
Note:  Silverlight support ends on October 12, 2021.
6] Will Edge be able to open .mht and .mhtml files that open in Internet Explorer but not in?
Microsoft plans to add .mht and .mhtml file support in Microsoft Edge and IE mode of the browser. You can see it happening, beginning with Microsoft Edge version 92. Make sure to set IE 11 as the default handler for this file type to open in IE mode.
Read: How to import Internet Explorer Favorites to Edge browser
7] What about the developers?
The company makes it clear, apps developed for IE should work in Microsoft Edge through IE mode. If you run into any trouble or experience compatibility issues such as an error loading a site, you can reach out to App Assure for remediation assistance ([email protected]). In the same breath, it also gently reminds developers to create a plan for ending their dependency on Internet Explorer.
8] Can you continue using Internet Explorer Desktop application even after June 15, 2022?
No. Microsoft won't allow for an exception to this timeline, but you can leverage the dual-engine advantage of Internet Explorer mode for compatibility with legacy websites and the Chromium project i.e., you can access your old legacy Internet Explorer-based websites and applications as well as run modern websites.
For any additional information on this topic, you can visit the Microsoft Tech Community page.