If you are an avid Snapchat user, you may want to switch your app theme to Dark Mode (also known as Night Mode) on your Android phone or PC. This could be either because you experience eye strain while using the app on your phone or PC, or you are just plain bored with the usual Light Mode theme.
The Dark Mode was mainly introduced to reduce the light emittance by the device screen, thus, causing less pressure on your eyes. This is because the powerful blue rays of the screen can lead to headaches or sleep disturbance. Therefore, a lot of apps these days including Snapchat offer the Dark Mode option for a comfortable screen viewing experience.
When you turn on Dark Mode on your app, it changes the color scheme to minimum contrast ratios, thus, changing the background to a darker theme (mostly black) with white text. It's called differently in different apps, for example, in Google or YouTube, it's called the Dark Theme. For other apps like Facebook, Twitter, Instagram, or Reddit it's called the Dark Mode. At the same time, not all apps offer the Dark Mode option.
However, fortunately, Snapchat does offer the option to turn on Dark Mode on your Windows PC or Android device. Therefore, in this post, we will show you how to enable the option.
How to Enable Snapchat Dark Mode on Android phone
While Snapchat comes with a built-in dark mode feature for the iOS app, it surprisingly does not yet have the option for Android. However, we are hoping that it's under work and it's coming pretty soon. Nevertheless, we will share the news as soon as it's available.
Having said that, there is an alternative that can help you can force Dark Mode on your Android phone, if not natively on Snapchat. For this, you need to enable the Developer mode in Android. On your Android device, open Settings > scroll down to About phone > Software information > Build number > tap on it seven times to activate the Developer mode. You will see a confirmation that says, Developer mode has been enabled.
Next, go back to the Settings menu and click on Developer options under About phone. Here, scroll down to the Hardware accelerated rendering section and enable Force Dark mode.
Read: How to enable the Developer Mode on Discord for PC and Web
How to Turn on Dark Mode in Snapchat on Windows PC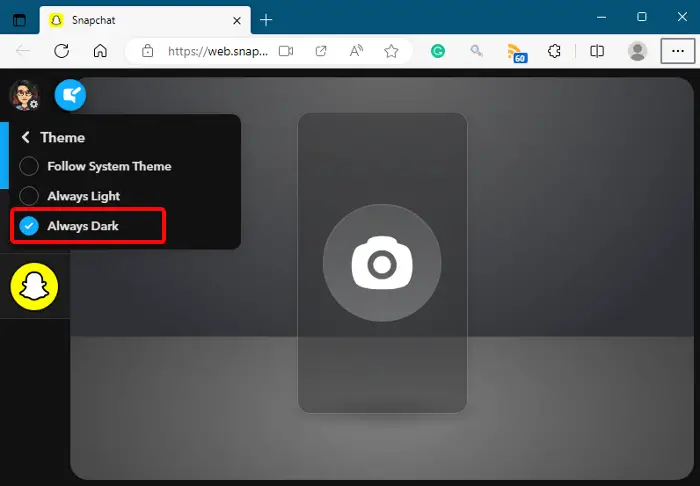 Yes, you can enable Dark Mode in Snapchat on a Windows PC easily. However, you must have the Snapchat app installed on your phone. Also, you must create a Snapchat account on your phone. Once you have that in place, you can either download the app on your Windows PC from the Microsoft Store or access it through the web.
Now, launch the app on your PC or open Snapchat on the web, and your chat page, and click on the gear icon on your profile (top left). From the menu, select Theme, and choose Always Dark to apply the Dark mode.
Read: Windows Stuck in Dark Mode; How to get out of it?
How do you get rid of Dark Mode on Snapchat?
To disable Snapchat Dark Mode or switch to another theme on Android, open the Settings menu on your device. Now, scroll down to Developer options, scroll down to the Hardware accelerated rendering section, and turn off Force Dark mode. You can also turn off the Developer option if you are not using the developer mode anymore.
For Windows PC, click on the gear icon on your Snapchat profile icon again, and click on Themes. From the menu, select any other Theme from the other two options, Follow System Theme and Always Light. This will disable the Dark Mode in Snapchat on your Windows PC.
Does dark mode save battery?
According to a new study on six Google Play Store apps, dark mode saves only 3 to 9 percent of your phone's battery with OLED screens when the phone brightness is average. So, contrary to the belief that dark mode saves battery, the facts are quite the opposite. However, the power-saving percentage does increase significantly, that is, about 39 to 47 percent when the brightness is at its peak. So, even if you enable Dark Mode in apps like Snapchat, that may just be soothing to your eyes with not much power-saving ability.