In the game VALORANT, there is an option in the video settings called Multithreaded Rendering. In this post, we discuss what is it, how it affects your Windows 11 or Windows 10 gaming system, and how you can enable or disable the setting designed for the high-end device.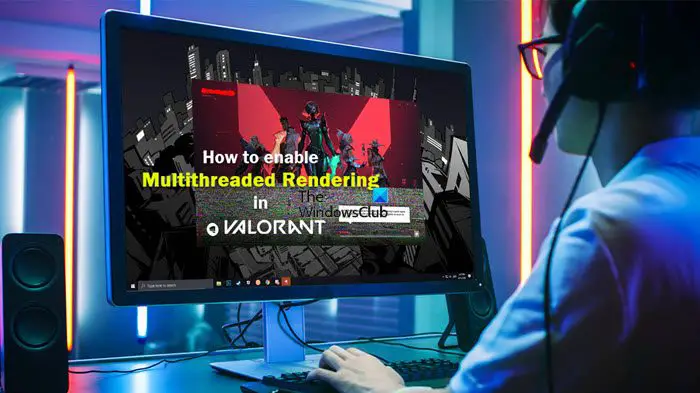 What is Multithreaded Rendering?
This is a video setting that can improve CPU performance and graphics quality on high-spec devices. Essentially, multithreaded rendering simply splits the workload across multiple threads thereby helping to enhance a CPU's performance if it has four or more cores. To make the most of multithreaded rendering for the best or optimal gaming experience on your rig, make sure your gaming PC meets the following minimum specs:
Read: Enable or Disable Software Rendering via Internet Options
If you are unsure how many cores your processor has and you want to find out the number of CPU cores and threads in Windows 11/10, you can follow the steps below.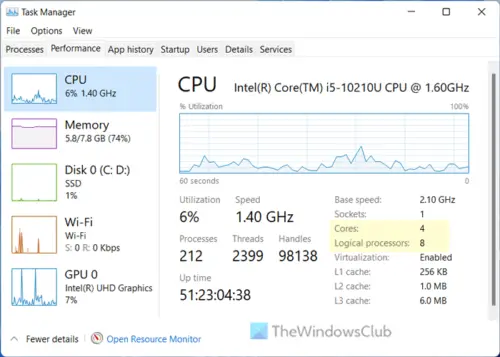 Open the Task Manager on your computer.
Click on More details.
Go to the Performance tab.
Choose CPU. Below the diagram, you can see how many cores your CPU has.
Read: Do more CPU cores mean better performance?
How to enable Multithreaded Rendering in Valorant
The game VALORANT, including some other games like Fortnite, and CS: GO takes advantage of multithreaded rendering provided your system meets the minimum requirements specified above. To enable Multithreaded Rendering in VALORANT, follow the steps outlined below. The option is turned on by default if your system can use the option based on the requirements.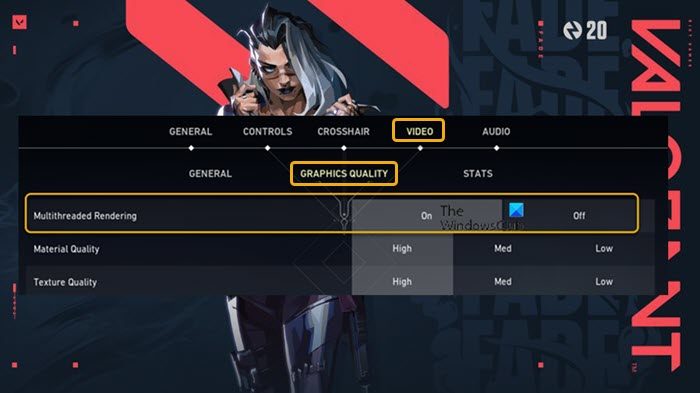 Click the gear icon in the upper right corner of the main menu to open the Options menu.
Click Settings.
Click VIDEO > GRAPHICS QUALITY.
Click On or Off to enable or disable the Multithreaded Rendering setting per your requirement.
That's it!
Now, depending on your system specs, this setting can positively or negatively affect the game's FPS and input lag — primarily due to a weak CPU. That said, multithreaded rendering is useful in different ways during gameplay, especially for action-packed and fast-paced games which the feature is designed for. However, in some cases, you may not notice any improvement in FPS — but you can configure the best FPS settings for gaming. You can easily disable the setting if your gaming experience or PC performance takes a hit when the setting is enabled.
Now read: Valorant Screen Tearing issue on PC
Multithreaded Rendering missing in Valorant?
If you don't see a multithreaded rendering option in your settings, it's most likely because your processor doesn't have enough cores as specified above for minimum requirements to perform the function. For example, a Ryzen 5 3500 is 6 core 6 threads CPU, and does not have Simultaneous Multithreading (SMT), so this setting in Valorant is not applicable/available for this CPU. You will need an AMD SMT or Intel HT CPU.
Read: Enable Hardware-accelerated GPU Scheduling in Windows.