It can be frustrating when your Xbox gets banned. There are many reasons why your Xbox can get banned, such as modifying the hardware, trying to play games illegally, and so on. However, whenever your Xbox gets banned, the downside is that you cannot no longer use the console. But the question is, How to check if Xbox is banned? Well, Xbox made it pretty simple for you, and here is how you can do that.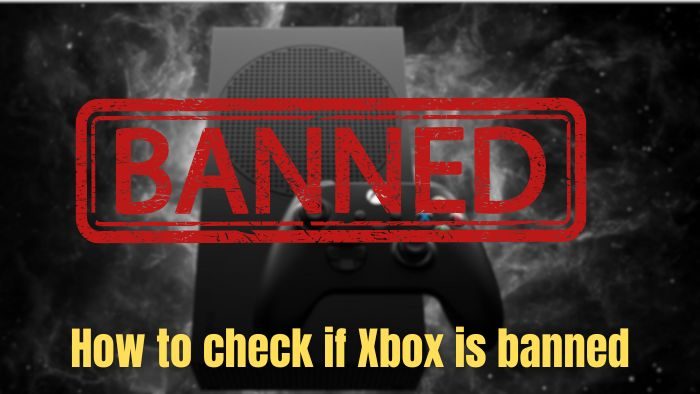 How to check If Xbox is banned?
There are a few quick ways to know whether your Xbox is banned. These ways are:
Email Message
Notification on the Xbox console
Message from Xbox
Feature-specific message on your Xbox console
Xbox Enforcement Page
If you cannot find one, make sure to check another.
Your Xbox console is banned
1] Xbox Enforcement page
Xbox offers a direct page to sign in with your Microsoft account or any account connected with Xbox and check the list of issues related to your account. It will allow you to check for your gamertag and other members connected via a family account.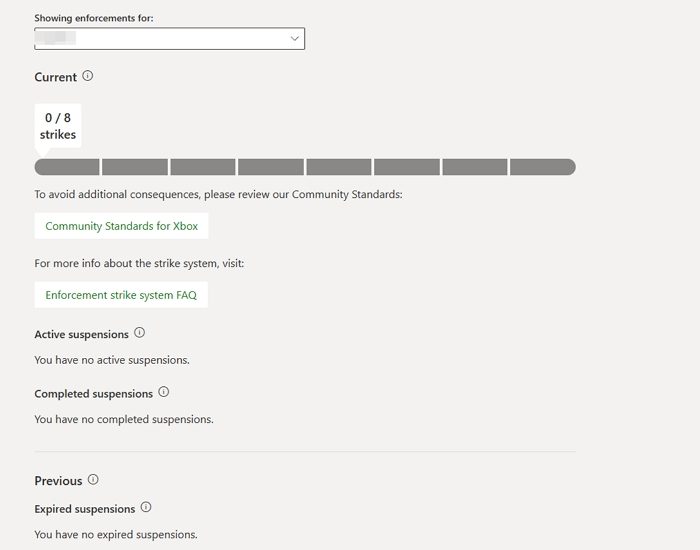 You get to see the number of strikes, active and completed suspensions. The page also tracks any previous and expired suspensions.
2] Email message
Whenever your gaming console gets banned, Xbox will automatically send an email to your Microsoft Account associated with your Xbox.
The email usually states that an enforcement action was issued with links to more info. If you have a child account that's part of an Xbox family group, an email will also be sent to the organizer of your family group.
So check your Email inbox or spam box and see if you have any emails from Xbox related to enforcement actions.
3] Notification on the Xbox console
You should also receive a notification about your enforcement action when you try to sign in to the Xbox network or console. The message will again display the enforcement action taken and how long the action will last.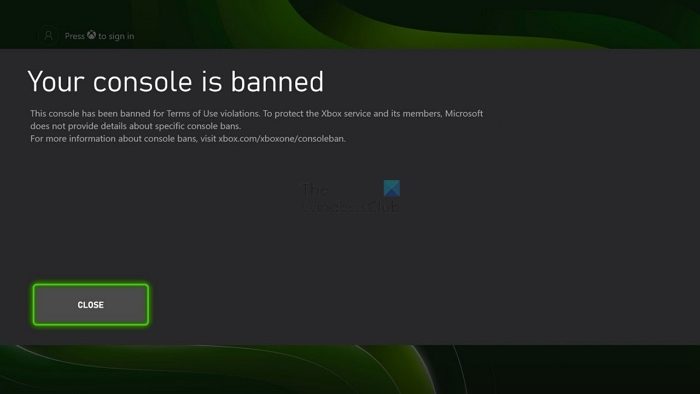 If your Xbox is suspended, you should be able to use your gaming console after the suspension period. If it is a complete ban, then your Xbox will no longer be functional, as you won't be able to log in to it using your existing or new Xbox account.
4] Message from Xbox
You should also receive a message from Xbox sent to your console, on Xbox.com, or any other devices connected to your network.
The message will provide you with all the information, like what sort of enforcement was issued if it is a suspension or ban, and any other details.
Read: How to Report and Block Gamertag, Content, and Messages in Xbox One
5] Feature-specific message on your Xbox console
Suppose your profile received an enforcement action restricting you from using specific features like communication, club activity, or profile details. In that case, you will receive a message when you try to access such features on your Xbox console.
However, unlike other enforcements, it will not make your Xbox useless, but you may be unable to access certain services temporarily.
Types of Xbox enforcement actions
Multiple types of enforcement actions can be issued to your account. Each of these enforcement actions restricts different features of your Xbox gaming console.
Content takedowns
If you have posted content that isn't appropriate for the Xbox network, then Xbox removes the content to protect others in the Xbox community. These contents can include club profiles, game clips, screenshots; activity feed items, or comments.
However, there is nothing to worry about if your account faces this enforcement action, as it doesn't restrict your Xbox activities in any way. But in some instances, you may be restricted to using particular services on Xbox.
Temporary suspension
As the name suggests, a temporary suspension restricts you from using your Xbox for a certain period of time. However, the time period can depend on various factors such as frequency, nature of the violation, severity, etc.
For instance, your communication privileges will be restricted if Xbox detects abusive communication over voice or text. But you can still use your Xbox usually.
Permanent ban
A permanent ban is one of the most strict actions Xbox takes, as it blocks your profile from accessing the Xbox network from any Xbox console or device. However, these bans are rare and only occur if you have violated Microsoft Services Agreement and Community standards for Xbox. However, the good part is that you can still create a new Xbox account and log in to your Xbox console.
Xbox device bans
Device bans have to be the strict action taken by Xbox. It completely bans your Xbox console or device from accessing the Xbox network. As a result, your gaming console will no longer be operational.
Game-specific suspensions
Different games can have game-level suspensions as per their terms and conditions. These restrictions won't be imposed by Xbox but by the games you play. For instance, if you are playing a battle royal game and the game developers find out you have used foul language or didn't indulge in fair play. Then your account might get banned temporarily or permanently.
Read: How to cancel Xbox Game Pass subscription on Xbox One
Strikes
Some enforcement actions may have strikes that apply to your account. Players can receive eight strikes; each strike remains on record for six months. Also, with each suspension, your account will get restricted from using Xbox's social features for varying lengths of time.
How to submit a case review for Xbox?
Now you must wonder if there is any way to submit a review to lift the enforcement action. Well, good news, it is possible.
But you should know that not all the enforcements are eligible for a case review, such as enforcement with shorter duration periods, content takedowns with no accompanying service suspension, and suspensions no longer active.
If you don't fall under any of these categories, you can submit a case review by following the below steps:
First, sign in to your Xbox-associated Microsoft account and visit the Enforcement page.
Next, under active suspensions, click on the enforcement action.
If the enforcement action qualifies for case review, select Submit an appeal to receive more info from Xbox Safety.
After you've completed the form, select Submit.
Also, to check the status of your case review, you can go to enforcement history.
So that was all for how to check if Xbox is banned. Depending on what sort of enforcement action is issued on your account, you may or may not be able to access certain features.
What happens if my Xbox gets banned?
If an account is permanently banned from the Xbox network, your Xbox subscriptions will be terminated. Please note that this only affects your Xbox subscriptions. However, you can still access your Microsoft account to handle payment preferences, devices, and other account details.