Microsoft Store is a great place to find and buy apps for your Windows 11/10 PC. It provides access to your favorite apps, games, and in-app content from your Microsoft account. However, one downside of this is that you can only buy apps for the region you're currently in. This means that if a game or application is only available in one country, users in other countries may not have access to it.
Luckily, there is a way that you can change the Microsoft Store region very easily. This means that you can buy apps that are appropriate for your country without having to use a VPN or proxy server. Let me show you how.
How to change Microsoft Store region on Windows 11
Windows Store is a digital distribution platform for Windows operating system. It provides access to buying and downloading apps, games, and in-app content from your Microsoft account. If you want to change the Microsoft Store region on Windows 11, use the following suggestions:
Open Settings on your device.
Scroll down to Time & language and click it.
Click Language & region on the right pane.
Next, go to the Region section.
Select your desired location using the drop-down menu titled Country or region.
For a more detailed explanation of the above steps, please see the following:
To get it started, you first need to launch the Settings app. For this, use the Windows key + I and from the left side of the window, you will see a list of menu items.
From the available menu options, select the Time & language tab. Next, click the Language & region section on the right side of the page.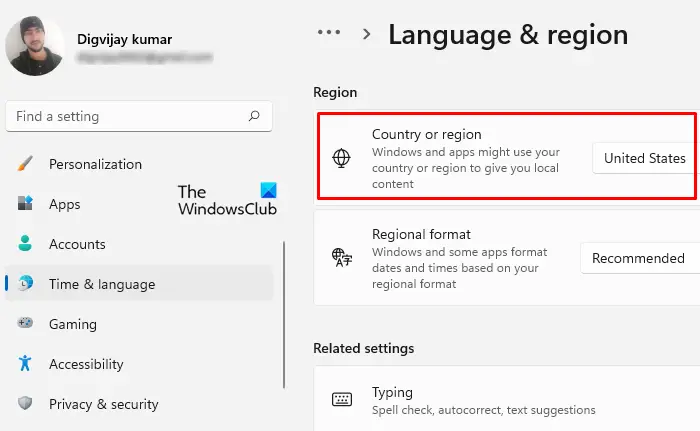 On the next screen, you can find the Region section a bit further down the page. Now use the drop-down menu next to the Country or region option and choose your desired location.
Once you have downloaded the application, you can change back to the country you belong to by following the steps above. This way, you can easily change the Microsoft Store region in just a few clicks.
What is the Microsoft Store?
The Microsoft Store is the official retail store for Microsoft. It offers a wide range of digital products for download in one place, such as PC software and hardware, games, gaming consoles, and more. The Microsoft Store was originally known as just "Windows Store," but has been rebranded as "Microsoft Store" in September 2017 to match the company's new branding.
When it comes to Microsoft Store safety, the company assures users that apps available in the Store meet high standards of safety, security, and privacy protection. Whenever you download apps from the Microsoft Store, you can rest assured that no viruses will make their way into your computer.
How to reset Microsoft Store apps in Windows 11
To reset Microsoft Store apps in Windows 11, you can use the following instructions:
Now click on Apps > Apps & features.
Search for the Microsoft Store app there.
Click on the three dots and select Advanced options.
Then click on the Reset button in the Reset section.
Is Microsoft Store going away?
In the first quarter of 2023, both Microsoft Store for Business and Microsoft Store for Education will be discontinued. In the meantime, free apps will still be available.
What causes my Windows Store to not open?
The Microsoft Store may not open for several reasons, such as a corrupted Windows Store file or an unstable internet connection. The first thing you should do if you experience this problem is check for pending Windows updates. If so, download and install the update, then see if the problem returns. Additionally, you can sign in to your Microsoft account to access the Microsoft Store. A common cause of this problem is incorrect settings for the time, date, and region.
Related: Cannot find, push or install an app from Microsoft Store.