It may so happen that when you try to install an app from the Microsoft Store, it doesn't. You can't push, install, or sometimes can't find the app you saw on the online version of the Store. In this post, we will answer all these queries and help you figure out why you cannot install apps from the Microsoft store.
Cannot find, push or install a Microsoft Store app
There are many reasons why you might not be able to locate or install an application from the Microsoft Store. I have listed some of the top reasons below and added an explanation and troubleshooting.
Device Limit
Windows OS version
Installing games on your Home Xbox
Device compatibility issue
Un-hide Apps in the Microsoft Store
App not available in your country or region
Microsoft Family settings hiding an application
The App or Game is no longer available
Pending Restart after an update.
Reset the Microsoft Store cache
Microsoft Store not launching at all.
Before we go ahead, here is a small check we suggest you do, and it might save you a lot of trouble. Click on the Store menu, and then go to My Library > All owned and scroll through the results to find the game or app you moved. If you still don't see it, let's go ahead.
1] Device Limit on applications from Microsoft Store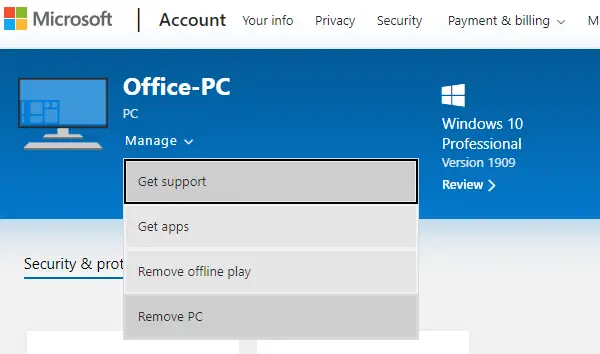 Microsoft allows the app to be installed on 10 computers under one account. It includes Xbox and Windows 10 computers. If this is the case, you will get a clear message saying:
It looks like you've reached your device limit for installing apps and games from the Store on your Windows 10 device. If you want to install apps and games from the Store on another Windows 10 device, remove a device from the device list.
You have two choices here. Either remove the device from your account list or uninstall the application from one of the devices. I prefer the latter because you may not need it on all the devices.
2] Windows OS version compatibility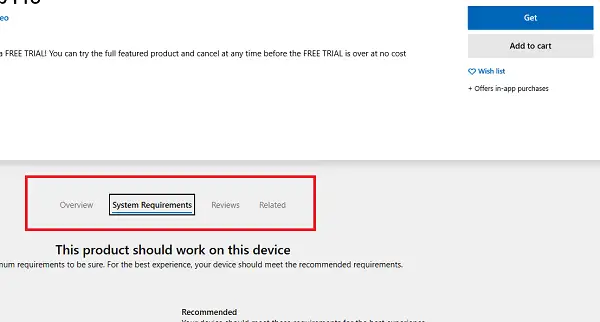 If you can find the app listed in the Store, but cannot install it, one of the reasons can be the OS version. If the app is still not compatible with your copy of the OS version, then it will not install. You should have a clear warning about it, but here is to check version incompatibility.
Find the app in the Microsoft Store and open it.
Then click on the System Requirements section, which is next to the Overview. If you open it on the web, you should see a "See system requirement" link under the "GET" button.
Note the Minimum and Recommended OS version and then compare it with your version of the OS.
Depending on what you find, you will have two choices. Either install an older version of Windows or wait for the app to update to support your current version.
Apart from this, if you are running Windows 8.1, chances are the app doesn't support it anymore.
3] Installing games on your Home Xbox
Installing games and apps on Xbox through the web interface is possible. It is also called Push Install, which Microsoft does from its end. There are two things here. First, it will always push it to your Home Xbox One; second, the Xbox One settings should allow it to do so. So if you have been pushing the Xbox game to your Xbox but cannot see it, here is how to fix the problem.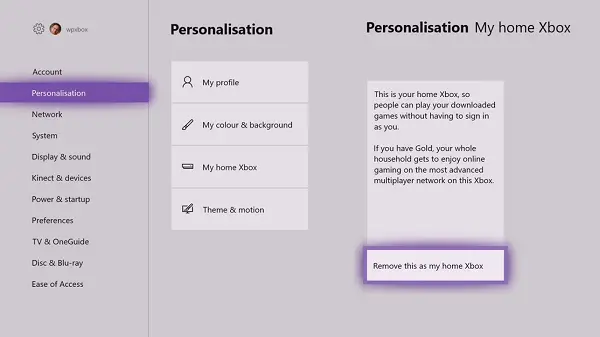 Change home Xbox One.
Make sure it's the home Xbox One you are checking on. It is usually the Xbox One, where you signed in first. If it's not, you can choose to change it.
Press the Xbox button to open the Guide.
Navigate to  System > Settings > General > Personalization and select My home Xbox.
Here you can choose to either.

Please make this my home Xbox to designate the console as your home Xbox.
Or Remove this as my home Xbox to remove the designation.
Enable Auto-Update
If you are sure this is your home Xbox One or have changed it, here is how to enable auto-update.
Open the Xbox guide, and navigate to the extreme right to find Settings
Navigate to System > Updates
Enable the option "Keep my games & apps up to date."
4] Device compatibility issue
Rare, but check if there is any hardware compatibility issue between the application or game and the computer. I have a regular PC where gaming is prolonged, and some games won't work. System requirements might give you a glimpse of it too.
If you cannot see it no matter what, then know that Microsoft Store automatically hides or blocks the Buy button on apps incompatible with your device. You might see an app from Microsoft Store available on another PC but not on yours.
5] Un-hide Apps in the Microsoft Store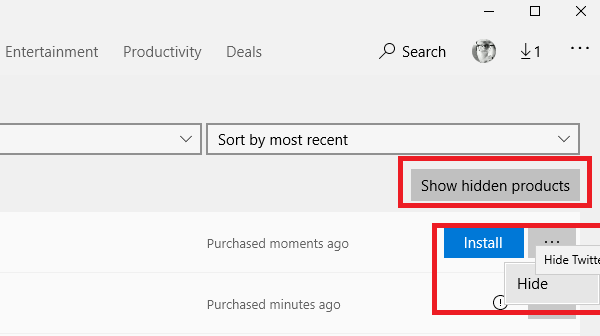 Microsoft Store Allows you to hide apps not installed on the Windows 10 computer. If you have done so and don't remember, you will not be able to find the app in Microsoft Store.
Click on the Store menu,
Go to My Library > All owned
Click on Show hidden products
Scroll through the results to find the game or app you moved.
Now find the app through the list and  install it
6] App not available in your country or region
Some developers or companies roll out apps only for a few regions. Possibly an app recommended by a friend of yours who lives in a different country is only available for his region, but not yours. Similarly, if you bought an app in one country or region and then moved to another, the apps you had might disappear.
7] Microsoft Family settings hiding an application
If your account is managed by your parents, using Family Settings, then it's possible that you are not allowed to install the app. It can also be because of age restrictions. Some apps and games are rated for a particular age group; if you don't fall into that age group, you cannot install them.
8] Pending Restart after an update
If you get any specific error or the app keeps failing to install, check if there is any pending restart after a recent update. You may need to restart your PC before installing apps from Microsoft Store.
9] Reset the Microsoft Store cache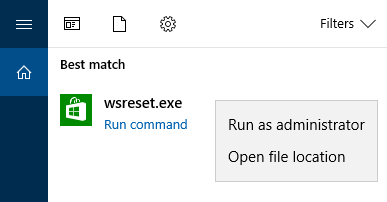 If nothing works, it is a good idea to reset the Microsoft Store cache. Sometimes, like the browser cache, it keeps loading old things.
Open Run prompt
Type wsreset.exe, and click ok
A blank Command Prompt window will open, and after about ten seconds, the window will close.
Microsoft Store will open automatically once the operation is complete.
Check if you still have the issue.
Apart from these, follow our guide if you are facing issues like Microsoft Store not launching, get in touch with your IT admin and find if they have posed a restriction on your account, or try running the Microsoft Store Troubleshooter.
We hope the tutorial helped you if you cannot find, push, or install an app from Microsoft Store on your Windows 11/10 PC.
How do I remove the restrictions on my Microsoft account?
If it's your device and you're the Admin, you can also change to a Local Account to eliminate the Restriction. Go to Settings > Accounts > Your Info > Sign in with Local Account Instead. Your account may be part of an organization, or your laptop is part of the organization, hence the restrictions. You can ask your IT admin to remove it or use another Microsoft or local account.
Can I use the Microsoft Store without a Microsoft account?
No, you cannot use the Microsft Store with a Microsoft account. Any item downloaded or purchased is tied to your Microsoft account. However, you can choose to use a different Microsoft account over the account you have on your PC. That said, if you choose a local account and sign in to Microsft Store with a Microsoft account, that latter will be tied to your PC and used anywhere.