In Outlook, you can keep your inboxes and folders by moving older folders you want to keep to the archives, consisting of new messages, replies, and forwards. You can schedule which items to archive and which items to be deleted. There is a feature in Outlook called AutoArchive that Archives items automatically.
If you have used Microsoft Outlook on your Windows PC, you may have suddenly encountered a pop-up asking if you wanted to archive your email. While Outlook will remind you periodically to do so, in this post, we will see how you can use Auto archive your old items like email, tasks, notes, contacts, etc., in Microsoft Outlook and Outlook 3659 to improve Outlook performance in Windows.
An Archive is a folder found in your email where messages, replies, and forwards are stored until later. To access the items you send to Archive, go to the email Archive folder. In this tutorial, we will explain the process to archive Outlook items automatically.
The AutoArchive feature of Outlook helps manage the space in your mailbox or on the email server that you are using by automatically archiving and moving old items to the following location and storing it in .pst format:
C:\Users\UserName\Documents\Outlook Files\archive.pst
While you can always manually transfer old items to a storage file by clicking Archive on the File menu, you can also have old items automatically transferred using the AutoArchive feature.
How to set up Auto Archive in Outlook
To Auto archive your old items, open Outlook, click the File tab on the menu bar, and on the Backstage View page, click Options.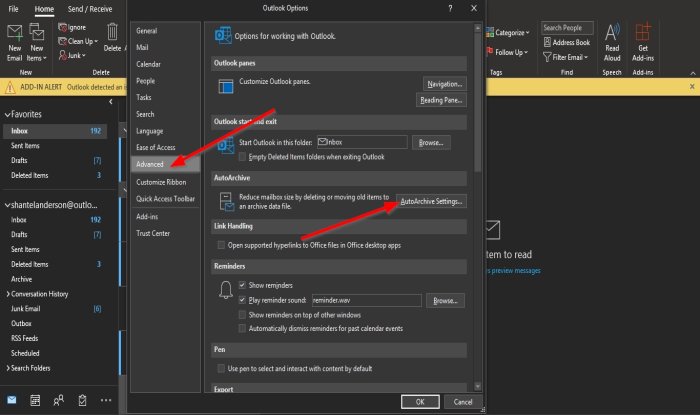 An Outlook Options dialog box will pop up.
On the Advanced page, under the AutoArchive section, click the AutoArchive Settings button.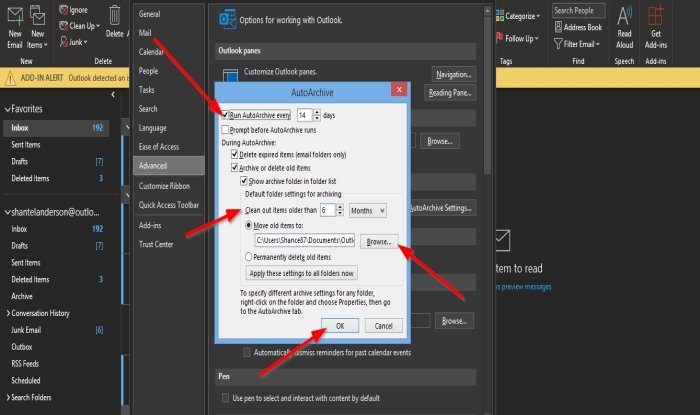 An AutoArchive dialog box will appear.
To turn on or turn off Auto Archive in Outlook, you must check or uncheck the Run AutoArchive every … days check-box.
To set it up, check the option, click Run AutoArchive Every checkbox and then enter a number into the box.
Then, remove the tick from the checkbox of Prompt before AutoArchive runs.
You will also change the Outlook Auto Archive settings to suit your preferences. You can:
Select how frequently AutoArchive runs
If you want to be prompted first
Decide the aging period
If you wish to delete old items or move them
And so on.
You can make other changes, such as the section Clean Out Items Older, then input a number in the box if you want to change it from the default. Then click the button beside the box; you can choose to select Months, Weeks, and Days.
You can choose to move old items to a different folder if you want by clicking the Browse button under the section Move Old Items To, then select a folder. We recommend leaving it at default and click OK.
The default aging period for each of the items is as follows, but you can always change it:
| | |
| --- | --- |
| Folder | Aging period |
| Inbox and Drafts | 6 months |
| Sent Items and Deleted Items | 2 months |
| Outbox | 3 months |
| Calendar | 6 months |
| Tasks | 6 months |
| Notes | 6 months |
| Journal | 6 months |
We hope this tutorial helps you understand how to archive Outlook items automatically.
Read: Prevent Outlook from automatically deleting Meeting Requests after responding
How does Outlook archive work?
When Outlook is set to archive, it moves the emails into a designated folder, so you don't see them anymore. It is almost like a filter but marked to move into a folder based on the criteria. It's an excellent way to save the emails from getting accidentally deleted when you are cleaning up emails, and that in bulk. It also helps you to lighten up the Inbox.
Read: How to keep deleted Emails for longer than 30 days in Outlook using Exchange Online
Why is my Outlook not auto archiving?
There can be many reasons why the auto archive feature is not working in Outlook Desktop Client. Most commonly, the issue ours due to a problematic add-in. Launch Outlook in Safe Mode to confirm this. Other causes include outdated Office suite or corrupted Office files. We suggest you update and repair Office to fix the problem.
Read: Sent Items Folder missing or not found in Outlook.
Outlook Calendar Events are being deleted automatically
If you find that the Outlook Calendar Events are being deleted automatically in Outlook, you need to open Outlook Options, and from the Advanced you will have to change or configure the AutoArchive settings as mentioned in this post.
How do I manage AutoArchive in Outlook?
As mentioned in detail in this post, Outlook Options > Advanced > AutoArchive settings. Click Run AutoArchive Every checkbox and then enter a number into the box. You can choose to be prompted, select sections or the time schedule for running the Outlook AutoArchive feature here.
Read next: How to insert Picture and Shapes in the Outlook email body.