How do you tell if your Windows computer has a virus and is infected? Seriously! You have an antivirus software installed, and you go about using the computer with the feeling that it is well-protected and hence malware-free. But maybe, just maybe, there could be malware or a Trojan or a key logger operating on your computer without your knowledge and compromising your security or damaging your data.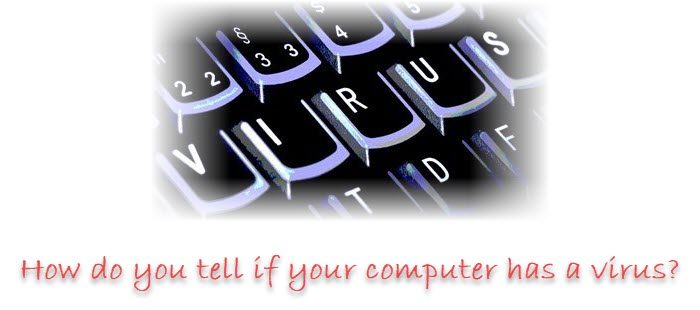 How do you tell if your computer has a virus?
Is your Windows computer infected? Learn to recognize malware infections and signs, and symptoms that will tell you if your Windows PC has a computer virus. In this post, we will see some of the symptoms of malware infection, that will tell you if your computer was compromised or infected with a computer virus.
Read: How can you get a computer virus or malware.
Symptoms of Malware Infection
The typical symptoms that your computer may have been compromised are:
Change in your browser home page or default search
Your web browser hangs or becomes sluggish
Your computer starts behaving sluggishly or hangs often
You are unable to open security-related sites or Microsoft.com domains.
You get re-directed to web pages you did not intend to visit
Unexpected toolbars in your browser
Security software or Firewall disabled
Your security software throws up warnings, or its icon turns red or something.
Pop-ups while browsing, unknown or excessive
Balloon Notifications from your system tray
Excessive CPU or Memory utilization
Internet or data transfer activity – The modem appears to be working overtime
You start seeing unexpected Windows error messages
Some programs start automatically
Some important Windows functions or features are disabled. Eg, Task Manager, Registry Editor, Control Panel, Command Prompt, etc.
New unknown, unwanted software installed, etc.
You see new icons on your desktop suddenly.
If you see any of these signs it is quite possible that your computer may have become infected with a virus or malware.
Microsoft has introduced many security features in the Windows operating system which were further improved upon in Windows 11 and Windows 10. Nevertheless, should your computer get infected with malware, there are ways to remove malware infections.
Read next: