Many of us like playing the HearthStone game. A few of the gamers are reporting that the HearthStone game is using high CPU and GPU on their Windows 11/10 PC. In this guide, we have a few solutions that can help you fix the issue and play the game.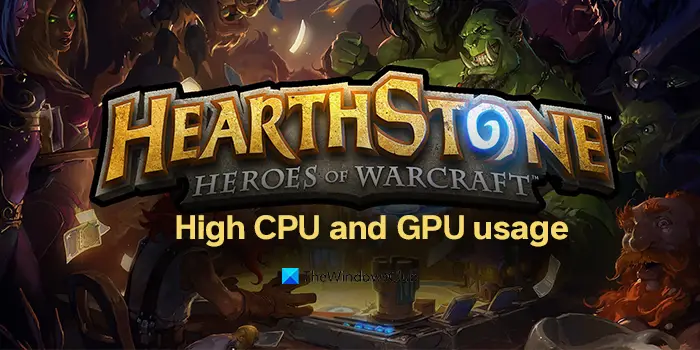 Hearthstone is fun and free-to-play online digital-collectible card game with a lot of entertainment developed by Blizzard. You can play it on multiple devices like PC, mobile. It is developed with the concept and backdrop of Warcraft with the same characters, elements, etc. It is a fun game to play between two players with 30 cards between them without any hindrance of specific devices. A few of the gamers who play Hearthstone on their PC are finding that Hearthstone game is using a lot of CPU and GPU. Let's see how we can fix the issue and play it well.
Hearthstone High CPU usage on Windows PC
If the Hearthstone game on your PC is using a high CPU and GPU, you can follow the following methods to fix it. First of all, make sure your Windows are up-to-date.
End Conflicting Programs
Update Graphics drivers
Adjust Graphics Settings
Delete Temporary Files
Check for Minimum PC requirements
Let's get into the details of each method.
1] End Conflicting Programs
The programs that are running in the background without your knowledge like antivirus, etc might be interfering with Hearthstone and making it overuse your CPU and GPU. Try ending such programs in the Task Manager and try playing Hearthstone and see if it has fixed the issue.
2] Update Graphics drivers
The graphic drivers of your PC might be the cause of the issues. They might be outdated or corrupted. You have to update them to the latest versions which fix the bugs of previous updates and give improved performance. So, try updating the graphic drivers and check if the issue still persists.
You can use one of the methods below to update your device drivers:
3] Adjust Graphics Settings
Adjust settings in your NVIDIA or AMD Radeon settings:
Turn off VSync according to your GPU
Set Power management to maximum
Set Threaded optimization to Off in the settings.
You can access them from the context menu after right-clicking on the desktop.
4] Delete Temporary Files
Sometimes, the temporary files of the Hearthstone game that reside in the folders of your PC might be acting against the gameplay and causing it to clock high CPU and GPU usage. You need to clear them frequently to get rid of such issues. Delete temporary files related to the game and see if it has fixed the issue.
5] Check for Minimum PC requirements
If none of the above methods fixed the issue, check if your PC configuration matches the minimum PC requirements of the Hearthstone game. If they match, uninstall the game and reinstall it after cleaning all the data related to it on your PC. If it does not match it is recommended to upgrade your PC to match the game's requirements.
The minimum requirements for the Windows PC are as follows:
Operating System: Windows 7 and later
Processor: Intel Pentium D or AMD Athlon 64 X2
Video: NVIDIA GeForce 8600 GT or ATI Radeon HD 2600XT or better
Memory: 3 GB RAM
Storage: 3 GB available HD space
Resolution: 1024 x 768 minimum display resolution
These are the different methods you can use to fix Hearthstone's high CPU and GPU usage on your PC.
How do I make Hearthstone run smoother on PC?
Your PC needs to meet the minimum requirements of the Hearthstone game. Then you need to tweak graphic settings in the NVIDIA control panel or AMD Radeon settings of your PC and set the Power Management of your PC to high.
Why is a game using 100% of my CPU?
100% CPU usage means the program that you are running is putting more load on your CPU. Your computer has to do more work to run the program. When it comes to video games, a 100% CPU usage issue usually occurs when your system does not meet the minimum hardware requirements. Other causes of this issue include corrupted drivers, corrupted system files, conflicting programs, etc.
Related read: Best Activision Blizzard games you can play on your PC.