You already know how essential and efficient hardware GPU is if you own a gaming PC or laptop. Various factors, such as out-of-date drivers, overclocking, overheating, or a bad power supply, might cause a GPU to crash. In this post, we will share the possible reasons and how you can fix the problem because of which GPU keeps crashing or freezing in Windows PC.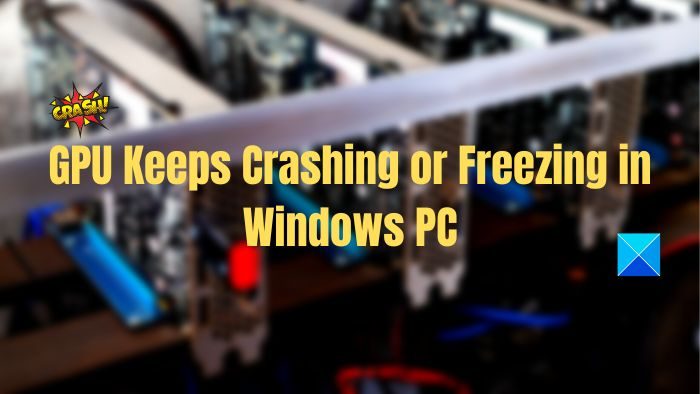 What are the possible causes of GPU Crashing?
Overheating: Improper fan speed settings, graphics-intensive applications, background software, and intentional or unintentional overclocking can all cause your GPU to become heated. The GPU overheating issue can be resolved by undoing these changes or reverting to the default settings.
Driver issues: Drivers are software components that allow devices and the PC's operating system to communicate effectively. Application freezing and crashing can be caused by missing, faulty, or out-of-date drivers. It can also decrease system performance and stability, software incompatibilities, and conflicts.
Power supply problems: An unreliable or defective power source can damage your graphics card. A graphics card may increase or decrease the voltage when a power supply is beginning to fail. If not addressed right away, this could have catastrophic consequences.
Software conflicts: Software conflicts are when one program interferes with another program on a physical disk or in memory. It can also be memory leaks. It usually results from a programming error when two programs fight for the same resource (memory, peripheral device, register, etc.).
GPU keeps crashing or freezing in Windows PC
Given below are the eight methods to fix the problem of GPU crashing in Windows 11/10:
Avoid overclocking
Check and clean the GPU
Update or reinstall the Driver
Update BIOS
Ensure proper ventilation for the PC
Check and replace the power supply if necessary
Check for software conflicts
Make sure to use an administrator account, and have a clear understanding of hardware and software.
1] Avoid Overclocking
PC Overclocking can assist in raising FPS and improving game performance but also forces GPU to work harder than usual. Most OEMS offer custom settings, but if over-configured, it can result in a GPU crash.
You can avoid overclocking or find the best configuration that doesn't crash the GPU. OEMS such as MSI, Gigabyte, and Asus offer overclocking in their BIOS and through the software interfaces. Start by resetting to default settings to check if everything is as expected, then move up to the next set, and evaluate.
Once you reach the point where GPU starts crashing again, it will be clear which overclocking settings work best.
3] Check and Clean the GPU
Dust is and has always been one of the reasons why hardware issues start occurring. If you have never cleaned your PC from the inside, it's time to check. If there is too much dust, especially on the GPU, follow the steps to clean it:
Turn off your PC, and disconnect all the power sources
Leave it for a few minutes so the residual power can clear out.
Prepare an area ready which is clean, and you can keep the GPU on it
To clean the GPU outside, use a microfiber cloth, swabs, and isopropyl alcohol.
Use your pressurized air can or air pump to remove the dust inside the GPU, particularly the dust inside the fins.
Allow the GPU to sit idle for a few minutes to allow any remaining isopropyl alcohol to evaporate.
Enjoy your GPU after re-plugging it into your PC.
4] Update or Reinstall Driver
You can update or reinstall the driver to prevent the GPU from crashing or freezing. Make sure to install the Digital Assistant from the OEM website, as it will automatically figure out the best version based on your OS.
5] Update BIOS
For updating BIOS, different motherboard manufacturers have different procedures. Any installation technique can result in a BIOS update taking up to five minutes to complete. It is crucial to wait until the procedure is finished before turning off or restarting your computer. Check the manufacturer's instructions to determine whether an LED on the motherboard will indicate that the update is complete.
Note: While BIOS or UEFI update doesn't do anything to Storage, read your PC's and motherboard's recovery options. If the update doesn't go as planned, you can always use recovery to return the motherboard to a working state.
6] Ensure proper Ventilation for the PC
Although heat is a natural result of operating computer hardware, too much of it can slow down the entire system. Not only the CPU needs to be managed in terms of temperature, but the GPU also requires sufficient cooling. Pre-installed GPU cooling options typically include fans mounted in a shroud that encloses the graphics processor. Advanced builders who do not mind removing the graphics card to access additional cooling alternatives can also use liquid cooling blocks and customized air coolers. The temperature of the GPU and CPU should be monitored first because they are the central processing units in a gaming PC. So, always ensure proper ventilation for the PC.
7] Check and Replace the Power Supply if Necessary
Why is checking the power supply crucial? Components operating outside of normal parameters can result in overheating, data loss or error, equipment malfunction, and component failure. This is caused by a bad power supply. So, checking and replacing the power supply, if necessary, is always essential to prevent the GPU from crashing.
8] Check for Software Conflicts
Windows systems that are not virtualized typically have applications installed directly on the OS to the common system files, which results in software conflicts, errors, and unstable operation. While virtualizing everything is practically impossible, manual troubleshooting is needed to resolve the conflict. Ask yourself these set of questions:
Did you install any new software or application?
Did you update the graphics driver?
Was there a Windows Update related to GPU or Hardware in general?
Did you add new hardware to your PC?
If the answer to any or all of these questions is yes, check if there is a way to roll back or uninstall it. Once done, verify if the issue is resolved.
Conclusion
As mentioned in the article, follow these eight solutions if your GPU is crashing or freezing on Windows PC. Because the GPU is exposed to a very high temperature, parts of the GPU, like VRAM or capacitors, will deteriorate over time, just like any other hardware component. You can check and clean the GPU, update or reinstall the driver, update BIOS, ensure proper ventilation for the PC, etc., to save your GPU.
How do I check my GPU health?
Since Windows offers no direct method to check GPU health, you can use third-party applications such as GPU-Z or HWiNFO. These applications offer detailed information and help you track temperature, clock speeds, and usage in real-time.
If you want to use the built-in utility of Windows, then you need to use the Device Manager. If there is any error, the data is available under the GPU properties' Details tab > Device instance path. You should be able to see the errors here.
How to reset GPU?
There are several ways to reset a GPU, depending on your issue. The options include restarting the PC, updating drivers, power cycling, and reseating the GPU. When power cycling or reseating the GPU, turn off the PC, unplug the power cord, take out the GPU, and leave it for a few minutes.