Google Chrome is the most used browser in the market. The company has created a nearly perfect product that seldom faces issues. However, many users have reported a problem where they encounter situations where Chrome browser downloads are stuck at 100%.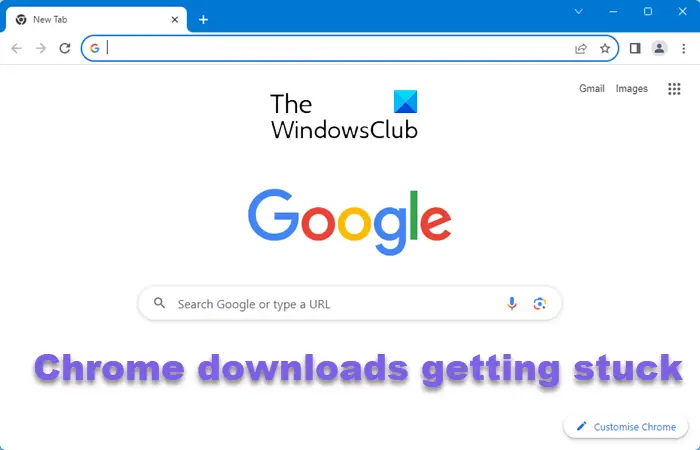 Why are my Chrome downloads stuck?
If your Chrome downloads are stuck, it may be due to limited bandwidth, insufficient or a corrupted download cache. Ensure that you have a stable internet connection, clear your browser cache, restart your router or modem as well as your PC, and then try downloading the file.
Chrome downloads getting stuck at 100%
The most probable causes for this issue are as follows:
The file download process could be blocked by a third-party antivirus.
The content-length header could be missing from the server.
An extension on Chrome could be causing the problem.
The current installation of Google Chrome could be corrupt.
This issue is pretty annoying since the downloading process has already utilized system resources and your time too. The options you have are:
Clear browser cache and retry
Disable Chrome virus scan
Whitelist the file on the third-party antivirus
Download the file in Incognito mode
Reset or reinstall Google Chrome.
1] Clear browser cache and retry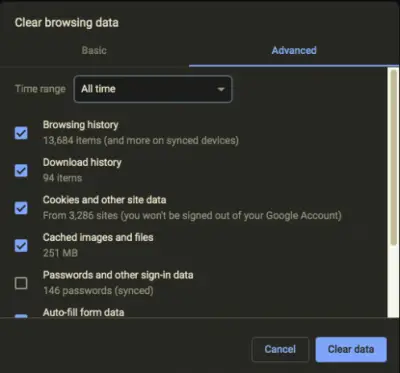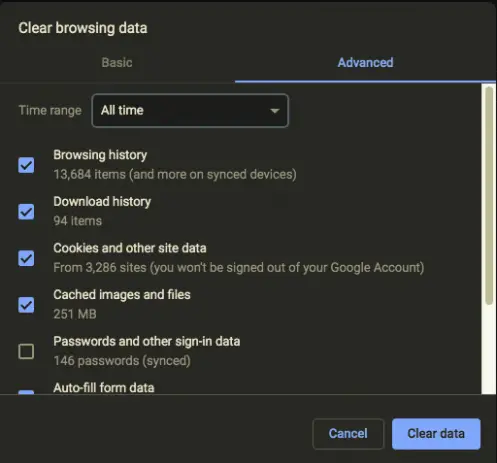 You may clear the Chrome browser cache and try again. This usually helps.
To do this, open Chrome:
Select History and Recent Tabs
Select Clear Browsing data
In "Clear browsing data" select "All time"
Choose the type of history you want to delete.
Click the Clear data button.
2] Disable Chrome virus scan
Disable Chrome virus scan temporarily and see if it helps.
3] Whitelist the file on the third-party antivirus
Third-party antivirus programs are apprehensive of any unusual behavior on a system. If the antivirus software believes a file is problematic, it will prevent it at the download stage itself.
For verified downloads, you could either whitelist the file in your antivirus settings or disable the antivirus temporarily till you download the file – provided you know that the source and the file are absolutely safe.
Read: Chrome crashes or freezes when downloading a file
4] Download the file in Incognito mode
Certain extensions, especially those for security software, prevent suspicious files from downloading. The easiest workaround to this problem would be to download the files after launching Google Chrome in Incognito mode.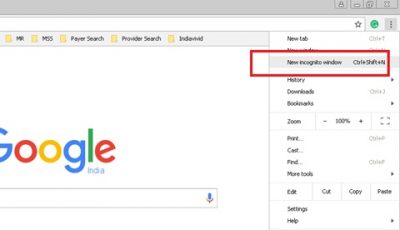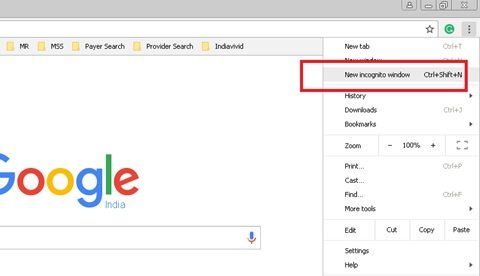 If you intend to download multiple files over a period of time, you could consider disabling the troublesome extension.
5] Reset or reinstall Google Chrome
While Google Chrome is an excellent software that rarely faces problems, if the installation is corrupt itself, such issues would be common. To resolve such a probability, you could either reset Chrome or uninstall and then download its latest setup and reinstall it.
Read: Microsoft Edge downloads stuck at 100%
Why won't my computer finish downloading files?
Your antivirus software could have blocked the download or your download files cache may have become corrupted. To fix the issue of incomplete file downloads, try deleting the browser's temporary internet files, and check your antivirus settings. This post offers additional suggestions to fix File Download Errors on the Google Chrome browser.
All the best.