GameLoop is one of the most famous Android emulators for Windows PC. It allows us to play games such as PUBG Mobile and COD without much hassle. However, as of late, GameLoop is not opening or is crashing on a lot of Windows PC. If you are in the same boat, follow the solutions mentioned in this article to resolve the issue.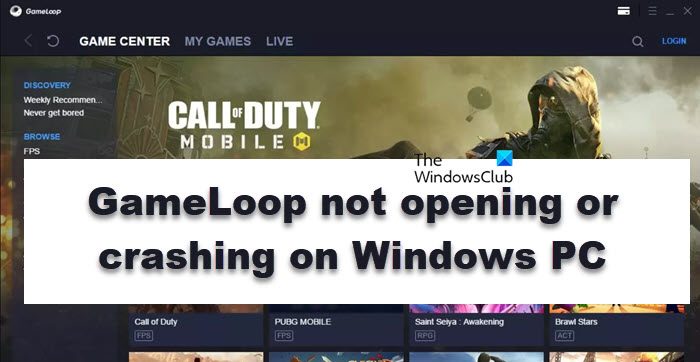 Fix GameLoop not opening or is crashing on Windows PC
If Gameloop is not opening or is crashing on our Windows 11/10 PC, you can execute the solutions mentioned below:
Update the software to its latest version
Run the game with admin rights
Allow the software through the firewall
Kill unnecessary tasks running in the background
Update your Graphics driver
Enable Virtualization
Reinstall GameLoop
Let's talk about these solutions in detail.
1] Update the software to its latest version
Such issues occur when you are using an outdated version of the software, therefore it's recommended to always keep the software up-to-date. So launch GameLoop, click on More options, and select the update check option. If it is outdated, click on the Update button, and then launch the game. Hopefully, this will do the job.
2] Run the game with admin rights
Lack of admin rights restricting the app from accessing necessary files and resources can also be one of the reasons. Running the game with admin rights can resolve this concern, and you can just right-click on the GameLoop icon and then select Run as administrator to do the same.
3] Allow the software through the firewall
Antivirus software and Windows defender Firewall are usually the culprits. Both can block GameLoop and cause it not to open or crash. You can temporarily disable the third-party antivirus software or delete the software, however, this is recommended only in a dire situation. Therefore the best route in such scenarios is to add the game through the Firewall and here's how to do the same:
Open the Start menu and search for "Windows Security" to open it.
 Navigate to the Firewall and Network Protection tab and click on "Allow an app through firewall".
Now, select the Change Settings button and allow GameLoop through both Public and Private networks.
Note: If GameLoop is not present in the list, click on Allow another app > Add > go to its location > add its exe file.
Now, launch the game and hopefully, this will do the job. If this seems to be a lot of hustle and bustle, just disable Windows Defender Firewall temporarily.
4] Kill unnecessary tasks running in the background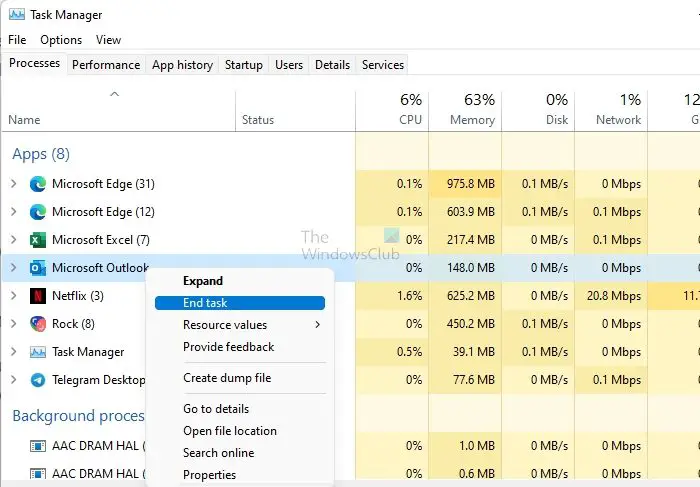 If too many tasks are going on in the background, leaving fewer to no resources for even software as lightweight as GameLoop can cause it to crash or have issues while launching. Killing the resource-extensive tasks can help you resolve the launching problem, therefore, click Shift + Ctrl + Esc to open Task Manager. Now, go to the Process tab, select unnecessary tasks, and click the End task button.
There are other ways as well, such as carrying out a Clean Boot operation. All startup applications and services will be disabled in Clean Boot State, allowing you to troubleshoot the problem manually. If your app launched in Clean Boot, enable processes manually to find out the culprit.
5] Update your Graphics driver
If GameLoop is having difficulty in opening, go ahead and update the Graphics driver using the Driver & Optional Updates feature. Most of the time, outdated Graphics drivers are at fault and cause this and many other problems.
Read:
Tip: Learn how to optimize your NVIDIA or AMD Graphics Drivers for gaming
7] Enable Virtualization
Another thing that should be made sure of is that Virtualization is enabled on our PC while using GameLoop. Enabling virtualization can boost the emulator's performance, therefore, we recommend you do the same. Restart your PC and boot into BIOS, search Virtualization setting and enable it. See if the issue persists or not.
8] Reinstall GameLoop
Reinstalling the GameLoop software should be the last solution. Fresh installation can clear out the bugs and reduces the probability of crashing or launching issues. Follow the prescribed steps to uninstall GameLoop
Open Settings by Win + I.
Navigate to Apps > Installed apps or Apps & Features.
Search for GameLoop

Windows 11: Click on the three vertical dots and select Uninstall.
Windows 10: Click on the app and then click on Uninstall.

Click on Uninstall when prompted.
Finally, go to gameloop.com and download a fresh copy of the file. Finally, go to the Download folder, run the installation file and install the app.
GameLoop is one of the software that puts almost no load on your PC, however, it's best to know what is the system requirement that GameLoop needs to run smoothly, therefore, we have mentioned them below:
Operating System: Windows 7, Windows 8.1, Windows 10, Windows 11 (64bit versions required)
Processor: Core-i3 or AMD at 2.6 GHz.
Graphics card: NVIDIA GeForce GTX 660
Memory: at least 4GB of RAM
DirectX: Version 9.0c
Storage: 1GB of free storage
Apart from making sure that system requirement is met on your PC, you can also run GameLoop in compatibility mode, as it is a known fact that GameLoop does not work on some updates of the Windows 11 operating system and causes it to crash or not open at all.