To download games you have to visit the official website, and then download the desired games. There was no great way or an alternative to discover the free games you were not aware of. Giving special importance to this, the developers at SourceForge have developed a small utility by the name 'Game Downloader'. It is an open-source download client with a server-side library of games, to download open source, indie or freeware games.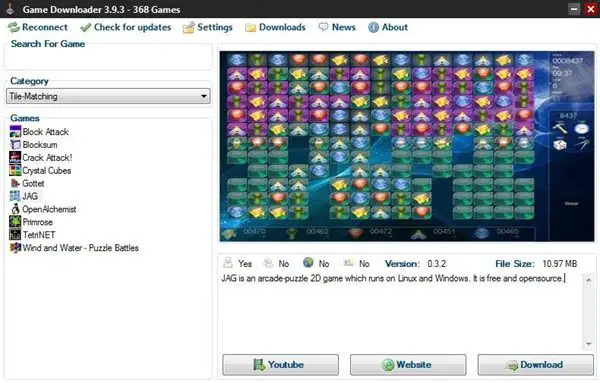 Game Downloader for Windows PC
With the help of this utility, you can download more than 200 games, by simply selecting a game category then selecting any game from the available list.
On start-up, the Game Downloader looks for and reads the Settings.cfg, Downloads the categories.cfg and randomly selects a game in a random category.
The 'Category' section, which is the first section of the main window, then grants access to a drop-down list via which a user can choose a game category. This includes,
Action
Adventure
Arcade
Board games
Card Games
Fighting
First Person Shooter
Music
Puzzle, Racing and much more.
After selecting a particular category, 'Games' section below it gets populated automatically with a list of games. Once a game is selected, Game Downloader displays an in-game screen-shot along with a description of the game. Note that a 'Yes' or 'No' flag indicates whether the game has multi-player alternative or not.
At the end of the window, below the description are links to the game developer's website, download option, etc. by default, the downloaded game installer is saved under 'Downloads' but can be changed to some other location.
Features of Game Downloader
Multiple Categories for games
Free and open-source project
Lightweight and portable application
Supports 100 or more games to download
Games are added and updated every week
Customizable, user-friendly features
Installer for the PortableApps platform.
As the name suggests, Game Downloader is a useful program to download 100 or more games of your choice.
To download Game Downloader visit sourceforge.net.
Where can I download full PC games for free?
Whether the game is available for free or not, it is highly and always recommended to download any game from the official website only. However, there are some other sources, such as Origin, Steam, Battle.net, etc. No matter which game you want to download, make sure you download it from the official sources.
What is the best game downloader for PC?
There are multiple solutions for this purpose. For example, you can use Origin, Steam, GOD, G2A, Battle.net, etc. However, if you are looking for an app to download free games only, you can check out the aforementioned software called Game Downloader. It is compatible with Windows 11 as well as Windows 10.
Hope this app is handy for you.