The default Event Log Viewer in Windows 11/10 is very effective at what it sets out to do but doesn't do everything one might need from such a tool. And that's fine because the basis is what most people need anyway, but for us who require more, how about checking out Nirsoft Full Event Log View? What we like about Full Event Log View, is the fact that it allows the user to view all information related to the events in Windows 11/10, and it does show in a more friendly setting. This is because the user interface is easier to understand, more so than what the default option brings to the table. The tool allows you to view the events of your local computer, events of a remote computer on your network, and events stored in .evtx files.
Folks can use this program to access event long details on local machines, or remote ones without any issues. Even if the events are stored in .evtx files, this tool gets the job done regardless, and that is pretty awesome. Now, we must point out that this is a portable software, therefore, it does not require additional DLLs to work. It also means no matter where you are, and whatever Windows machine you are using, as long as Full Event Log View is close by, it will work.
Use Full Event Log View to view Windows Event Logs
Using this Full Event Log View tool to view Windows logs is super easy, but if you're still in disbelief, then keep reading as we break it down for all to understand:
Download the tool and open Event Logs for the first time
Save and Copy selected items
View
Options
Let us talk about this in more detail.
Read: How to view and delete Event Viewer Saved Logs.
1] Download the tool and open Event Logs for the first time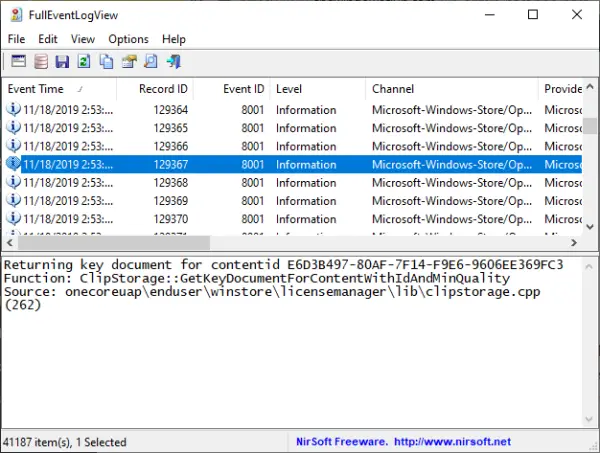 Download Full Event Log View Tool from the official nirsoft.net website. Bear in mind that after opening the tool for the first time, if there is a lot of event logs already situated on your Windows system, it may take a while for it to load.
We had well over 20,000 logs, which is proof why we need to always clean our system of unwanted files because they tend to slow down the computer.
Read: Use Event Viewer to check the unauthorized use of Windows computer.
2] Save and Copy selected items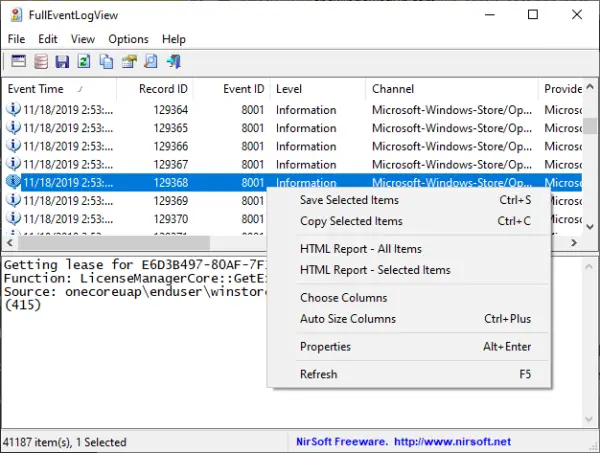 A simple CTRL + A is good enough to select all items, then CTRL + C to copy. In order to save, just click on CTRL + S, and that's it. Now, if you are a mouse person, please click on Edit, then choose the option, Select All, and Copy Selected Items.
To save, select File from the top menu, and choose Save Selected Items. From the same section, the user can choose the data source if they so wish. Alternatively, they could press F7 via the keyboard to go to this section.
Read: How to create Custom Views in Event Viewer on Windows.
3] View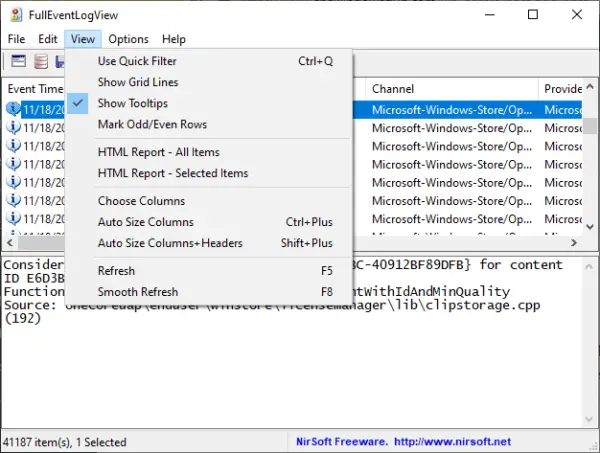 There are many things the user can do from this section of Full Event Log View. Folks can show a grid line, tooltips, and even auto-size columns. Furthermore, if you want to create an HTML report of all or only selected items, then this is possible also.
Read: Monitor Windows Event Log Files Checking with SnakeTail Windows tail utility.
4] Options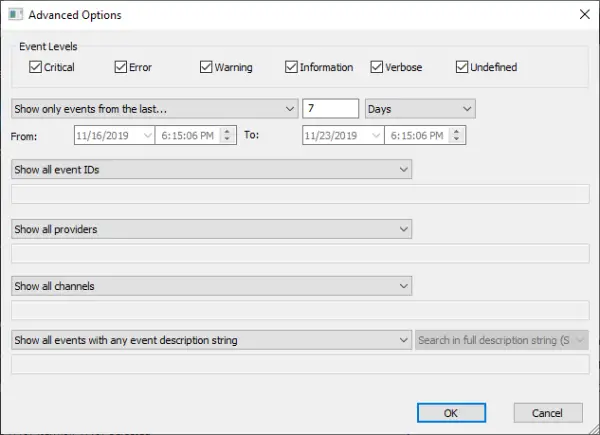 From the options section, there is a lot the user can do here. Folks can change how the time is viewed, auto-refresh, select another font, and more. One could also choose to launch the Advanced Options, which is where one can select the Event Levels, among other things.
Overall, we enjoy what Full Event Log View has to offer, and so far, it's not bad. If you are the type of person to care about viewing your event logs in an easy fashion, then this is for you.
Related reads that are sure to interest you: