A Word Processor is a software that lets you type, edit, format and customize text. It can also refer to an Office application that lets you type your documents. While there are lots of word processors out there, it is difficult to choose a good one and the one which is perfect for you. To help you out, we have compared the features of some free word processors. Have a look at the comparison chart and let us know which you prefer.
Free Word Processor software
This is a comparison chart that compares five different free world processors and tells you about features of each word processor application. The chart is in image format if you can't view it properly then click on it to enlarge.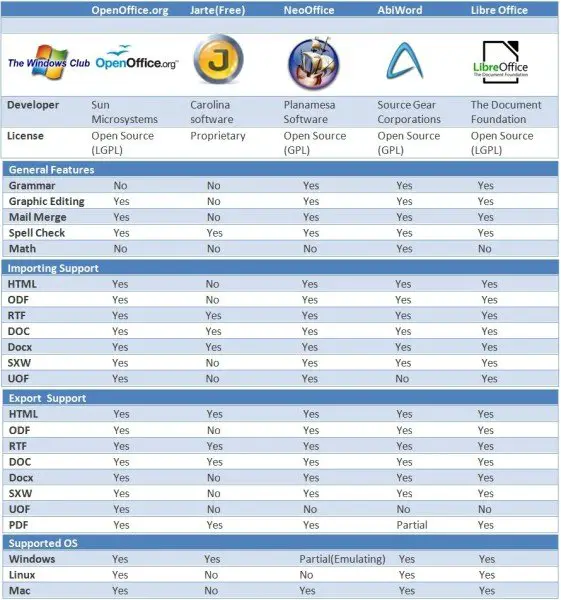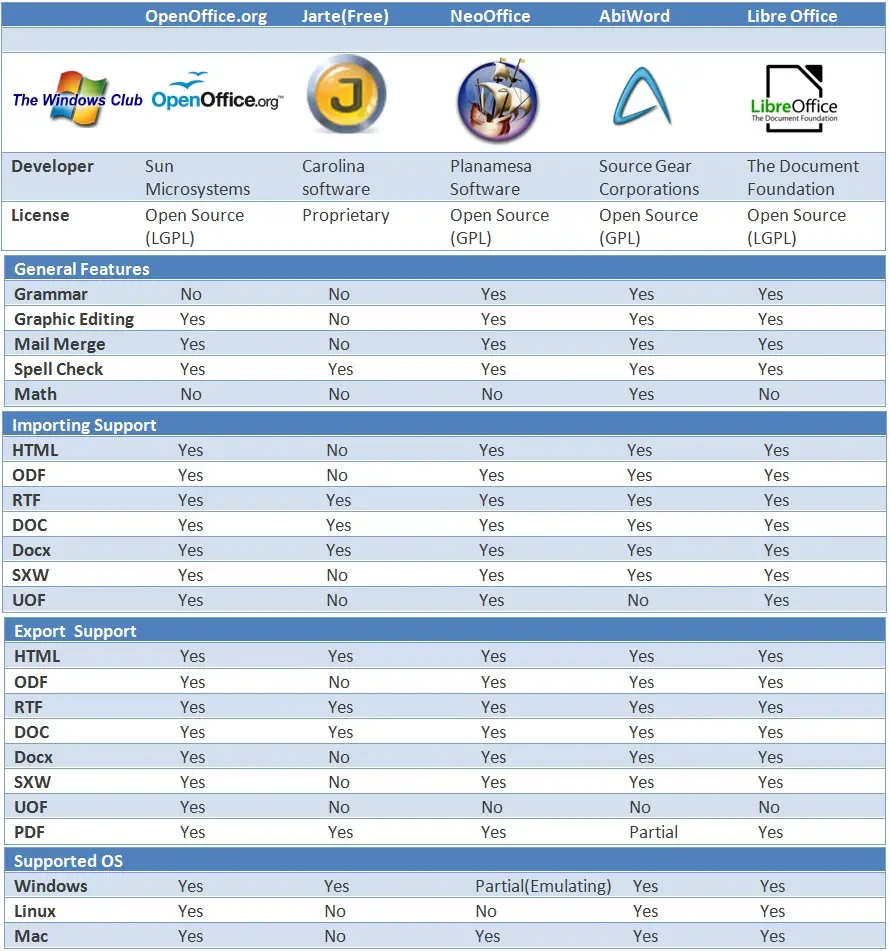 OpenOffice.org
OpenOffice is an open source Office productivity suite. The suite comes bundled with a word processor, spreadsheet, presentation and much more. OpenOffice was first developed and started as StarOffice and was developed by StarDivision and then it was taken over by Sun Microsystems. Click here to download OpenOffice.org.
Jarte
Jarte is a free word processing application for Windows users powered by WordPad engine. The standard version is offered free of cost, but the program is also available in Pro version. The interface and the looks of Jarte are powered by Mac OSX and it has a lot of features. Click here to download Jarte free version.
NeoOffice
All the Mac users here is something for you, a friend of OpenOffice.org for Mac. Yes, NeoOffice is a free and open source office suite for Mac, and it even looks like OpenOffice.org It was ported to Mac by Planamesa Software and it used JAVA technology to do so. It can be run on Windows by some emulation means. Click here to download NeoOffice.
AbiWord
AbiWord is yet another free and open source word processors; it was originally developed by source gear corporations and then was soon adopted by AbiSource. Then they continued with the development of AbiWord and today it is one of the best free word processors in my opinion. Click here to download AbiWord.
Libre Office
Libre Office is one more free and open source Office suite and is a fork of OpenOffice.org. Libre Office was developed with intentions of good format support. It runs perfectly on Windows. Click here to download Libre Office.
Read: WordPad in Windows 10.
Word Processors Comparison Poll
Please vote for your word processing software. We appreciate your vote.
Hope you liked our comparison chart. Comments or observations would be most welcome.