We often face this situation, where we want to work on our documents or files, but haven't carried our laptop. Besides this, even if we have our data stored on some cloud storage system, we still have to look for a machine, where we can open and edit a Microsoft Word document, Excel sheet, PPT, or even a PDF. Our work certainly gets delayed in such a scenario.
We just came across a brilliant Office-alternative service that can give unparalleled connectivity with our documents and files, and in turn with our work. This is a freeware known as Polaris Office Free. Polaris Office has been there for a while now. However, only recently its Windows version was released. Here is a detailed review of Polaris Office Free for Windows PC.
Polaris Office Free
Polaris Office is an office service developed by Infraware Inc. It is a cloud-based service where you can save, open and edit Microsoft Word, Excel, PowerPoint Presentations, and even PDF and Text; from any device. Polaris Office is already available for iOS and Android devices. Now it is available for Windows PC as well.
Features of Polaris Office Free
The latest version of Polaris Office has a simple, clean, and easy-to-understand design.
You can access Polaris Drive, the cloud storage of Polaris Office from anywhere and from any device.
Uploading, downloading, and sharing documents and files to and from Polaris Drive is extremely easy and straightforward.
Polaris Office lets you sync the documents present on other clouds such as Google Drive, DropBox, OneDrive, and Box.
You can open and view any document, sheet, slides, or PDF even if your device doesn't have Polaris Office installed.
You can search the document/file uploaded on Polaris Drive.
Sharing of files is extremely easy with just a simple click on 'Share' button. The app generates a link that can be shared through emails also.
Polaris Office gives you the freedom of viewing your document and files from any device with any platform; be it Windows, Android, or Apple.
How to download, install, use Polaris Office Free
You need to first sign up with Polaris Office. You can sign up with your Google+ or Facebook account or your email ID.
You can now either log in from the web link, or from the software installed on your machine. Polaris Office is a slightly bigger software with a 162 MB download. It takes considerable time to download, depending on your internet connectivity. However, once downloaded, the installation process is easy and fast.
After logging in, the web app looks as follows:
While the home page of the app looks as follows: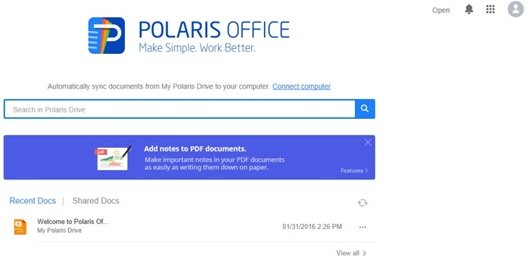 As you can see above, the uploaded documents are listed one after another, based on their uploading time on the Polaris Drive. When you open any of these documents, it looks as follows:
To upload a new file, click on the '+' button on the right bottom corner.

To upload a PPT, Excel sheet, or a Word document existing on your PC, click on 'P', 'X' or 'W' buttons respectively. You can also create a document using Polaris Office by clicking on the first button of 'Template'.  You can see several ready-to-use templates to create a Word document, an Excel sheet or a presentation.
Basically, it will help you create all these files without having Microsoft Office Suite installed on your machine. It has almost all the features just like Microsoft Office. Editing a document, sheet or presentation is pretty easy.
As soon as you save any of your files, it gets automatically saved on the Polaris drive. Hence, you don't have to worry about where your files or documents are getting saved on the machine. For all the files saved on the Polaris Drive, you get multiple action items; such as, Open, Share, Copy Link, Star, Download, Change name, Move, Copy and Delete.
To share any of your files, you get the following options:
The app creates a link of your file location, which you can share it with yourself or with anyone else by inviting that person. Using this web link, you can open the file from anywhere and from any device. Even though the destination device doesn't have Polaris Office installed on it, you will still be able to open the document, sheet, or presentation online. If your other device too has Polaris Office installed on it; you can take the privilege of editing the document. Finally, you can save this document back to Polaris Drive.
What you get with the Polaris Office basic free plan
The basic plan of Polaris Office is for free. With this, you can upload 60MB of data on Polaris Drive. However, you can view the documents and files unlimited times. You can connect 3 devices with the basic plan – including 1 Windows PC (or Mac), 1 tablet and 1 smartphone. External cloud connectivity is possible with numerous clouds such as Google Drive, Onedrive, Dropbox, Box, SugarSync, uCloud, WebDav, Amazon Cloud Drive; depending on the device's compatibility. With a basic plan, you get limited features from Smart Work service, such as Edit Documents (Microsoft Office, Text), Inter-device document sync, Local saves and Save to the external cloud. Other features are available with paid plans.
Our take on the Polaris Office Free for Windows
Polaris Office is an easy to use app with lots of functionalities. It has the ability to make your work easy. The basic plan is free. However, if you wish to have more features, then there are two more plans; namely, Smart (USD 3.99 per month/USD 39.99 per year) and Pro (USD 5.99 per month/USD 59.99 per year).
You can download the tool from the official website.
Looking for more options? here are a bunch of free Microsoft Office alternatives for Windows.