In this post, we will explore the key features of the newly launched Rizonesoft Office, a free, lightweight alternative to Microsoft's Office suite.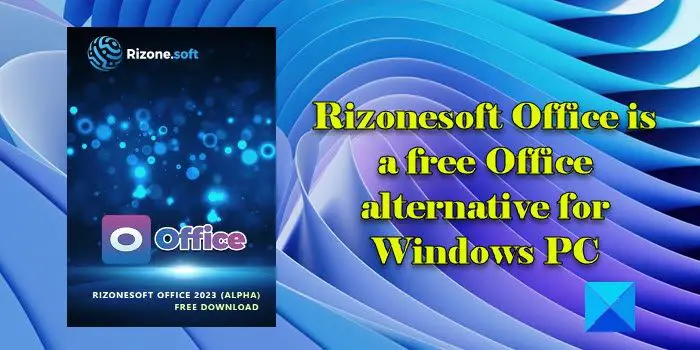 Microsoft Office is the most widely used business productivity software around the world. It has been the industry leader for decades; however, small businesses might object to the price it comes at. For those seeking a cost-effective solution to perform daily office tasks, there are many free MS Office alternatives, such Google Docs, OpenOffice, etc. Rizonesoft Office is a similar office productivity software that offers a comprehensive set of tools to help you meet your productivity needs.
Rizonesoft Office productivity software for Windows PC
Rizonesoft Office is a free Office alternative for Windows that offers a range of features and functionalities to create, edit, and manage all sorts of documents. Here are the key highlights of the software:
Free forever
Commercial use
No ads or adware
Open source code
Community driven
Rizonesoft Office supports several different file formats, including MS Office and Apache OpenOffice formats. This not only makes it compatible with other similar software but also ensures easy file sharing with clients or colleagues.
The main components of Rizonesoft Office are:
Verbum: a Word Processing application – an alternative to Word.
Evaluate: a spreadsheet software, just like Excel.
Scholar: a  PDF Viewer program.
Imagine: a Report Designer software.
Let us have a look at these in detail.
1] Verbum
Verbum is a word processing software that comes with a simple UI and a tabbed-based interface. It is similar to MS Word in both functionality and appearance. It offers powerful word-processing features that enable users to create professional-looking documents, letters, reports, and other write-ups.
The key features of Verbum include all sorts of text editing and formatting options (cut, copy, paste, font size, font styles, text effects, text highlight, paragraph styling, find & replace, etc.), easy insertion of various elements (table, picture, hyperlink, objects, etc.) and document styling options (header-footer, page/column/section break, page number, table of contents, table of figures, footnote, etc.), page setup options (margins, orientation, watermark), document proofing options (grammar and spell check, password protection, and document annotation and markup options.
2] Evaluate
Evaluate is a spreadsheet program that allows users to process the data organized in the form of tables. It has an excellent compatibility with MS Excel. It can open and import raw data directly from Excel files.
Evaluate supports a wide array of formulas and functions that aid in data analysis, statistics computation, pivot table creation, data visualization, and other mathematical calculations. Its main categories of formulas include AutoSum (Sum, Average, Max, Min), Finacial (PV, FV, NPV, IRR, PMT, RATE, NPER, etc.), Logical (AND, FALSE, IF, NOT, etc.), Text (CLEAN, CHAR, EXACT, FIND, etc.), Date & Time (DATEIF, DATE, DAYS, WEEKNUM, etc.), Lookup & Reference (ADDRESS, HLOOKUP, INDEX, INDIRECT, etc.), Math & Trigonometry (AGGREGATE, BASE, CEILING, etc.), & More.
Its key features include data editing and formatting options (cut, copy, paste, outline, border, text style, text color, text wrap, merge cells, autofit, hide/unhide, fill, clear, find & replace, etc.), element insertion (pivot table, illustrations, charts, hyperlink, symbols), page layout options (margins, orientation, page size), data tools (data validation, group/ungroup), and data proofing options (comments and password protection).
3] Scholar
Scholar is a simple yet intuitive PDF Viewer app. It enables users to easily navigate through long PDF files. Its key features include a multi-tabbed interface (you can open multiple PDF files at once), multiple zoom levels, page rotation options (for optimum visibility), text search options, and text annotation options (highlight, strikethrough, underline, comments).
Scholar is expected to get a unique PDF to Word, Excel, and Image conversion with OCR feature in its future builds.
4] Imagine
Imagine is a robust and versatile Report Designer software that allows users to easily design intricate and informative reports and print data from a data source. Its key features include an intuitive drag-and-drop interface (to easily drag and drop controls for efficient report design), data binding (to various data sources including SQL, Entity Framework, Spreadsheets, and more), rich data visualization (support for charts, pivot tables, and gauges), report customization through scripting ( C# or Visual Basic .NET scripts), creation of master-detail reports, parameterized reports, and subreports, data styling and formatting options, export options (to PDF, Excel, Word, etc.), integrated query builder, and multilingual support.
Overall, Rizonesoft Office appears promising and offers free tools to cater to office productivity needs. You can download the software from its official page.
Note: Rizonesoft Office is currently in its Alpha stage of development. This means certain features may be missing or may not work as intended. It has recently been released as Open Source, fostering the collective evolution of the tools based on emerging trends and user feedback. The suite is expected to transition into the Beta stage in 2024. By early 2025, we plan to launch the Release Candidate (RC) version, with the final release slated for the end of 2025.
Read Next: History & Evolution of Microsoft Office Software.