When it comes to office automation, the first thing that comes to mind is Microsoft Office. One cannot imagine a Windows-based computer without a local copy of Word, Excel, and PowerPoint. The future may hold the key to cloud-based apps, but as of now, a pretty large chunk of Microsoft users is still dependent on local installations. For the past few years, an exception being the statement released on Jan 24-25 2013, the office automation software bundle from Microsoft generated more revenue compared to its Windows range of operating systems.
History of Microsoft Office Software
The evolution of office automation is tied to the evolution of Microsoft Office as the latter remained and stays ahead in offering the latest features that enhance and support the functions required by the ever-changing needs of business houses worldwide.
Microsoft Word For MS-DOS – Pre Windows Era
The history of MS Office starts officially from November 19, 1990, when Office for Windows (also called MS Office 1.0) came out for use with Windows 2.0. Before Office 1.0, the basic elements of the package were still available as separate programs but for MS-DOS. The primary input devices for pre-Windows Microsoft Word were keyboards. The mouse was a luxury not used by many. Though they have many good features, formatting and printing require good expertise. You can still download one of the DOS-based Word from the Internet – but I won't recommend any site as I don't know if they would be clean.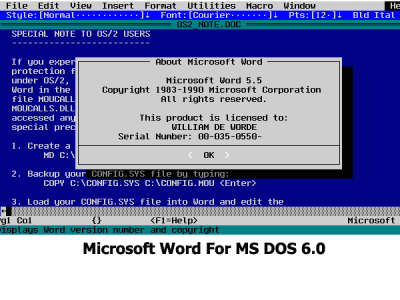 Evolution & History Of MS Office: From Keyboard To Touch Interface
We will take you on a pictorial tour of the different versions of Microsoft Office that debuted as an add-on for Windows 2.0 and went on to change the face of office automation across the business houses on the planet. It shifted users from the then famous WordPerfect to MS Word and killed the former's market. A major factor for the huge success of MS Office was and is the keyboard shortcut system as opposed to the formatting system of WordPerfect that required users to type in special codes.
The year 1990 – Microsoft Office For Windows (Office 1.0)
A combination of Word 1.1, Excel 2.0 and PowerPoint 2.0 released in November 1990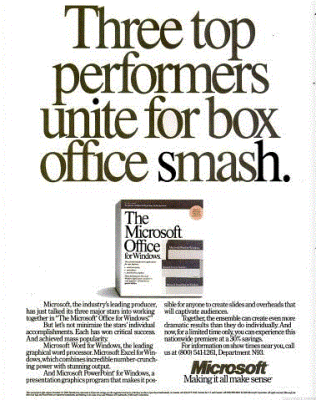 The above image is an advert from Microsoft for the first-ever Office suite (Office 1.0 for Windows 2.0) in "Electronics."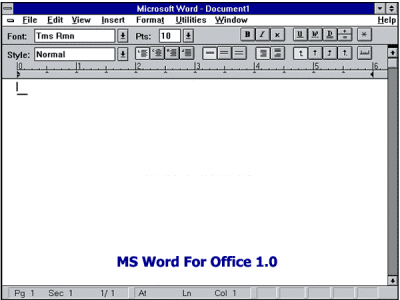 A look at the interface of MS Word 1.1
Year 1991 – MS Office 1.5 – Improved Excel (with Word 1.1 & PowerPoint 2.0)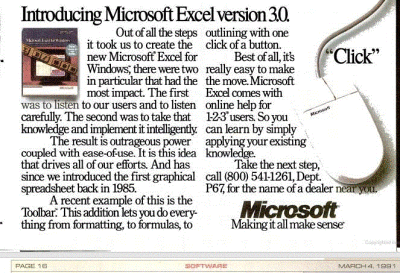 Year 1992 – MS Office 3.0 For Windows (Office 92 on CD-ROM)
Contains – Word 2.0; Excel 4.0A and PowerPoint 4.0. Do note that the version numbers are not consistent; they were made for only after Office 95 that we'll check out below.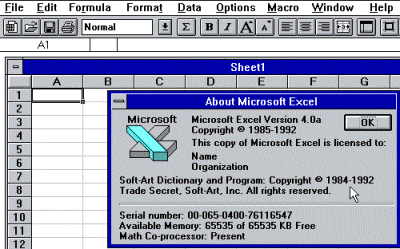 Splash Screen Of Excel 4.0A
IMPORTANT: For versions and subversions before Office 92, the distribution packages were either sequential storage devices (tapes) or a set of floppies (Setup would be like: Insert Disk 2 to continue, etc.!)
Year 1994 – Office 4.0 For Windows
There was one small upgrade for Excel between Office 3.0 and Office 4.0, and the same was continued in Office 4.0.
Instead of Excel 4.0a, it was now Excel 4.0. PowerPoint version was the same – 3.0. The major overhaul was MS Word which now had a very rich interface focusing on formatting.
Thus, Office 4.0 composed of the following: Word 6.0, Excel 4.0, and PowerPoint 3.0.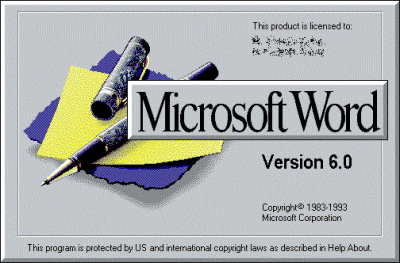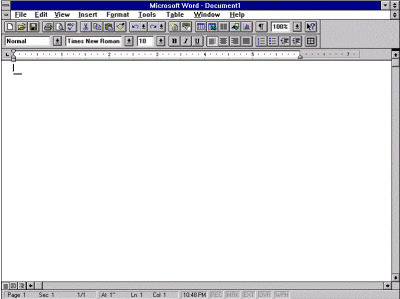 Year 1995 – Office 7.5 or Office 95
The naming convention was changed to match the version numbers of each application software in the Office suite! Thus, it was Word 95, Excel 95, and Presentation 95.
Note that each version of MS Office also brought in other software such as Publisher etc. For this picture article, we will stick to the main three components as including others as well will confuse some. I will later talk about the other software in a separate picture roll.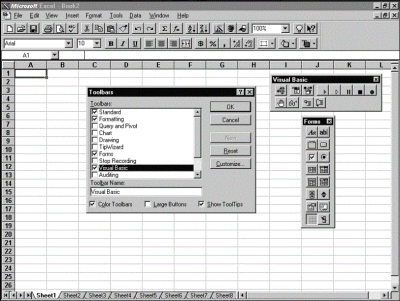 IMPORTANT: This version was not backward compatible and would work only on Windows 95 and later operating systems. You might get one from the Internet if curious but make sure it is not a fake or malware.
Year 1996 Fall – Office 97: Introduction Of Office Assistant!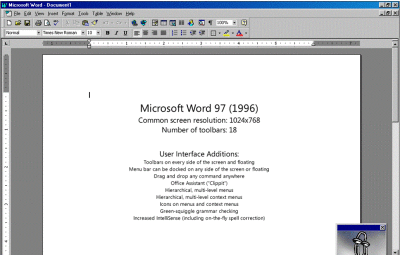 I am sure many of you must have loved that dancing clip, Clippy, whenever you pressed F1 for Help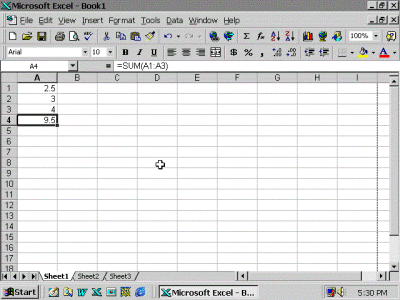 The interface of Excel 97: Notice Word & Excel Icons In Windows Quick Launch Bar
Mid 1999 – Office 2000 (Better User Experience)
Among the many updates to previous versions were smoother user elements and improved security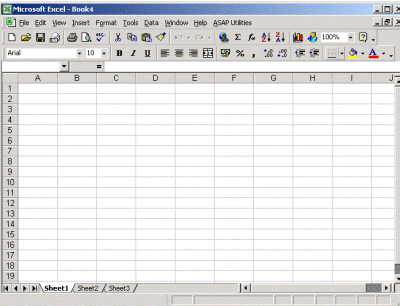 Notice The Smoother Interface here.
Mid 2001: Office XP
With XP, Microsoft provided almost all features to users working under restricted mode on corporate networks. Notice the shine on the Window title that is inherited from the basic elements on Windows XP that continued to rule for almost a decade.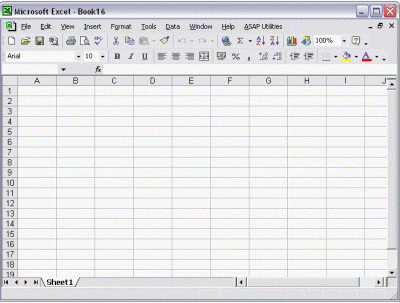 Fall Of the Year 2003 – Office 2003: The Most Used MS Office Version Ever
In the case of MS Office, however, the most used version is version 2003 with plenty of functionality and security features. Blended with Windows XP completely and presented icons and toolbars with the same look as the operating system. Other than the looks, the rich feature arranged neatly under different menu tabs made it users' choice to years until they were forced to upgrade to Office 2007 and Office 2010.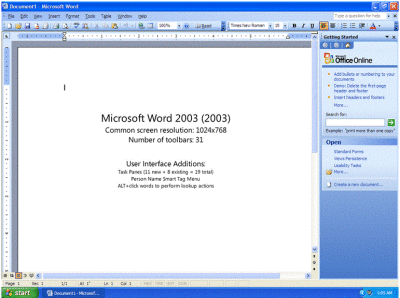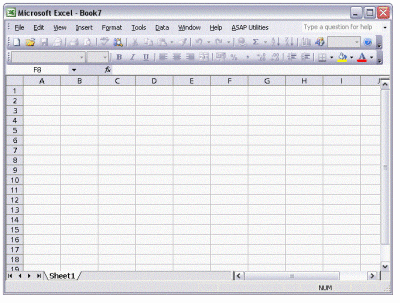 Office 2007 introduced the Ribbon Interface
Office 2007 introduced the ribbon interface and helped you produce professional-looking documents by providing a comprehensive set of tools for creating and formatting your document in the new Microsoft Office Fluent user interface.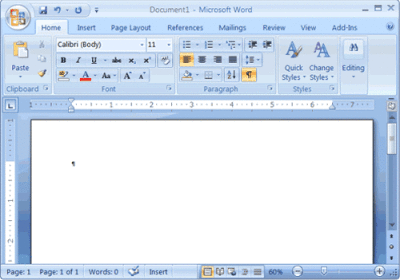 Office 2010 introduced Office Web Apps
Microsoft Office 2010 let people & employees keep in touch and working effectively no matter where they were. They could use the same applications from their PCs, from a smartphone, or a Web browser.
Office 2013 comes with cloud integration
The Evolution Of MS Office continues with Office 2013 and Office 365 and makes use of cloud computing and takes it to the next level while introducing Touch.
Office 365
Office 365 was introduced in mid-2011  as a replacement to Microsoft's cloud-based business suite. Since then, it has come a long way and has taken over standalone Office versions in colleges and businesses. It includes the web versions of Word, Excel, PowerPoint, OneNote, and a mail program. Also, it offers unlimited storage on OneDrive for the subscribers.
Office 2016
Office 2016 is the latest version as of now. The version is completely optimized for mobile devices and touchscreens. As such, it does not provide many new features over Office 2013 except for a tighter cloud integration that users may or may not feel comfortable with.
Office 2019
Microsoft Office 2019 desktop pack comes with several new improvements in its three main and popular apps: MS Word 2019, MS Excel 2019, and PowerPoint 2019. Users can now insert Scalable Vector Graphics (SVG) and prebuilt Images called Icons. These Icons remind me of the Corel Draw's Insert Object option where you can find vector images in Font window too and edit the format of letters (example: characters from the Webding font). You can also create objects in Adobe Illustrator and insert them into Word without having to convert it into a pixel image (.jpeg, .gif, .png, etc.)
You can insert icon images from the Insert tab -> Icons. These are vector images so you can resize and zoom to any scale without pixelating (breaking) them.
Language translation is new to this edition of Office software (2019). You can type in English and show it in French or any other language that is available. Besides these, you can use complex formulae in MS Word of Microsoft Office 2019. There are plenty more features available. You just need to find out where the features are located. To see an overview of what's new in Office 2019, visit this page.
Microsoft 365
Office 365 is now Microsoft 365 and it brings in extensive cloud integration. If you know about cloud computing, you know how many things are possible with this. Real-Time Collaboration on files, moving back to original files, and access to these files from anywhere are among the top benefits.
With Microsoft 365, you can keep all your files in the cloud (OneDrive in this case) and access them from any place that has an active internet connection. Also, check out the detailed comparison of Microsoft 365 with Office 2019 With Microsoft 365, you are basically editing documents or spreadsheets on OneDrive instead of storing them locally. You can find these files from the local OneDrive folder or use the browser to open OneDrive.com
Office 2021
Microsoft Office 2021 will have a new design with a refreshed ribbon interface, rounded window corners, and a neutral color palette. In Microsoft Office 2021, you will find new data types, functions, translation, new inking tools and editing tools, motion graphics, ease-of-use features, and so much more.
It is designed for both business and consumers that want to avoid the subscription version of Office and is a Standalone version of Microsoft Office suite. Microsoft Office 2021 comes with several updated apps, including Word, PowerPoint, Excel, OneNote, and Microsoft Teams for both PC and Mac.
Image sources: Microsoft.com and Office.com.
Now read next: A History of Microsoft Windows.