The other day we were talking about how to set up wireless networks in Windows. There are some really good tools available in the market to help you optimize your wireless experience. Though there are many, I am discussing five of them – the ones I found interesting. And yes, all of the networking tools for Windows 11/10/8/7 mentioned here are free to download and use.
Wireless Networking Tools for Windows 11/10
ZamZom, inSSIDer, Xirrus, Wireless Wizard, WeFi are some free wireless networking tools for Windows 11/10/8/7. Let us take a look at them.
1] ZamZom Wireless Network Tool
It is quite easy for anyone to hack into your wireless network and start using it to connect to the Internet. Though there are methods to secure your wireless connection, not all routers offer ample security for logging into wireless networks. This free wireless networking tool helps you in checking out unauthorized connections that are using your network.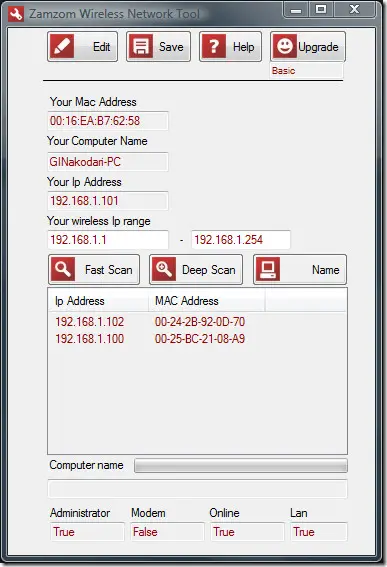 It offers two modes of scan: Fast and Deep Scan. The Fast scan is enough to check for unauthorized computers connected to your wireless network. Upon completion of the scan, Zamzom shows you a list of IP addresses of the computers that are using your network (see image above). Download here.
2] inSSIDer Wireless Network Tool
inSSIDer helps you scan for wireless access points around you. In addition to reporting the presence of wireless networks, the wireless networking tool also reports the strength of each network, the type of network and data transfer rate.
You can sort the wireless network according to their MAC address, SSID, channel and other factors. inSSIDer also helps you in troubleshooting clogged Wi-Fi channels. Other than these, the wireless networking tool can give you a continuous graph of these networks so that you can tab their performance over time. Available here.
3] Wireless Wizard
One of its types, the Wireless Wizard scans your wireless network for performance issues and provides you with detailed reports related to the different elements of the network. It can also run diagnostic tests so that you can troubleshoot your wireless network. It also provides a continuous graph so that you can monitor different wireless networks and select the best one for use. Additional features include the capability to resolve interference issues.
4] Xirrus Wi-Fi Inspector
The Xirrus Wi-Fi Inspector checks for all the active Wi-Fi networks available in your area. It not only locates and verifies Wi-Fi, but it also reports rogue access points. Other features include assistance in managing and troubleshooting Wi-Fi networks. Get it here.
5] WeFi Wireless Networking Tool
This is a tool that will help you decide where to stay when you are traveling! The WeFi Wireless Networking Tool shows you wireless hotspots according to area/region and even street names. There is a built-in search facility that allows you to enter area name so that WeFi can find you Wi-Fi hotspots in that area. You can choose between auto-connect and your favorite Wi-Fi spots.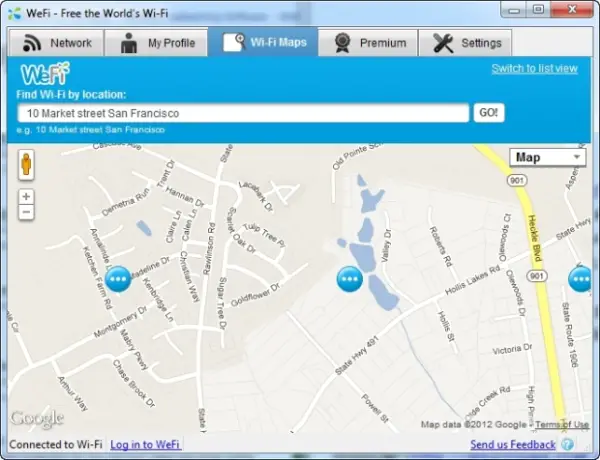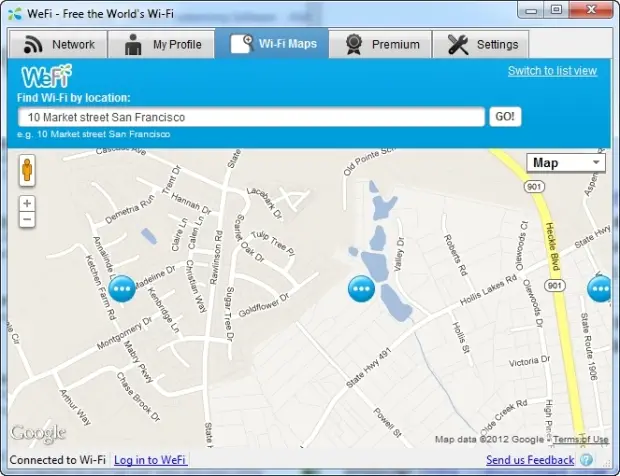 Other features include Wi-Fi maps and a friend finder. Wi-Fi maps are basically Google maps that show you locations of different Wi-Fi hotspots in a particular area. You can also check out the location of your friends using WeFi, if they are online. Get it here.
These are some of my favorite wireless networking tools for Windows. If you have your favorites, please share them with us.
Want more? Take a look at these WiFi Network Scanner Tools.