If you are unable to update your Windows computer, and when trying to do so, you error code 0x8024a205 then this post will help you resolve the issue. Users have been seeing this error code on Windows 11 and Windows 10. It comes with an error message that says:
We couldn't install this feature update, but you can try again (0x8024a205)"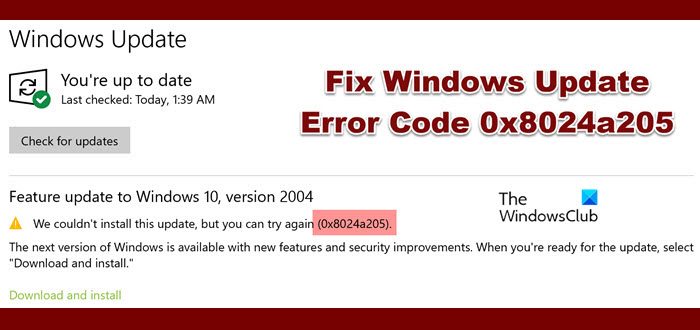 What causes Windows Update Error 0x8024a205?
Any update error is usually caused by corrupted files. It can be either a corrupted system or an update file. However, the good news is, they can be resolved. There are various methods to do the same, we are going to talk about each one of them because if one might not work for you, the other will. Some other reasons include the possibility of a glitch, that is very easy to get rid of. On the other hand, it can be due to misconfigured settings or because of insufficient space. Whatever the case is, this error can be resolved and will be resolved by following the solutions mentioned hereinafter. So, let us go to the troubleshooting guide.
Fix Windows Update Error 0x8024a205
If you are seeing error 0x8024a205 while using Windows Update, then check out the solutions mentioned below.
Check if you have enough space
Use Windows Update Troubleshooter
Pause and Run the update
Delete the content of the SoftwareDistribution folder
Run SFC and DISM
Reset Windows Update Components
Run Windows Update in Clean Boot
Let us talk about them in detail.
1] Check if you have enough space
If your C Drive is filled up, then Windows Update won't get enough space to download and install its files. And chances are, because of this very reason, your update is failing. It is recommended to have at least 32 GBs of free space to proceed with the update. So, you can just delete or move a few files to another location and retry downloading.
2] Use Windows Update Troubleshooter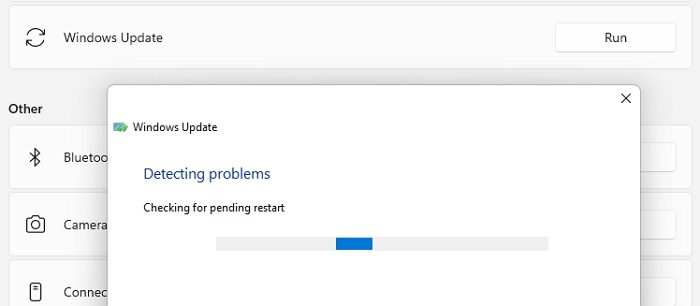 Next up, we need to deploy the Windows Update Troubleshooter, a Windows built-in utility that will scrutinize and resolve the issue. Follow the given steps to do the same.
Windows 11
Open Settings from Start.
Navigate to System > Troubleshoot > Other troubleshooters.
Go to Windows Update and click Run.
Windows 10
Hit Win + I to launch Settings.
Go to Update & Security.
Click on Troubleshooter > Other troubleshooters.
Click on Windows Update and select Run the troubleshooter.
Let it run and resolve the issue.
3] Pause and Run the Update
As mentioned earlier, this error can be due to a glitch. To get rid of that glitch, we need to pause and run the update for a bit, then restart it and see if it works. Open Windows Settings, go to Windows Update (Windows 11) or Update & Security (Windows 10), click on Pause updates, reboot your system, and Resume updates. Hopefully, this will do the job for you.
4] Delete the content of the SoftwareDistribution Folder
The content of the SoftwareDistribution folder can get corrupted, because of which the error code 0x8024a205 can get triggered. What you need to do is delete the folder and see if that works.
First of all, we need to stop some services. Open Command Prompt as an administrator, to do that, open Run (Win + R), type "cmd", and hit Ctrl + Shift + Esc or from the Start Menu, and execute the following commands.
net stop 

wuauserv
net stop bits
Then, go to the following location.
C:\Windows\SoftwareDistribution
Now, delete all the files of the SoftwareDistribution folder. If any of the files are in use, reboot your computer, then delete the files.
We need to restart the services using a couple of commands. Execute the following commands in Elevated Mode Command Prompts.
net start 

wuauserv
net start bits
Finally, restart the computer and try checking for updates. Hopefully, this should do the trick.
5] Run SFC and DISM
Next up, we need to take care of corrupted system files. We are going to use the Command Prompt and repair the files. So, open Command Prompt as an administrator and execute the following commands.
sfc /scannow
DISM /Online /Cleanup-Image /RestoreHealth
It will take some time for the commands to get executed. Hopefully, it will do the trick for you.
6] Reset Windows Update Components
If system files are not corrupted, then maybe the update files got corrupted. You need to reset Windows Update Components and check if the issue persists.
7] Troubleshoot in Clean Boot
There are a lot of apps that could have interfered with the process. You should perform Clean Boot and find out what's causing the issue. Once you know which app is triggering the problem, just remove it and your issue will be resolved.
How do I fix a corrupted Windows Update?
You can easily fix corrupted Windows Updates using the DISM tool. It's a built-in command line tool of Windows 11/10 that can help you repair corrupt system files because of which Windows updates not installing on your PC. Other solutions such as resetting Windows Update Agent, enabling Windows Update service, etc., can also help in fixing the problem.
What is Windows Update error 0x80004005?
This error appears when the Windows Update is interrupted in between and the installation process is not completed. To fix Windows Update error 0x80004005 on your Windows 11/10 PC, you may need to replace the dpcdll.dll file in the SysWOW64 folder and System32 folder. Also, use Windows Update troubleshooter, and try to manually download the update.
Read next: Windows Update Error 0xc1900401