Windows Update errors aren't uncommon. Some are easy to resolve, while others need a lot of time and research towards resolutions. One such tough to fix case is with Windows Update Error 0x80244007. This error simply halts the Windows Update process and restarting the system doesn't help much.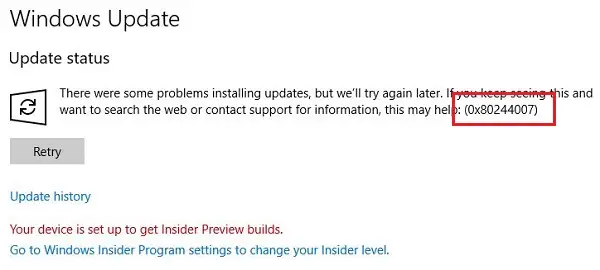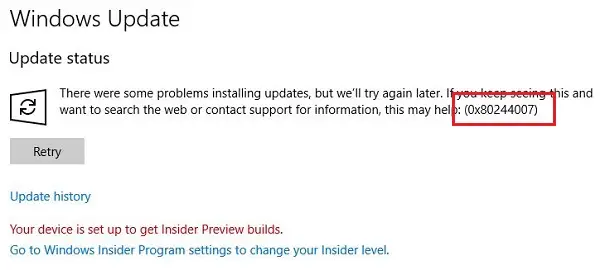 Fix Windows Update Error 0x80244007
The description of the error is:
SOAP client failed because there was a SOAP fault for reasons of WU_E_PT_SOAP_* error codes.
The main cause behind the issue is that Windows is unable to renew the cookies for Windows Update.
If you face this issue, you can try the following suggestions:
1] Run the Windows Update troubleshooter
The Windows Update troubleshooter would review the status of the services which support the process. It would prompt and fix if anything abnormal is detected. The procedure to run the Windows Update troubleshooter is as follows:
Click on Start > Settings > Updates and Security > Troubleshoot. Then select the Windows Update troubleshooter and run it. Restart the system.
You can also try to run Microsoft's Online Windows Update Troubleshooter and check if that is any help in fixing any of your issues.
2] Delete Temporary files
Run Disk Cleanup Tool and clear all temporary files including Browser cache & cookies.
3]  Rename the Software Distribution folder
The Software Distribution folder stores files crucial to the Windows Update process. Deleting or renaming the Software Distribution folder, and restarting the system would help in replacing these files. Basically, the files get downloaded again when we restart the system.
Hope it helps!