Installing a Windows 11/10 Feature update can go wrong at times – and one such error code that could be thrown up is 0x80240FFF. While it doesn't affect everyone if you get the problem, then here is how to fix Windows Update Error 0x80240FFF.
0x80240FFF, WU_E_UNEXPECTED, An operation failed due to reasons not covered by another error code. This error occurs when update synchronization fails. It can occur when you are using Windows Server Update Services on its own or when it is integrated with System Center Configuration Manager.
Fix Windows Update Error 0x80240fff
The error code is rare, the only working solution is that you either defer the update. I have gone deeply through forums, and it's usually because either the current update is causing an issue or you are stuck on an older version. We will suggest some basic troubleshooting tips.
Defer Updates
Update or Install using Windows ISO
Upgrade to the next supported version of Windows 11/10
Windows Update Troubleshooting
I would suggest you try them one by one. We have included tips to mitigate the issue temporarily and also given a solution that should work for you.
1] Defer Updates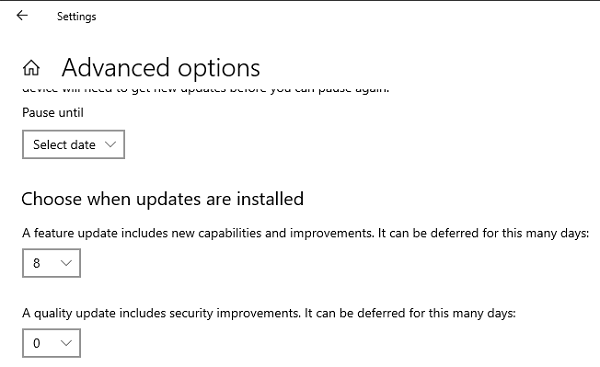 Windows 11/10 allows you to defer updates, i.e. delay the update, so if the current build is causing an issue, you can wait for a fix from Microsoft. It applies to both feature updates and quality updates.
Use Win + I to open Settings.
The navigate to Update & Security > Advanced Options
Under the label "Choose when updates are installed," select the number of days by which you want to delay or defer it.
Post this; the Windows Update system will wait for that number of days before trying to install it again.
Remember, this method doesn't fix, but since this is a core issue from Microsoft itself, it has to be resolved by them.  If everything goes well after the delay period, it must have been fixed.
Read: Fix 0x80242FFF Windows Update failed error
2] Download Latest ISO and Upgrade
Defer or Delay update feature was not available for Windows Home users in the earlier versions. So if you are still on the older version and facing this issue, you will not be able to defer updates. You need to download ISO of the latest version of Windows and upgrade it using the Media Creation Tool.
There is another, but temporary option — Pause Updates. Windows 10 offers this feature in all versions of Windows 11/10. However, it is only a temporary solution that works for 35 days. Once that limit is reached, the device will need to get new updates before you can pause again.
3] Upgrade to the next supported version of Windows 11/10
One of the recent reports of this problem came from _negin_ at Microsoft Answers. He had a problem finding and installing updates because of error code 0x80240fff. The error occurred after reinstalled Windows 11/10 Home and reset his laptop. Here is the error message he received when he launched Photoshop
You must update your system to install Photoshop: Windows 7 Service Pack 1, Windows 11/10 or later (Note: Windows 8, Windows 8.1, and Windows 10 Version 1507 and Windows 10 version 1511 are not supported).
It looks like he is still on an older version of Windows, and the application does not support it. If this is your case, you need to update Windows, the next release, which is recommended. There can be many reasons why you may want to be on an older version, but if the applications are giving you trouble, it's time to upgrade to at least the next supported version.
Staying to an older version of Windows also brings security issues. I am sure you use the computer for banking, online transaction, and more.
4] Windows Update Troubleshooter
You can choose to fix using the Online Windows Update Troubleshooter,  If that does not help, you can follow our suggestions on what to do if the Update fails to download or install. Repairing Windows Update components is also an option you can consider.
How do I fix error 0x80240fff in Windows?
To fix 0x80240fff in Windows 11/10 PC, you need to defer the updates first. Then, you can use the Windows Update Troubleshooter, which is the best solution to find out why the error is appearing on your computer. Other than that, you can update using the Windows 11/10 ISO as well.
How do I fix error 0x800f0831 when I install an update in Windows 11?
The solution to fix this error on Windows 11 is pretty different than the other one. In this case, you need to use the DISM tool first. If it doesn't resolve the issue, you need to repair the payload of the partially installed components manually.
We hope you were able to resolve Windows Update Error 0x80240FFF.