We all know that we can turn on or off Windows Features from the Control Panel. You can do so by opening the Control Panel and then the Programs panel. However, some Windows users are seeing error 0x80070308 while they are trying to enable Windows Features. In this guide, we show you ways to fix Windows Features Error 0x80070308.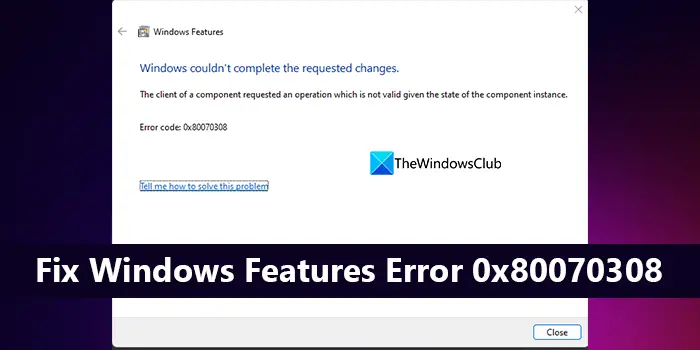 When you see error 0x80070308, you see the following message:
Windows couldn't complete the requested changes.
The client of a component requested an operation which is not valid given the state of the component instance.
Error code: 0x80070308
Let's see how we can fix the error.
Fix Windows Features Error 0x80070308
If you see Windows Features error 0x80070308 while trying to enable or disable Optional Features on Windows 11/10, you can use the following methods to fix it:
Temporarily disable your Antivirus Program
Run SFC and DISM Scans
Check System storage
Check the status of required Windows Services
Repair Windows
Let's get into the details of each method and fix the issue.
1] Check for Windows Updates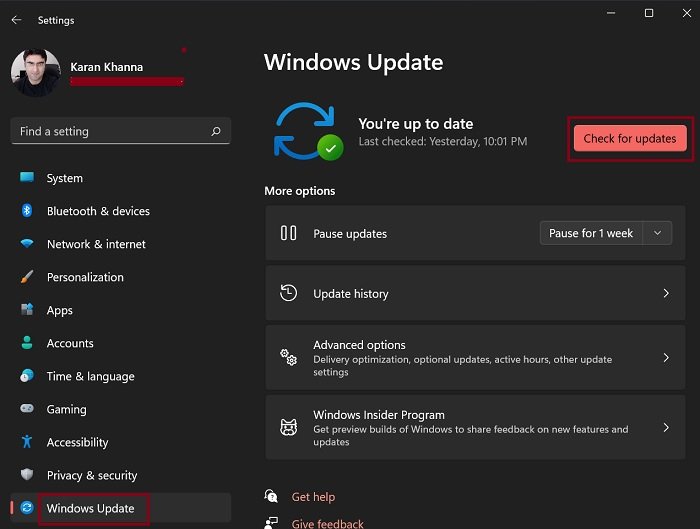 The bugs in the update of Windows might cause this error. They can be fixed with the latest updates. Check for Windows updates and install them on your PC to fix the Windows Features error 0x80070308.
To check for Windows updates,
Open the Settings app using the Win+I keyboard shortcut.
Click on Windows Update in the left side panel on the Settings page.
Then, click on Check for updates button.
It will then find any available Windows updates and show you to download and install them.
Check if the installation of the new Windows update has fixed the issue or not. If not, follow the below methods.
Read: Something happened, and we couldn't install a Feature
2] Run SFC and DISM Scans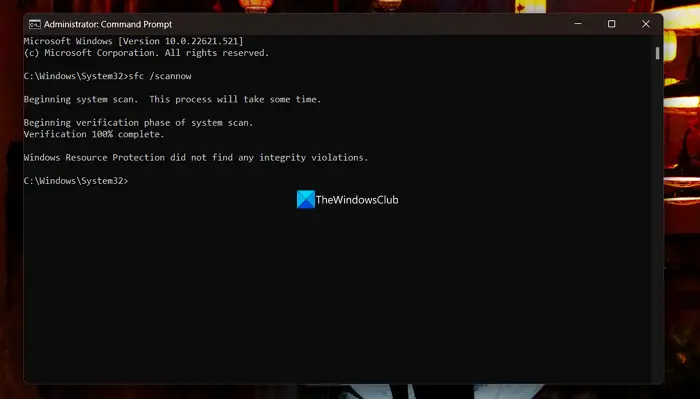 There might be any corruption in the System files or Image files on your PC. The necessary files might also be missing that are important to enable or disable Windows Features. You need to run the SFC scan first to fix any issues that occur with the System files and then run DISM Scan to fix issues with the Windows image.
To run SFC and DISM Scans,
Click on the Start menu and type cmd. You will see Command Prompt in the results.
Click on Run as administrator to run elevated Command Prompt
Now, type sfc /scannow and press Enter. It will run an SFC scan which finds missing or corrupted system files and fixes them automatically. You will see the completion status in the Command Prompt itself.
After you are done with SFC Scan, type Dism /Online /Cleanup-Image /RestoreHealth and press Enter which directly goes into fixing instead of scanning or checking health. If there are any issues with the Windows image, it will fix them automatically.
3] Check System storage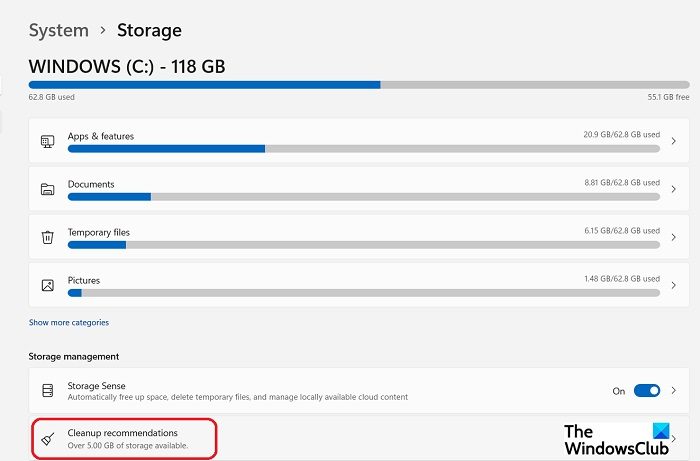 Whenever you are trying to enable or disable Windows Features, if your system is running out of storage, you might see this error. You can check the storage status of your PC-
Press Win+I to open Settings, go to System > Storage
Under the Storage Management tab, click on Cleanup recommendations.
Follow the steps and free up some disk space on your PC.
See if it has resolved the error 0x80070308.
4] Check the status of required Windows Services
If the essential Windows Services that need to run to let other processes and programs run are not running, you might see the error 0x80070308. In the Windows Search option, type Services and open the Windows Services Manager. Now navigate to the below-mentioned services and check if they are disabled. If they are, enable and start them and see if the error still persists. Their default startup types have been mentioned against each:
Windows Update – Manual Trigger Start
Background Intelligent Transfer Service – Manual
IKE and AuthIP IPsec Keying Modules – Automatic Trigger Start
Server – Automatic Trigger Start
TCP/IP NetBIOS Helper – Manual Trigger Start
Workstation – Automatic
4] Repair Windows
If none of the above methods work, you need to repair your Windows using the Reset this PC setting or a Windows installation media.
These are the different ways using which you can fix Windows Features error 0x80070308 on Windows 11/10.
How do I fix Windows update corruption?
You can fix the Windows Update corruption in many ways. First of all, you need to run the Windows Update troubleshooter that is available in the Settings app of your PC. If that does not fix the error, you can run SFC and DISM scans,  flush the SoftwareDistribution folder, reset Windows Update components, and install the update manually if all else fails to fix the Windows update corruption.
How do I fix error 0x80070308?
To fix Error 0x80070308, you need to disable the antivirus or any other additional security program installed on your computer first. Then, you can make use of the SFC and DISM tools. Next, you might also need to check the system storage so that the installation happens without interruption.
Related read: Something happened, and we couldn't install a feature [Fix]