In this article, we will see the possible solutions to fix Windows Update Error 0x800705B3. This type of error generally occurs when a user tries to install some updates on the system. There are many reasons for this error like corrupted system files, Windows components, etc. If you are getting the same error on your system, this post may help you.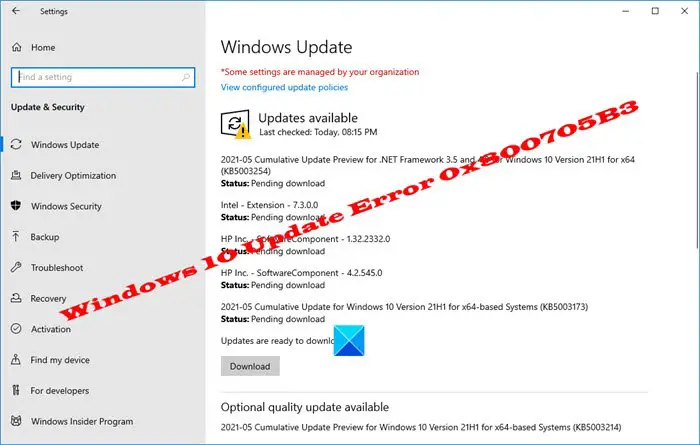 Code 1459, ERROR_REQUIRES_INTERACTIVE_WINDOWSTATION – This operation requires an interactive window station.
Windows Update Error 0x800705B3
We will describe the following methods to fix this error in Windows 11/10:
Run the Windows Update Troubleshooter.
Run DISM tool to repair Windows Update components
Reset the Windows Update Component.
Run Reset this PC option.
1] Run the Windows Update Troubleshooter
Windows Update Troubleshooter is a powerful tool from Microsoft that can help resolve various Windows update problems. You should run this tool on your computer and see if it helps.
2] Run DISM to repair corrupted Windows Update files
The Dism.exe tool can be used in different situations, and one of them is to repair corrupted Windows Update files. The DISM tool uses the Windows Update to replace the corrupted or missing system files with the good ones. But if the Windows Update Client is already broken, the command /RestoreHealth may not necessarily help. This is because, in this case, you have to use a running Windows installation as the repair source or use a Windows side-by-side folder from a network share, as the source of the files.
For this, run the following command instead:
DISM.exe /Online /Cleanup-Image /RestoreHealth /Source:C:\RepairSource\Windows /LimitAccess


In the above command, you have to replace the C:\RepairSource\Windows placeholder with the location of your repair source.
When the process gets completed, DISM will create a log file in %windir%/Logs/CBS/CBS.log and capture any issues that the tool finds or fixes.
3] Reset Windows Update component, etc, to default
If the error is occurring due to the corrupted Windows Update component, resetting it may help fix the issue. Refer to the following links to know how to restore the Windows Update components to default:
4] Run Reset this PC option
If none of the above methods work for you, you can try resetting your PC. To do so, go to Settings > Update and Security > Recovery. There, you will find Reset this PC option. Click Get Started and you will be prompted with two options:
Keep my files.
Remove everything.
If you do not want your files to be deleted while resetting the PC, select the first option Keep my files and proceed.
Hope this helps.
Related reads: