Several users reported encountering Windows Activation Error Code 0x8007007B after installing the latest updates on their PC. Due to this issue, they face problems in continuation with the activation process of the Windows OS. In order to fix this problem, we have mentioned some methods that would help you to fix the error.
We can't activate Windows on this device as we can't connect to your organization's activation server. Make sure that you're connected to your organization's network and try again. If you continue having problems with activation, contact your organization's support person. Error code 0x8007007B.
Fix Windows Activation Error Code 0x8007007B
To fix Windows 11/10 Activation Error Code 0x8007007B, follow these suggestions:
Run slmgr.vbs command
Use Slui 3 command
Run Activation Troubleshooter
Contact Microsoft Support.
Let us see them in detail.
1] Run slmgr.vbs command
Windows Software Licensing Management Tool, slmgr.vbs is a command-line licensing tool. It is a visual basic script used to configure licensing in Windows and also helps you see the licensing status of your Windows 10/8/7 installation.
To execute "slmgr.vbs" command, you need to open the Command Prompt with the Administrative right.
First, run the following command:
slmgr.vbs /dlv
If it says GVLK, then you know that product was activated through Volume licensing and you are a part of it. This is for confirmation purposes.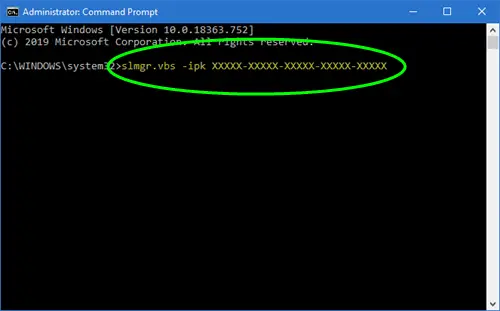 Next, execute the following command:
slmgr.vbs –ipk XXXXX-XXXXX–XXXXX–XXXXX–XXXXX
This command will install the product key.
In the Command Prompt, you need to replace the "X" letter with the number related to the Product key.
Next, in the same Command Prompt window, execute the command –
slmgr.vbs –ato
This command will activate your copy of Windows.
2] Use Slui 3 command
You can also use the slui.exe command line to activate Windows as follows:
Right-click on the Start button and select the Run option.
In the dialog box, type Slui 3 and hit the Enter key.
Hit the Yes button if UAC pop-up on the screen.
Enter your 25-digit product key and then click on the Next button.
After activating the Product key, restart your Windows 10 device.
3] Run Activation Troubleshooter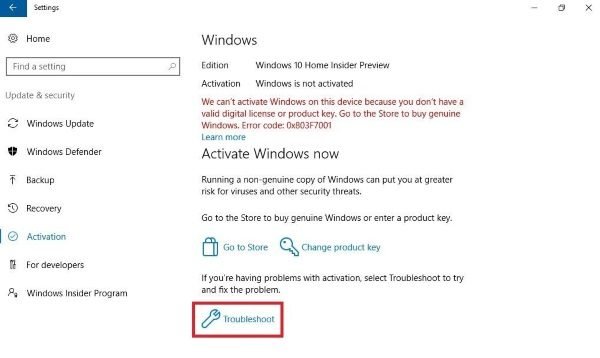 The Windows Activation Troubleshooter helps you to identify the most common activation problems on the Windows operating system. In order to activate it, you can follow the steps –
Open Windows Settings using Win+I Shortcut key.
Select Update & Security category.
In the left pane, scroll and select the Activation button.
Move to the right pane and click on the Troubleshoot link.
You might need to wait for a while until the troubleshooting process gets completed. After that, reboot your Windows 11/10 PC and check for the error code 0x8007007B.
Related read: Windows Activation error code 0xC004F074.
4] Contact Microsoft Support
Unfortunately, if none of the above workarounds works, then you can try to contact Microsoft Support – Volume Licensing Activation Center. Tell them about the error code and ask them to change your product key.
Related read: Troubleshoot Windows Activation States.