If you want to edit a document, but you are unable to type in Google Docs, here is how you can get rid of this problem. No matter whether you use Google Chrome, Mozilla Firefox, or Microsoft Edge, the solutions are almost the same for all browsers.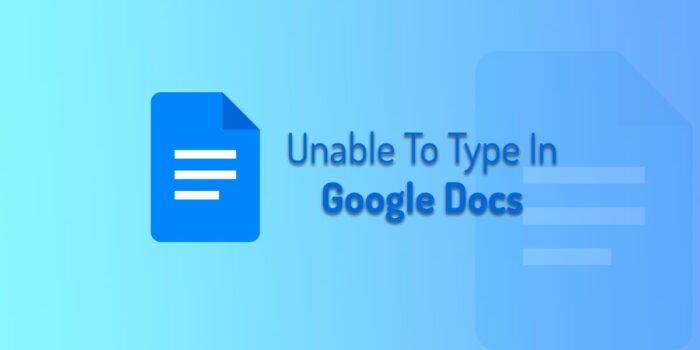 Fix Unable to type in Google Docs, Sheets or Forms
If you cannot type in Google Docs, Sheets, or Forms, and are unable to type or edit documents in your browser, then these suggestions will help you fix the issue.
Verify internet connection
Change document view mode
Sign out and re-sign in
Disable ad blocker extension
Create new document
Disable proxy and VPN
Clear site data
Reset browser
To know more about these solutions, keep reading.
1] Verify internet connection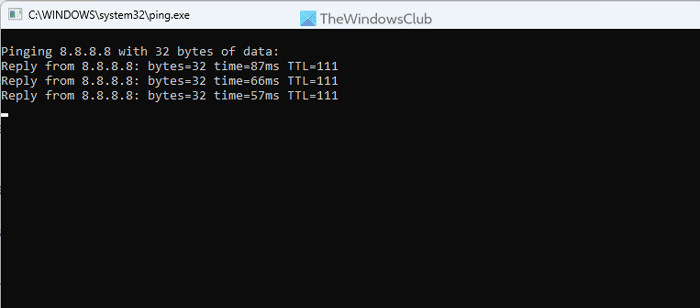 This is the first thing you can try when Google Docs is not loading the document properly or blocking you from editing or typing in the document. As Google Docs works online, you need to have an uninterrupted internet connection to continue your work. If you do not have such a thing connected to your computer, you may encounter various issues. That is why it is highly recommended to verify your internet connection before you try anything else.
For that, you can press Win+R to open the Run prompt and type this:
ping 8.8.8.8 -t
If you get a continuous response without interruption or Request timed out message, you can follow other solutions. However, if you see a ping loss issue, you need to change your internet connection.
2] Change document view mode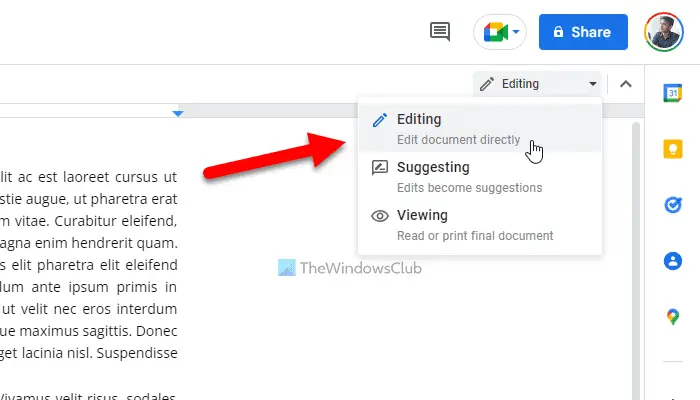 Google Docs allows users to switch between various view modes so that the admin can check how the document would look to others. If you, by mistake, have set the Viewing mode instead of Editing, you won't be able to edit the document. That is why you need to click on the View mode option and select the Editing option.
3] Sign out and re-sign in
If you have recently changed your Google account password, you may come across the same problem while editing a document in Google Docs. That is why it is suggested to sign out of your account and re-sign into your account with the new password.
4] Disable ad blocker extension
Many people use adblocker extensions in the browser to get rid of spammy advertisements. The same may cause issues while editing a document in Google Docs. That is why it is recommended to disable the ad blocker extension if you use any in your browser. No matter which one you use, you can disable it temporarily and check if it resolves the issue or not.
5] Create new document
You can create copy the entire content of the document and create a new one. At times, issues may occur due to installed add-ins. If you create a new document, this problem may get resolved within moments.
6] Disable proxy and VPN
This solution is almost the same as the first solution. Internet connection problems may occur due to proxy and VPN as well. If your proxy or VPN server has some issues, you may come across the same problem on your computer while editing the document. That is why you can disable the proxy and VPN temporarily and check if it does anything or not.
7] Clear site data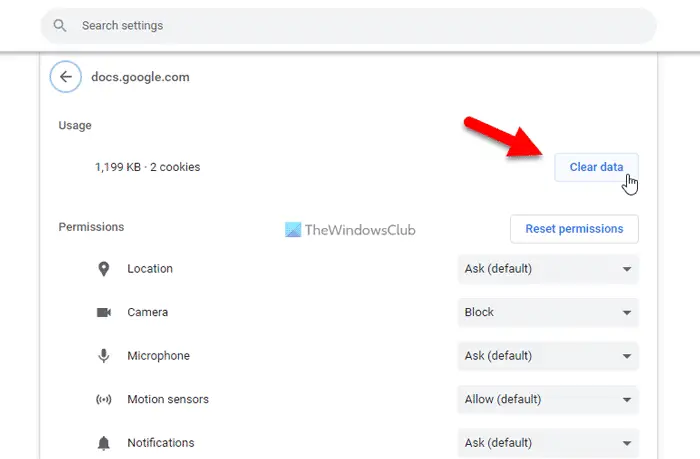 At times, old cookies and cache could cause issues on Google Docs. No matter which browser you use, you may face the same problem while editing a document on Google Docs. That is why you can clear site data for Google Docs in Chrome, Edge, or Firefox and check if it resolves your problem or not.
8] Reset browser
It is probably the last thing you can opt for. If this problem occurs due to incorrect changes or corrupt browser files, you can troubleshoot the issue by resetting the browser. That is why you can follow these guides to reset your browser:
Why won't my Google Sheets let me type?
There could be several reasons why you can't write or type in Google Sheets. From a poor internet connection to adware or a faulty browser extension, anything could be responsible for this issue. However, you can troubleshoot the problem by going through the above-mentioned solutions.
Why is Google Docs not following my typing?
If Google Docs is not following your typing, you can follow the aforementioned tips and tricks. Start the process by verifying your internet connection. Following that, you can disable all browser extensions. Finally, if nothing works, you can use the voice typing facility, which is an in-built feature of Google Docs.