Though there are many potential causes for SYSTEM_PTE_MISUSE – 0x000000DA error, but incompatible hardware detection, and hardware recognition failing remain the top causes for this error. Another reason for this error is system file corruption. This means that, if a system driver for a particular hardware is corrupt, it will not be able to recognize the external device and will eventually lead to the crashing of the system with a Bluescreen Error. Today, we are going to try and fix this error with a few potential fixes.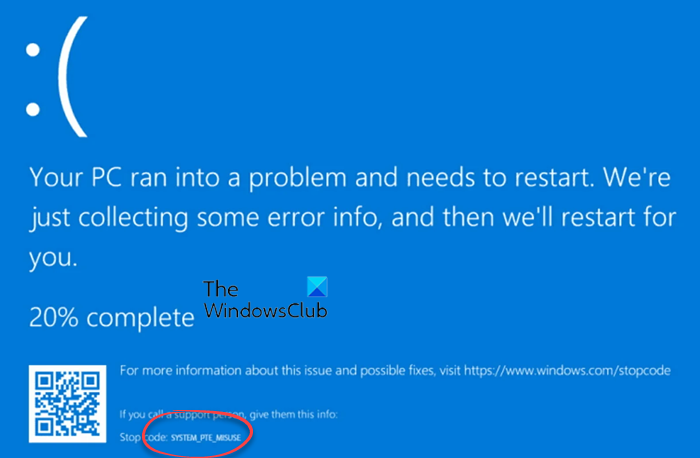 The SYSTEM_PTE_MISUSE bug check has a value of 0x000000DA. This indicates that a page table entry (PTE) routine has been used in an improper way.
Fix SYSTEM_PTE_MISUSE error on Windows 11/10
The following potential fixes will be carried out to fix SYSTEM PTE MISUSE error on Windows 11/10:
Update, Rollback or Disable Drivers.
Use System File Checker.
Check for incompatible devices.
Use the Bluescreen troubleshooter.
Disable PTT Security in BIOS.
Please create a System Restore Point before you proceed.
1] Update, Rollback or Disable Drivers and Windows
The incompatibility between the Windows operating system and the device driver might give rise to issues like this. So, you can try to Update or Rollback the conflicting driver. Specifically, you can also try to update or uninstall/reinstall your Graphics Driver and see if it helps.
2] Use System File Checker
Start by pressing WINKEY + X button combo or right-click on the Start button and click on Command Prompt (Admin) or search for cmd in the Cortana search box, right-click on the Command Prompt icon and click on Run as Administrator. Click on Yes for the UAC or User Account Control prompt that you get. Then, the Command Prompt window will finally be open. Now, type in the following command to run System File Checker and then hit Enter.
sfc /scannow
Restart your system after the scan is completed.
You can also use our freeware FixWin to Run the System File Checker utility with a click.
3] Check for incompatible devices
I would recommend you to troubleshoot this error by plugging in and out different hardware connected to your computer one by one. By this, the detection of the error causing hardware will immediately trigger the error, and you will know what hardware drivers or anything else is causing the error.
This could include your external devices like a Printer, mouse or keyboard or even internally attached components like the Graphics card or the others.
4] Use the Bluescreen Troubleshooter
You may also run the Blue Screen Troubleshooter. The online Blue Screen Troubleshooter from Microsoft is a wizard that is meant to help novice users fix their Stop Errors. It offers helpful links along the way.
5] Disable PTT Security in BIOS
If your Dell computer throws up this error, you may want to enter the BIOS and uncheck PTT Security and see if that helps you.
During boot, press F2 to enter BIOS > Security tab > PTT Security section and uncheck the "PTT On" box.
Restart your computer and see.
Did this help you in resolving the issue?