You might encounter a situation where video streaming won't work properly. For example, on YouTube, the full screen won't work, or the video might get stuck, or there might be only sound but no picture. In this article, I'll suggest a few tips to resolve such issues.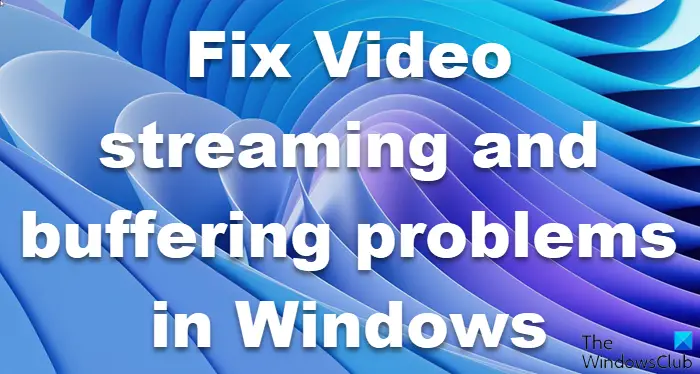 Video streaming and buffering problems in Windows 11/10
If you face problems playing video content on your Windows 11/10/8/7 PC, try these suggestions; one of them is sure to help you:
Update Video Drivers
Update Video player software
Disable Adaptive brightness
Change buffer settings in Windows Media Player
Disable Hardware acceleration
Clear browser cache
Reset the browser.
Let us see these in detail.
1] Update Video Drivers

Ensure that you have the latest display drivers installed. Sometime outdated display drivers can misbehave. So go to the appropriate manufacturer's website and find your display card model and download the latest drivers for it.
For instance, if you have ATI Radeon, go to ATI's website and search for the model and download it. Sometime you won't find the correct drive on the manufacturer's website if it's a Notebook. So go to the Notebook manufacturer's website and download it from there.
2] Update Video player software

Update your Abode Flash player, Quick Time player, DivX Web Players, etc., as the case may be. These are the common software used for streaming videos. If one of this software is corrupted or out-of-date, then you might experience issues in streaming videos. So visit each manufacturer's website and look for the new version and download it. Make sure you remove the old version and download the appropriate application for you.
3] Disable Adaptive brightness
Disable Adaptive brightness and see if that helps.
4] Change buffer settings in Windows Media Player
Open Windows Media Player.
Click Organize > Options > Performance tab
Go to Network Buffering.
Change the Buffer value from 5 to 10.
5] Disable Hardware acceleration
I have seen many times that Flash videos, face rendering issues with Hardware Acceleration. In such a case, I recommend you disable Hardware Acceleration and then restart the browser to see if it helps.
To disable the Hardware acceleration, follow these steps.
Right-click on the Flash video you are watching.
Click on Settings (Not Global setting).
Then click on the First tab.
Make sure that the "Enable Hardware acceleration" box is unchecked.
6] Clear browser cache

Clear the cache, cookies and Temp files. Sometimes these files can mess up the proper working of a browser. The best and easiest way of doing this is using a small application called CCleaner. This program will help you in clearing the cache, cookies, temps files, etc.
Once all the cache, cookies, and temp files are cleared, then open the browser and try again.
6] Reset the browser

As a last resort, you could reset the browser to default settings, reset Winsock, reset the LSP, and flush the DNS. to make sure everything is working fine.
If you know of any additional fixes, please do share them with us.
Why do streaming videos keep Buffering?
Buffering is the action of downloading the video content before it's played. When the video is played faster than the speed at which the video content is downloaded, you face video buffering problems.
How can I fix streaming problems on Windows 11/10?
Updating display drivers and the software you are using to stream videos is very likely to help solve the video streaming problem in Windows 11/10. For more suggestions, see the suggestions above in this post.