Packets may get lost in Apex Legends because of network or server issues. Things such as slow Internet and network glitches will come under network issues. In this post, we will see how you can fix Apex Legends Packet Loss with some easy-to-execute solutions.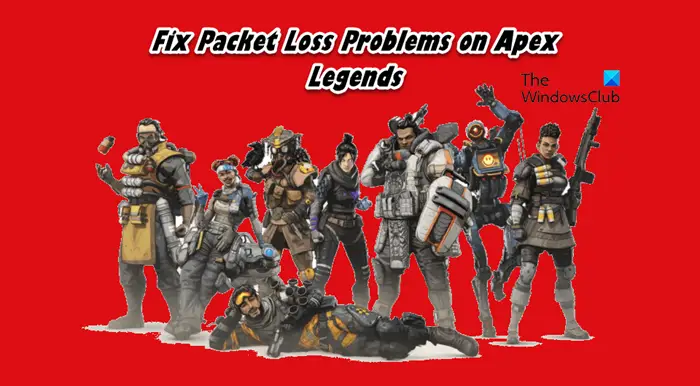 How do I fix packet loss in Apex Legends?
If you are seeing Pocket Loss in Apex Legends, try the solutions mentioned here. But first, we need to know why it's happening. It can occur due to various reasons, including lousy Internet or outdated network drivers. Some other reasons include bandwidth-hogging tasks in the background, your regional game server, or your game and system files. However, one can not rule out the possibility of a server-side issue.
Fix Apex Legends Packet loss problems
If you face Packet loss problems on Apex Legends and are unable to have smooth gameplay, try the following solutions.
Check the game's server
Restart your device
Check your Internet
Update the network drivers
Use Wired Connection
Change the game server's region
Let's start the process of fixing the issue mentioned.
1] Check the game's server
If the game's server is down, you won't be able to connect to it. As a result of which you'll see the error code in question. so, try using one of the free server status detectors to know if the server is down. In case the server is down or under maintenance, wait for the engineers to fix the problem.
2] Restart your device
More often than not, these issues are a result of any kind of glitch. Restarting your device should always be one of your first steps when dealing with such issues. By doing this, it will not only reload the game, but the system will also flush out the error. You should not only restart your computer, but also the network devices, such as your Router.
3] Check your Internet
If there is no issue with the game's server then you should ensure that Apex Legends has a consistent network connection because a shaky connection will prohibit you from connecting to the server, and result in the problem mentioned above. You can use the Internet Speed Tester to determine that the Internet bandwidth is not the source of the error. In case the Internet is slow, contact your ISP and ask them to resolve the issue.
Read: Fix slow Internet speed on Windows computer 
4] Update the network drivers
An updated network driver will ensure that you don't face any kind of network issue due to incompatibility. Network drivers are typically updated concurrently with Windows. If it isn't updated, you may use free software or update your network driver manually. Choose the one that is right for you from the following methods.
After updating the driver, check if the issue persists.
5] Try Wired Connection
It is pretty obvious that a Wireless network aka WiFi is not very reliable for gaming. Anything wireless, be it a mouse or keyboard, is not recommended. Because it doesn't matter how good your device is, it can't have perfect latency. So, try an ethernet connection and see if it helps.
6] Change the game server's region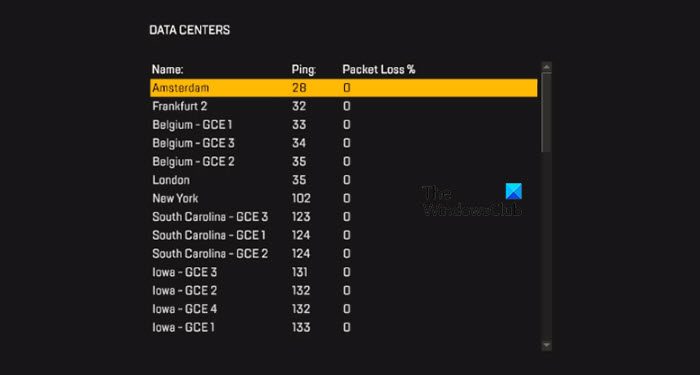 In order to provide an easy connection, Apex Legends has many servers located in different regions, from which the game automatically selects one as per your location.  However, you can encounter the said error if there is any technical issue in the selected server. If that's the case then you can switch to a server with the lowest ping and packet loss to avoid the latency issue.
Hopefully, you are able to resolve the issue with these solutions.
Read: Fix Apex Legends Out of sync with server 
Network Lag can only be fixed by fixing the network issue. You can try the solutions such as restarting the network, changing the game server, try a wired connection, but first and foremost, you need to make sure that a constant flow of Internet is provided to Apex Legends.
Read: Fix Apex Legends Server received bad player data error 
How do you fix packet loss problems?
Packet Loss problem is an indication that you are not unable to create a proper path for communication between the client, that's you, and the server. It can a server issue or can occur because of a poor Internet Connection. Try connecting to a different server to know if it's related to that. If it's not a server issue, contact your Internet Service Provider and ask them to fix the cause.