If you have Microsoft Office installed on your Windows 11/10 computer, then chances are the Outlook email client is there as well as it is a central part of the Suite. Now, despite Outlook being a popular tool, that doesn't mean doesn't have a lot of problems. One of the most interesting error codes facing Outlook users right now is one called 0x8004011D.
Task Exchange Server reported error 0X8004011d: The server is not available. Contact your administrator if the condition persists.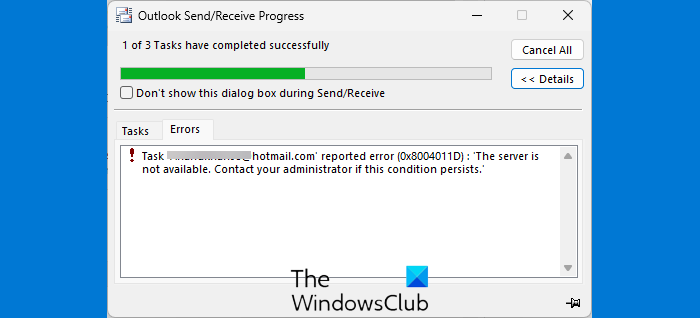 What is the cause for Outlook error code 0x8004011D?
From what we have gathered thus far, this error is not uniquely caused by a single issue. For example, we know that a corrupted Outlook profile can trigger error code 0x8004011D at any time. Apart from that, if you have set the firewall incorrectly, you could also block the incoming and outgoing traffic from Outlook, resulting this error.
What does it mean when Outlook Cannot connect to server?
It simply means your version of Outlook is in-capable of communicating with the Exchange Server, and as such, you won't be able to send or receive emails via your one or multiple accounts linked to Outlook. As said earlier, this error occurs when there are some issues with the Outlook profile or firewall blocks all connection. We have discussed some solutions here and it is suggested to check them to get rid of this issue.
Fix Outlook Error 0x8004011D, The server is not available
If you are one of the many Outlook users to see this error, we want to say you should not panic because getting things under control is easier than you might think. We recommend reading the following information carefully to aid in getting rid of the error once and for all.
Turn on Exchange Cache mode
Create a new Outlook Profile
1] Turn on Exchange Cache mode
Some people have been experiencing the 0x8004011D error via their Exchange account, and that can be a problem for work. To fix it, we suggest allowing Outlook to use the Exchange Cached mode to see if it will connect to the Exchange servers without issues.
In order to enable Exchange Cache Mode, we suggest pressing the Windows key + R to open the Run dialog box, and from there, type control.exe into the text box and hit Enter. Doing this should launch the Control Panel, and once it is opened, please select Mail from the list.
Right away a small window will appear called Mail Setup – Outlook. Click on Email Accounts, then double-click on your email address. When the Server Settings window appears, we want you to enable Use Cached Exchange Mode, then hit Next.
Alternatively you can also open the setting via Outlook > File > Account settings > Select the email account > Change > More settings.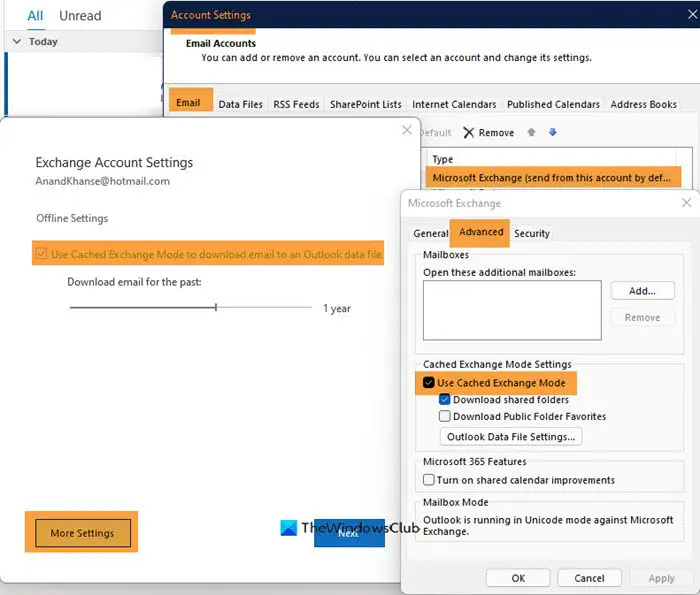 Ensure that Use Cached Exchange Mode is selected. Press Apply and restart Outlook and see.
2] Create a new Outlook Profile
If the above solution fails to work as intended, then creating a new Outlook profile could do the trick. Many users affected by 0x8004011D have stated that this option turned out to work just fine.
When it comes down to creating a new profile, we suggest closing Outlook, then navigating to the Control Panel. From there, select the Mail option and be sure to click on the Show Profiles button. A new window will appear with a list of profiles.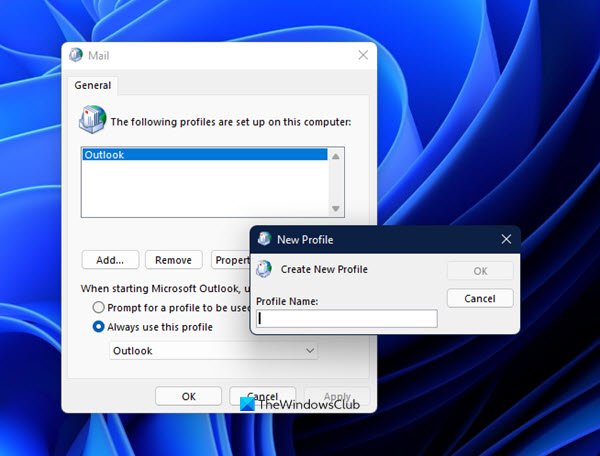 You can add a new profile by pressing the Add button.
Delete the one you're currently using by selecting it and pressing the Remove button.
Finally, close Outlook, then start it again and follow the instructions to repopulate the app as it was before. Doing this will automatically create a new profile that is free from corruption, at least for a while. You may want to back up your PST or OST file, just in case!