If you are unable to sign in to your OneDrive account and you see Error Code 0x8004e4a2, then this post will help you resolve this OneDrive error. There is no need to panic, we got your back. In this article, we are going to resolve OneDrive Error Code 0x8004e4a2e.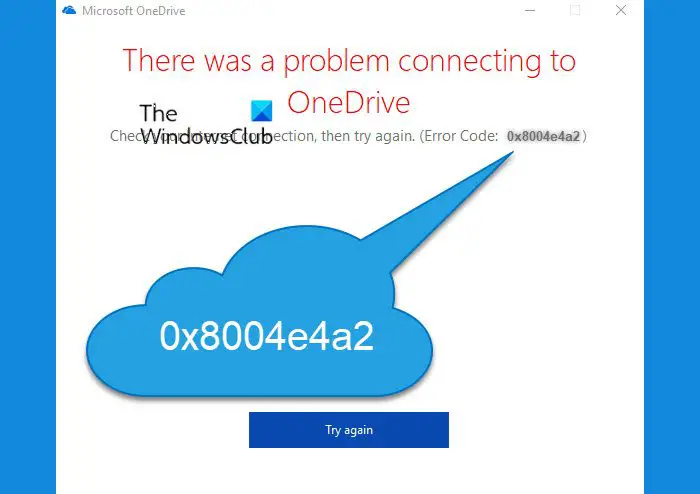 Resolve Error Code 0x8004e4a2 on OneDrive
If you want to fix Error Code 0x8004e4a2 on OneDrive, check out the following solutions mentioned below to resolve the issue.
Check your Internet
Powercycle your Router
Disable VPN or Proxy
Allow OneDrive through Firewall
Run some commands to reset Network Protocols
Reste OneDrive
Reinstall the app
Let us talk about them in detail.
1] Check your Internet
Since you are unable to sign in, the first thing you have to do is check your Internet connection. If your Internet is slow, chances OneDrive won't be able to contact its server, hence, show the error code in question.
So, first of all, use a free Internet Speed tester to identify your bandwidth. If the bandwidth is low, run the same checker on a different device connected to the same network. If the speed of the Internet is constant, power cycle the router (steps mentioned hereinafter), and if that doesn't work, contact your ISP. In case, yours is the only device with a network problem, check our guide and see how to fix slow Internet.
2] Powercycle your Router
Next up, we need to restart your router to get rid of any kind of network glitches that could have caused the issue. Follow the prescribed steps to do the same.
Turn off the Router.
Unplug it from the power source and wait for a minute.
Then plug the router back in and turn it on.
Connect your computer to the network and try signing in to OneDrive.
3] Disable VPN or Proxy
If are connected to a VPN or Proxy network, OneDrive won't be able to communicate with its server. Hence, you won't be able to sign in. That is why it is recommended to disable VPN or Proxy and retry signing in to your account. Hopefully, it will do the job.
4] Allow OneDrive through Firewall
If you configured a third-party antivirus or Windows Firewall, then maybe it's stopping OneDrive from communicating with its server. For a third-party antivirus, you need to whitelist the app. Or allow OneDrive through the Firewall. Once you do that, restart the system and check if the issue persists.
5] Run some commands to reset Network Protocols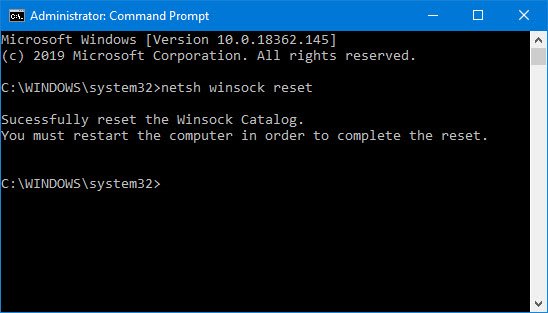 Your network protocols, DNS, IP, and Winsock are responsible to create a bridge that allows communication between the app on your computer and the server. If there is some glitch that is stopping these protocols from doing their job, chances are, you will see the error code in question. We are going to release and renew IP, reset Winsock, and flush DNS and check if that resolves the issue. To do that, open Command  Prompt and run the following commands.
ipconfig /release
ipconfig /renew
ipconfig /flushdns
ipconfig /registerdns
netsh winsock reset
After executing the commands, restart your computer, and try logging in to your OneDrive account. Hopefully, it will work this time.
6] Reset OneDrive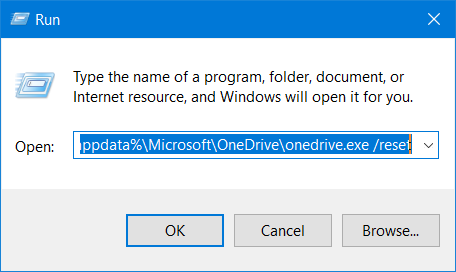 If there is a glitch in the OneDrive, you should reset it to resolve the problem. You basically are resetting the settings of the app to default, this will not only help with glitches but also with misconfigured settings. To reset OneDrive, open Run and execute the following command.
%localappdata%\Microsoft\OneDrive\onedrive.exe /reset
This will reset your OneDrive. If the OneDrive cloud doesn't reappear, execute the string in Run.
%localappdata%\Microsoft\OneDrive\onedrive.exe
Hopefully, this will allow you to sign back in.
7] Reinstall the app
If all else fails, then reinstalling is your last resort. It will do the trick if the issue is caused by corruption in the app. Go ahead and uninstall OneDrive, then download and install a fresh copy.
We are pretty sure that the solutions we have mentioned will work for you.
How do I resolve OneDrive error?
Every error code in OneDrive has a meaning to it. That is why it is recommended to use that error code to search for the solutions. You can also try the solutions mentioned in this article if the error code pops up when trying to log in to the OneDrive account.
How do I fix Microsoft OneDrive error code 0x8004de40?
Error Code 0x8004de40 appears with the error message "There was a problem connecting to OneDrive". It appears when trying to sign in to the account. Now, to resolve it, you can try executing the solutions mentioned in this article. What you can also do, is check our guide to resolve Microsoft OneDrive Error Code 0x8004de40. It's a complete guide that will definitely resolve the issue for you.
Also Read: Error 0x8004deb4, OneDrive Login was either interrupted or unsuccessful.