If you're encountering Microsoft Store error 0x8004e108 on your Windows 10 computer when attempting to download new apps or app updates, you can try the solutions we will present in this post to help you resolve the issue.

When you encounter this issue. you'll receive the following full error message;
Try that again

Something went wrong. The error code is 0x8004E108, in case you need it.
Fix Microsoft Store error 0x8004e108
If you're faced with this issue, you can try our recommended solutions below in no particular order and see if that helps to resolve the issue.
Change your internet connection
Check the time, date and time zone on your computer
Reset Windows Store
Run Windows Store App Troubleshooter
Sign out from your Microsoft account and sign in again
Perform System Restore
Let's take a look at the description of the process involved concerning each of the listed solutions.
1] Change your internet connection
A basic tip, but sometimes works like a charm. You may want to check if your internet connection has an issue, and if possible try connecting to a different internet connection and see if the Microsoft Store opens for you. We also suggest you try changing your DNS and see if it helps.
2] Check the time, date and time zone on your computer
Many Apps and services rely on Time Zone, Date and time of your computer. If they are not correctly configured, a request from client machine will be rejected from the server. The same happens with Microsoft Store.
Go to Settings > Time and Language.
If it is set to Automatic, turn off the toggle to set time and time zone automatically.
Then manually select the right time zone for you.
However, if this is set as manually, you may want to set it to automatic and restart your PC.  Once you are back into your account, launch Microsoft Store and see if the issue was resolved for you.
3] Reset Windows Store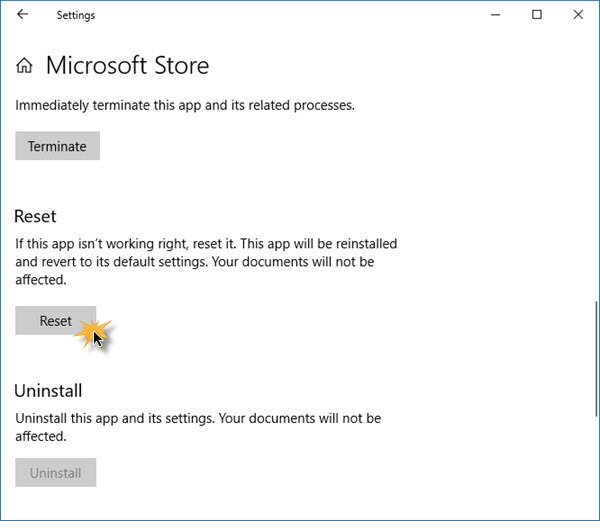 If Windows Store is not working properly, open Windows 10 Settings > Apps > Apps & Features > Locate Microsoft Store > Advanced options > Reset.
4] Run Windows Store App Troubleshooter
This solution requires you to run the inbuilt Windows Store App Troubleshooter and see if the Microsoft Store error 0x8004e108 will be resolved.
5] Sign out from your Microsoft account and sign in again
Do the following:
When in Microsoft Store, click on the profile icon in the top right corner.
Click Sign out.
Search for the application you wanted to download when you received the 0x8004e108 error.
Press Get button on the app download page.
Sign into your Microsoft account, and the installation should begin.
6] Perform System Restore
If you have no idea what changed that might have ended up breaking the Microsoft Store functionality, you can use System Restore (any changes like application installs, user preferences, and anything else made after the restore point will be lost) to revert to a date where you're certain that the printer was working properly.
To perform System Restore, do the following:
Press Windows key + R.
In the Run dialog box, type rstrui and hit Enter to open up the System Restore Wizard.
Once you arrive at the initial screen of System Restore, click Next to advance to the next window.
At the next screen, start by checking the box associated with Show more restore points.
After you've done this, select a point that has an older date than the one in which you first started to notice the error.
Click Next to advance to the next menu.
Click Finish and confirm at the final prompt.
At the next system startup, your older computer state will be enforced.
Any of these solutions should work for you!