100% disk usage becomes a headache to the users if not rectified on time. Even though Windows has improved a lot, there are still bugs, and one such bug is related to IaStorA.sys 100% disk usage when doing nothing. What is peculiar about that problem is that even with the least amount of activity on the PC, the file keeps using the disk to its maximum. 100% disk usage issues force the PC to lag down and show unresponsiveness when idle for a longer time. While the PC can get to normal usage after a restart or can happen on its own, it is still annoying.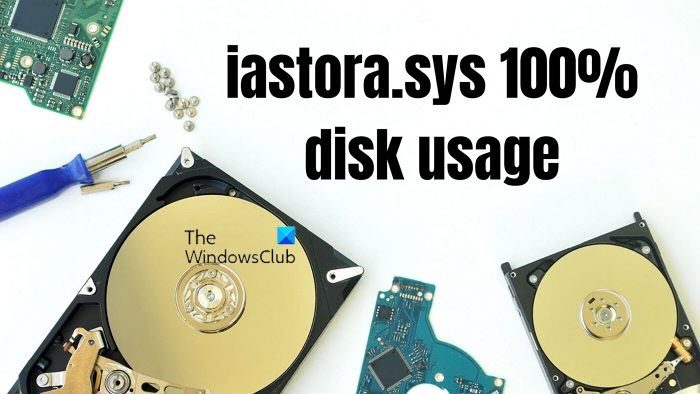 What is IaStorA.sys?
IaStorA.sys is a driver file that comes up in association with Intel Rapid Storage Technology. It is a Windows driver designed to offer accessible communication between your PC and hardware or other connected devices. The iastora.sys process is a safe driver file that doesn't cause any threat to your device. In addition, we can also say that the driver has direct access to the different internal features of an operating system or hardware. One can quickly stop the driver from the Services by using the control panel.
Fix IaStorA.sys 100% disk usage when doing nothing
Follow these suggestions to fix the problem with iastora.sys on your Windows 11/10 computer:
Check for Hardware Failure
Run CHKDSK in Advanced Recovery
Reinstall the Intel Rapid Storage Technology Software
Update Windows 11/10
Make sure to use the admin account to resolve this problem.
1] Check for Hardware Failure
Lousy hardware is the main reason behind the different issues with your computer. Bad hardware results in the pop-up of the error messages while reading, copying, moving, and deleting data and can also cause slow responses in the computer's performance. In case you suspect that it is the presence of any hardware that is causing issues, it's best to get in touch with the technical support team.
Most OEM tech support will run a hard disk diagnostic, which may take more than an hour. These tests will clarify if your hard disk health has deteriorated and is about to fail. If your laptop or storage device is under warranty, you can get a quick replacement instead of a new one.
If you do not want to go for a long press, you can download the OEM software and check it yourself. At the same time, these consumer software are not as advanced as what OEM support will offer but can help you figure out the chances of failure.
Check this if you need some Freeware to Monitor Hard Disk for Potential Failure.
2] Run CHKDSK in Advanced Recovery
CHKDSK is a disk checking utility that can check file system and file system metadata of a volume for logical and physical errors. As you know, the disk has issues. It's best to run the utility in Advanced Recovery. You will need to use a bootable device.
You can go to System > Recovery > Advanced Startup and click on the Restart button.
Once in Advanced Recovery, Go to Troubleshoot > Advanced Options > Command Prompt.
Type CHKDSK here, and press the Enter key. Type Chkdsk /f /r and press the Enter key. Let the scan complete and fix the problem with the disk.
3] Reinstall the Intel Rapid Storage Technology Software
One can easily opt for any of their preferable OEMs Software to resolve this annoying issue. We prefer to go with the Intel Rapid Storage Technology as it is related to the problem here. Go to intel.com website and download and install the software and ensure features such as Optan memory, VMD support, configuration, and other maintenance features are enabled. It also fixes any problem related to the driver or files associated with iastora.sys
Fix: IAStoricon.exe Application Error
4] Update Windows 11/10
If you have tried all of the solutions given above and are still facing that annoying issue, the chances are relatively higher than they might be due to your old Windows. One of the forum users reported that things seemed to have resolved when he upgraded to 20H2. So it could be bugs that get fixed in future Windows updates. So ensure you always update Windows.
Go to Windows Settings > Windows Update to check if you have an update. Click on Check for updates button, download, and install whatever is available.
I hope the post was helpful, and you have successfully resolved iastora.sys 100% disk usage issue now. It is one of the most annoying Windows issues that prevent your device access. It is a driver issue that prevents your communication between the PC and hard drive eventually.
We know how annoying it feels when facing such a situation, and that's why we have landed up with different solutions for the same. You can start with the simplest one to get the best help. If you are still left with any queries or find anything complicated, you can ask for the same in the comment section.
How do I fix a stuck hard drive at 100%?
There are multiple reasons behind stocking up the hard drive at 100%. The situation is quite annoying and prevents your access to your PC. You can update your Windows or use OEM software to resolve the same. You may also want to use the Task Manager to check if there is a process that is continuously using the disk.
Why is my hard disc always running?
The hard disc of a computer system keeps on constantly working as it provides access and execution of all the commands being run. Moreover, the same is an assurance that all of the data stored here is safe in your computer system. Unless the hard disc is running too hard, making noises, or making the PC slow, you don't need to worry about it.