When you see the IAStoricon.exe Application Error in Windows it is usually accompanied by the following message – The exception unknown software exception (0x0434352) occured in the application at location 0x76a92eec. For a normal Windows user, it is not necessary to decipher what is being communicated but to fix the problem. Here's what you can do.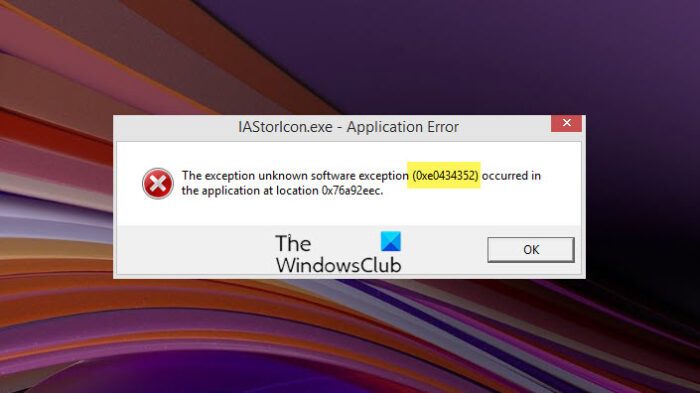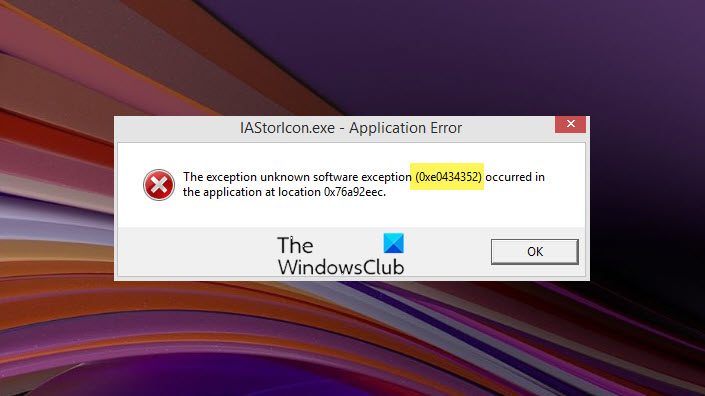 What is IAStorIcon.exe?
IAStorIcon.exe is the Intel Array Storage Icon Service. It is an executable developed by Intel Rapid Storage Technology to display messages related to connected storage devices. Its startup entry is started automatically from a Run, RunOnce, RunServices, or RunServicesOnce entry in the registry. Some issues related to it may result in the error message shown above.
Fix IAStoricon.exe Application Error
The error message itself does not indicate anything worrying as it is a genuine process. Still, if you do not want its popup message to keep appearing on your computer screen, read how to fix it permanently.
Use Intel Driver & Support Assistant
Switch from Insider Build to the Stable version
Check whether the driver supports RAID or AHCI
Disable IAStorIcon.exe Delayed Launcher
Troubleshoot in a Clean Boot state.
Let us explore the above methods in a bit more detail!
1] Use Intel Driver & Support Assistant
IAStorIcon.exe is an executable that belongs to Intel Rapid Storage Technology (RST) software. The file starts with Windows automatically and shows messages related to storage devices, connected to your computer. When chosen, it opens the Intel Rapid Storage Technology tool. Due to some unknown errors or update issues, it might display IAStorIcon.exe – Application Error message.
To fix this you can open and run the Intel Driver & Support Assistant. The tool automatically locates, identifies, and installs drivers for your computer.  Next, it determines which driver updates are relevant to your computer, and install them without any hassles. Before proceeding with this method make sure that you are running the latest version of Intel Driver & Support Assistant.
2] Switch from Insider Build to the Stable version
If you are using an Insider build of Windows 11/10, abort it and switch to the stable build. Then try installing the latest version of the Intel Rapid Storage Technology driver.
3] Check whether the driver supports RAID or AHCI
It's quite possible that you have accidentally downloaded the incorrect driver for your architecture and therefore getting this message repeatedly. You can confirm whether the driver you've downloaded is for the RAID or AHCI architecture by visiting Intel's official page and reading the product description.
4] Disable IAStorIcon.exe Delayed Launcher
You can disable IAStoricon.exe Delayed Launcher via Task Manager. To proceed further, press Ctrl+Shift+Esc to open the Task Manager.
When the Task Manager window opens, switch to the Processes tab.
Under the tab, locate the IAStorIcon.exe process. When found, right-click it and select the End Task option to terminate the process.
Restart your PC to allow the changes to take effect.
5] Troubleshoot in a Clean Boot state
If the above methods do not work, try running your PC in a Clean Boot state. That's because, when you start the computer in clean boot, the computer starts by using a pre-selected minimal set of drivers and startup programs. So, you may need to manually enable one process after the other and see which offender is causing an issue. Once you identify it, you can disable it or uninstall the software that uses the culprit process.
What is iAStoriconlaunch.exe Delayed Launcher?
The 'iAStoriconlaunch.exe' or Intel's 'Delay Launcher' is a startup application that is part of the Intel Rapid Recovery Technology. It is used to provide the user with a fast and easy method of recovering data and bringing back the system to its normal status. It is recommended to keep this process enabled at startup. Having said that, unlike some files that are necessary for Windows stability, IAStorIcon.exe has a little role to play and so can be ended without causing problems.
Why does IAStorIcon.exe crash?
When this event occurs, it's likely that your computer requires an up-to-date version of a particular Intel Rapid Storage Technology driver. Just check for any new Windows updates available and download them. The appropriate driver will be identified and downloaded automatically.