A lot of Metro Exodus gamers are seeing FATAL Metro Exodus along with the "A crash has been detected by BugTrap" error message. The game will crash the moment the error code appears. In this article, we are going to see how you can resolve the issue with some simple solutions.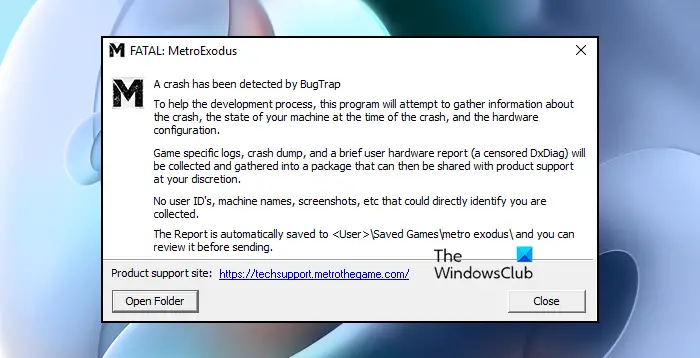 Why does Metro Exodus keep crashing PC?
Metro Exodus or any game may crash if your system doesn't meet the minimum system requirement. That is why it is important for you to check the system requirement of any game before purchasing it. However, most of the users who are seeing FATA Error have already investigated and found out that their computer is meeting the requirements, but they are seeing still seeing the error message in question. So, we should see what is causing the FATAL error in Metro Exodus?
There are a lot of reasons that can trigger FATAL Error in Metro Exodus. These reasons include corrupted system files. Why these files got corrupted is ambiguous, sometimes improper restarts cause the issue other times, an error while installation is what causing the problem. However, they can be resolved easily by verifying the integrity of game files.
Also, there can be an issue with the DirectX that's causing the issue. The DirectX version on your computer may refuse to work with the one on your system and ask you to change its version. Whatever the case is, we will talk about it in detail.
You should also make sure that no third-party program is interfering with your game, if they are, then chances are, you will see the error code in question. So, without wasting any time, let us see how we can fix the problem and get the game to work.
Fix FATAL Metro Exodus crash on startup on Windows PC
Follow these solutions to fix FATAL Metro Exodus, A crash has been detected by BugTrap error when you try to play the game on Windows 11/10 PC.
If you are seeing FATAL: Metro Exodus on your computer then check the following solutions to resolve the issue.
Fix Corrupted File
Change Graphics Settings.
Troubleshoot in Clean Boot
Disable Ansel
Change DirectX Version
Let us talk about them in detail.
1] Fix Corrupted File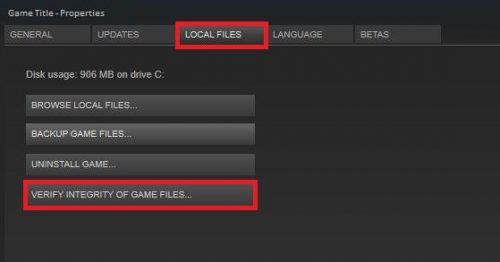 A very obvious reason why your game will crash is corrupted system files. There are various reasons why your game would crash, but the best thing is whatever the reason is, there is a universal solution. Follow the given steps to verify the integrity of game files to fix corrupted files.
Open Steam.
Go to LIBRARY.
Right-click on Metro Exodus and select Properties.
Click on the LOCAL FILES > VERIFY INTEGRITY OF GAME FILES.
Then, restart your computer and check if the issue persists.
2] Change Graphics Settings
We are going to change the Graphics Settings to High Performance. This way your game will have the highest possible Graphical power and hopefully, it will resolve the issue for you. Follow the given steps to change Graphics Settings.
Search out "Graphics Settings".
Click Browse and add the game.
Select the app and select Options.
Select High Performance and click Save.
Hopefully, this will resolve the issue for you.
3] Troubleshoot in Clean Boot
As mentioned earlier, some other third-party programs can interfere with your game. That's why you need to troubleshoot in Clean Boot and find out what's causing the issue. Then if that program is of no greater significance, you can remove it and your issue will be resolved.
Read: Fix High Disk & Memory Usage when playing Games on Windows.
4] Disable Ansel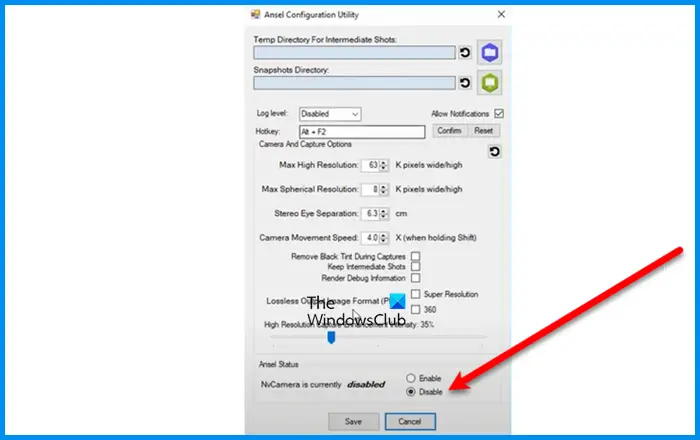 A lot of Nvidia GPU users are using the Ansel to record the game and are seeing the error code in question. We are going to remove some files and disable Ansel, follow the given steps to do the same.
Open Windows File Explorer.
Go to the location where you have stored Metro Exodus.
Delete credits.webm, intro.webm, and legal.webm.
Then navigate to the location where you have installed Ansel. The following is the default location of the file. And open the .exe file
C:\Program Files\NVIDIA Corporation\ Ansel\Tools\NVCameraConfiguration.exe
Go to Ansel Status and Disable it.
Finally, restart your computer and check if the issue persists.
Read: Optimize Windows for PC gaming.
5] Change DirectX Version
For many of you, the DirectX version is an afterthought. But for your game, it is not. So, you should install the latest version of DirectX and see if that helps. In some cases, it does help, but for the most part, it doesn't. That's why we are going to switch the version of DirectX from the app itself. This may not work if your game crashes the moment it is launched, but if it is crashing amidst gameplay, then this is what you need to do.
Open Metro Exodus 
Go to Options > Video.
Change DIRECTX to DX 11.
Restart the game and see if that works.
Hopefully, now, Metro Exodus is not crashing on your system.
Read: What is DirectX Raytracing and what it means for Gaming 
How do I fix a crashed game on Windows 11/10?
There are a lot of ways by which you can get rid of abrupt crashes. If the game in question, Metro Exodus is crashing, then you can follow the solutions that we have mentioned. You can also check our websites for a specific but before that, you should check out our general guide on what to do when your game starts stuttering or freezing.
Read next: Free Game Booster Software to boost gaming performance in Windows.