This post explains how to fix Facebook when it's not working in Firefox. Facebook has been around as one of the most popular social media platforms that connect people from around the world. People are so hooked on it that they can't resist checking Facebook whenever they get time. Though it works fine on all major platforms, a few Firefox users have reported that they are facing issues while using Facebook in their browsers. These issues range from Facebook not loading properly or showing a blank page to only a few features working in the browser. In this post, we are going to discuss what to do if you can't connect to Facebook in your Firefox browser.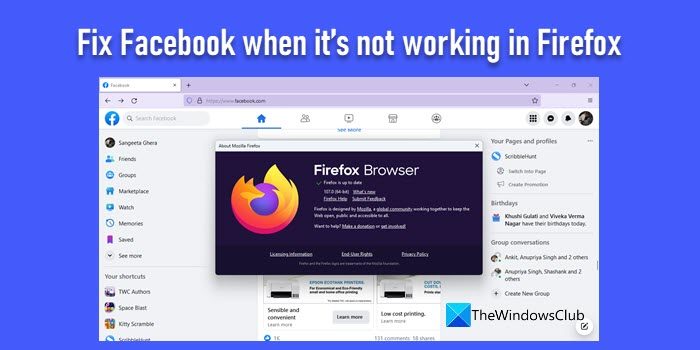 Fix Facebook when it's not working in Firefox
The simplest and the easiest way to fix Facebook when it's not working in Firefox is to switch to a different browser. However, if Firefox is your default and favorite browser and you want to stick to that only, we will share some troubleshooting tips that will help resolve the issue.
Facebook may not be working on Firefox due to a temporary glitch in its servers. You can check this using a
dedicated service for checking website status
, such as IsItDownRightNow.com. If Facebook servers are up and working, your browser extensions or internet security software may be causing the issue. Other possible causes are corrupt cookies or cache, unstable internet connection, and low computer memory.
Start by checking your internet connectivity. If you have strong signals, the network you have connected to may have blocked certain websites (including Facebook) that's causing the problem. Connect to a different network and see if it works for you. Also open Facebook in a different browser, such as Google Chrome or Microsoft Edge. If it works in another browser but not in Firefox, try the following troubleshooting tips:
Update Firefox
Clear Cookies and Cache
Check your Firewall settings
Check if JavaScript is being blocked
Refresh Firefox
Let us see these in detail.
1] Update Firefox
It may be possible that Firefox itself is causing issues if Facebook is not working on it. Update Firefox to the latest version. This will replace missing or corrupt program files, install bug fixes and the latest features to the browser, and improve compatibility issues with websites.
To update Firefox, click on the menu icon (three horizontal bars) in the top right corner of the browser window. Then click on the Help menu and select About Firefox. A popup will appear as shown in the above screenshot. If an update is available, it will show the Restart to update Firefox option. Click on that option to install updates and relaunch Firefox.
2] Clear Cookies and Cache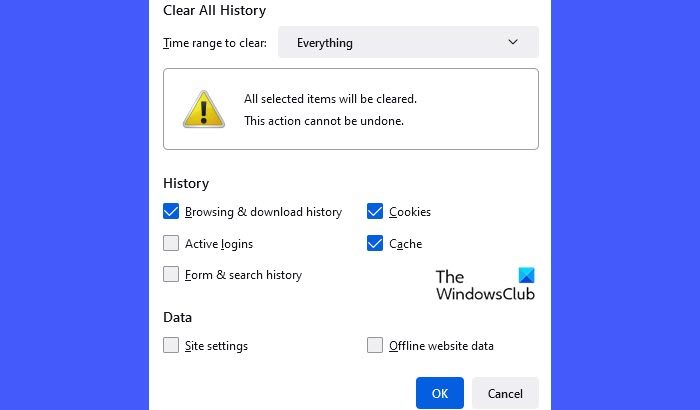 Clearing your browser's cookies, cache, and temporary data may help fix the issue. But before that, you must ensure that Facebook is allowed to use cookies and site data in Firefox. To check this, click on the menu icon. Then go to Settings > Privacy & Security > Cookies and Site Data. Then click on the Manage Exceptions button and make sure facebook.com is not listed there. Next, clear your browsing data following these steps:
Click on the menu icon.
Click on the History menu.
Select the Clear recent history option.
In the Clear All History dialogue box, select Everything in Time range.
Select Cookies, Cache, Browsing  & download history.
Click on the OK button.
Open Facebook and see if this helps.
3] Check your Firewall settings
Windows built-in firewall software may not allow Firefox to make connections. In such a case, Firefox will generate a 'server not found' error when you try to access Facebook. Configure Windows Firewall so that it will allow Firefox and Facebook to access your internet.
4] Check if JavaScript is being blocked
Facebook will not work properly if JavaScript is blocked in your browser. A browser extension or a firewall or antivirus software can block JavaScript. NoScript is one such Firefox extension that has reportedly blocked specific Facebook URLs after an update. Disable such extensions and then try accessing Facebook. A corporate firewall may also block JavaScript for certain websites that are not allowed in a work environment.
5] Refresh Firefox

The 'Refresh' feature removes third-party extensions, themes, and other customizations that may be conflicting with Facebook. It resets Firefox to its default state and creates an 'old profile' folder on your computer, which you can use as a backup to copy your old profile data (essential information such as bookmarks and passwords) to the new Firefox profile.
Read Next: Fix Facebook Messenger not working on the computer.