If Facebook is not loading, working or showing Blank pages in Google Chrome, Mozilla Firefox, and Microsoft Edge browser, these troubleshooting suggestions will help you get rid of the issue. It may appear due to various reasons, and this article explains most of the common causes and solutions so that you can continue using Facebook without any problems.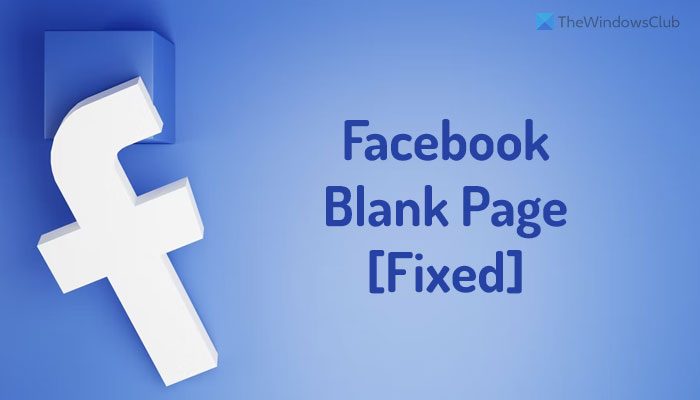 Fix Facebook Blank page in Chrome, Firefox, Edge
If Facebook is showing a blank page in Chrome, Firefox, and Edge, follow these steps:
Verify internet connection
High CPU or Memory issue
Remove content blocking extension
Update browser
Clear site data
To learn more about these steps, continue reading.
Facebook not working in Chrome, Edge, Firefox
1] Verify internet connection
It is the very first thing you need to check when Facebook is showing a blank screen. For your information, Facebook needs a good bandwidth to display all the elements, including videos, photos, etc. If you have some internet connection issues, you might come across this problem on your browser. No matter whether you use Chrome, Firefox, or Edge, you might find this issue on any browser.
Therefore, you can try to open other websites and check if those are opening or not. On the other hand, you can enter this command in the Run prompt as well:
ping facebook.com -t
If it shows a valid result, you need to follow other steps. Otherwise, wait for some time until it shows a valid result.
2] High CPU or Memory issue
If your computer is having high CPU or Memory usage issues by the browser, you need to fix that first. No matter which browser you use, this problem can occur for any browser. The easiest way to check if your browser consumes more resources is by opening the Task Manager.
Also, if your browser hangs a lot, you can open the Task Manager and check if it is consuming more resources than usual or not. If yes, you need to get rid of that first.
3] Remove content blocking extension
Nowadays, many people use various content blocking extensions, including ad blockers, Javascript blockers, etc. If you are using any such extension in the browser, you need to disable it immediately. At times, these extensions could cause the issue, as said earlier. Therefore, open your browser's extension or add-on management panel and deactivate the respective extension accordingly.
4] Update browser
If you haven't updated your browser for a long time, it might come with some glitch or bug. In such situations, updating the browser seems to be the best solution you can opt for. Therefore, open your browser and update it to the latest version.
5] Clear site data
It doesn't matter which browser you use; you can delete the specific site data. In this case, you need to remove the Facebook data from your browser.
Google Chrome:
Open Facebook on the browser.
Click on the lock icon and select Site settings.
Click on the Clear data button.
Mozilla Firefox:
Open facebook.com on the browser.
Click the lock icon.
Select the Clear cookies and site data button.
Click the Remove button.
Microsoft Edge:
Open Facebook website on the browser.
Click on the lock icon.
Click the Cookies option.
Select the cookies you want to delete.
Click the Remove button.
Following that, check if the problem is resolved or not.
Read: Fix White or blank Screen issue in Google Chrome
Why am I getting a blank screen on Facebook?
There could be several reasons why you are getting a blank screen on Facebook. From not having a valid internet connection to content blocking extensions, anything could be responsible for this problem. However, you can go through the aforementioned solutions to get rid of this issue.
How do I fix my Facebook white page?
To fix the Facebook white page issue on Chrome, Firefox, or Edge browser, you can follow the above-mentioned solutions. For example, you can update your browser, delete site data, disable content blocking extensions, fix high CPU and Memory usage issues, etc.
That's all! Hope these solutions worked for you.