This post features solutions to fix Epson Printer Utility Setup Error 1131. Printers from Epson are known for their high-quality printing, scanning, and copying capabilities. But like any other device, they can encounter bugs and errors occasionally. Users have recently complained about utility setup error 1131 on Epson printers. Fortunately, you can follow some simple steps to fix it.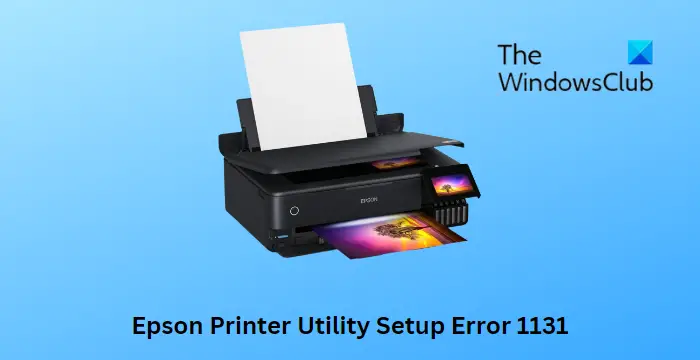 What is error message 1131?
The printer utility setup error 1131 occurs while installing a printer or its related software on the device. This error message is an indication that there is an issue with the Epson printer driver or the printer itself. However, several potential reasons may cause it, including conflicts with a third-party application, pending print jobs in the print spooler, etc.
Fix Epson Printer Utility Setup Error 1131
To fix Epson Printer Utility Setup Error 1131, update the printer drivers and restart the print spooler. However, if that doesn't help, follow these suggestions:
Run Printer Troubleshooter
Update Printer Drivers
Restart Print Spooler
Uninstall recently installed Windows Update
Configure your printer again
Now let's see these in detail.
1] Run Printer Troubleshooter
Before getting started with different methods to fix this issue, run Microsoft's built-in Printer troubleshooter. Here's how:
Press Windows Key + I to open Settings.
Scroll down and select Troubleshoot > Other Troubleshooters.
Click on Run beside Printer.
Once the process is complete, restart your device to see if the printer error 1131 has been resolved.
2] Update Printer Drivers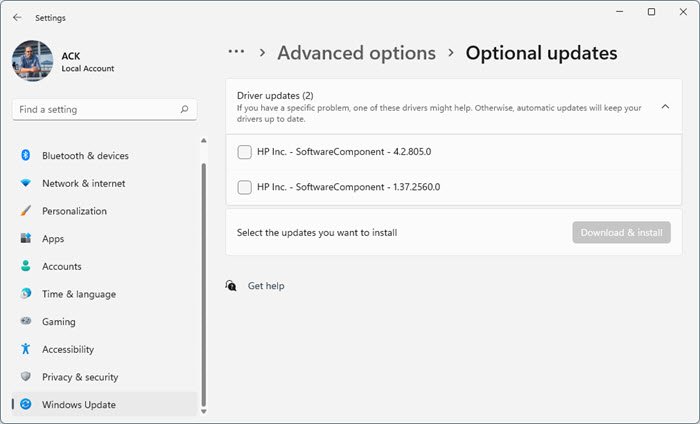 Update your Printer driver and see. Keeping your drivers up-to-date is very important. Although Optional Updates do update some of the drivers, some require you to download the driver manually from the manufacturer's website. Here's how:
Open Settings and navigate to Update & Security > Windows Update.
Right under it, look for a clickable link— View optional updates.
Under Driver Updates, a list of updates will be available, which you can choose to install if you are facing an issue manually.
You can also directly download your Epson Printer Driver from its website.
3] Clear and Reset Print Spooler
Clearing pending print jobs can potentially resolve error 1131. To do so, you'll have to clear and reset the Printer spooler. Here's how:
Press the Windows key + R to open the Run dialog box.
Type services.msc and hit Enter.
Scroll down and right-click on Print Spooler.
Click on Stop.
Next, navigate to the following folder and delete all the CONTENTS of this folder.

C:\Windows\System32\spool\PRINTERS

Now right-click again on the Print Spooler service and restart it.
4] Uninstall recently installed Windows Update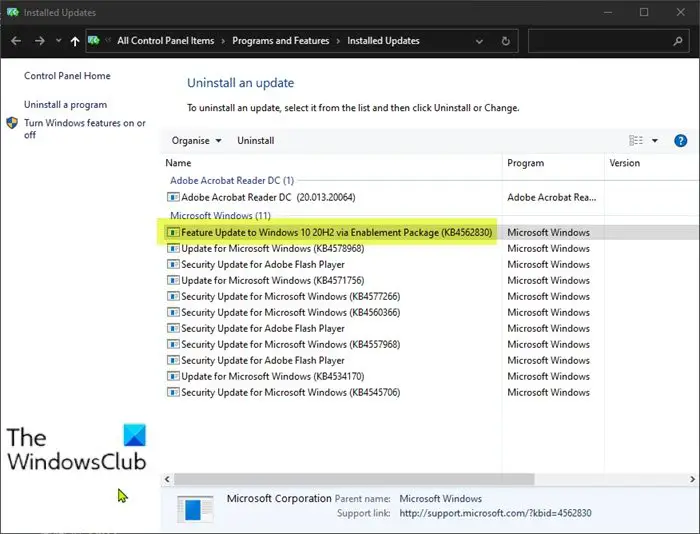 A broken or corrupted file installed with the system update can sometimes make printers malfunction. Uninstalling a Windows Update can help fix the program that won't open after a Windows Update. To Uninstall Windows Updates in Windows 11, do the following:
From the Start or WinX Menu, open Windows 11 Settings
Click on Windows Update on the left side
Click on Update History
Now scroll down till you see Uninstall updates under Related settings
Click on the button on the right side
The Installed Updates Control Panel applet will open
Right-click on the Update and select Uninstall.
5] Configure your printer Again
If none of these methods were able to help, re-configure your printer. To do so, you'll have to uninstall the printer and then install it again.
Read: Fix Epson Printer Error 0x10 on Windows computer
We hope this post helps you.
Where is the Epson error code?
The error code by Epson devices usually appears on the printer's or the computer's screen. However, the specific location of the error code can vary according to the printer. Usually, errors related to the printer's ink cartridges are displayed on its screen and errors related to drivers, or connectivity are on the computer's screen.
How do I reset my Epson printer settings?
To reset your print settings to their default values, press and hold the Cancel button for 3-4 seconds. A confirmation will now appear asking for permission to reset your printer. Press Ok to confirm the reset.