Windows computers allow you to connect with numerous Printers at different times. The process of installing a printer application into your computer has evolved to become very convenient over the years. But, at any given time, there are only so many printers that your computer really needs to stay hooked on. Each time you install a printer, it stays there until you manually get rid of it. Even after you decide on removing the printer, your device's memory stores its driver in case it is ever installed again in the future. Today I will be sharing with you various methods by which you can permanently delink printers from your computer.
How to remove a Printer in Windows 11/10
There are several ways in which you can go about uninstalling a printer on a Windows computer, so I will be discussing five of them:
Via Settings
Via the Control Panel
Using Print Server Properties
Using the Command Prompt
Through the Registry Editor.
1] Uninstall Printer using Settings
Open up your Windows settings.
Among the categories, you'll find one named 'Devices'. Click on it.
Scroll through the options on the left side and choose 'Printers and Scanners.' There, you'll find the list of all printers and scanners that have, to date, been installed into your computer.
Click on the one you wish to uninstall, and you will be presented with a 'remove device' option.

Following through till here would do the job for most people out there, but in case you are using a third-party application to run these printers, you will have to get rid of it too. This can be done by:
Selecting 'Apps' from the 'Settings'.
Click on 'Apps and Features
Select the software and uninstall.
Related: Application Isolation feature in Windows 10 isolates applications from Printer drivers.
2] Uninstall Printer using Control Panel
Open Control Panel by typing so on your computer's search pane.
Go to the 'Hardware and Sound' category.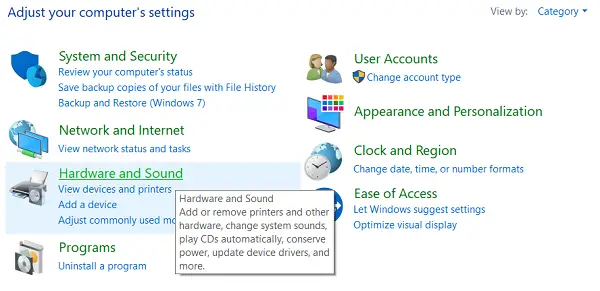 Click on the option that says 'Device and Printers'.
Here, right-click on the printer you want to uninstall, and from the subsequent drop-down that will appear, click on 'Remove device'.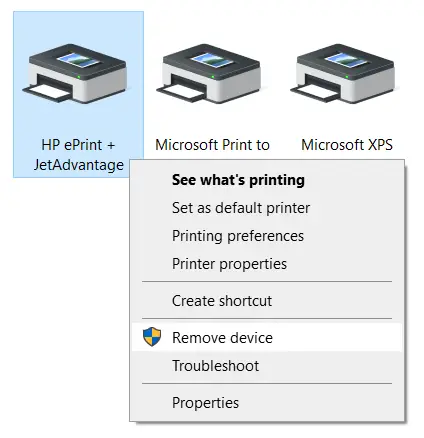 You should follow the aforementioned steps regarding the uninstallation of any printer-related software if you choose to delink printers using this method too.
3] Uninstall Printer using Print Server Properties
There may, at times, be a case where even after uninstalling a printer through your device settings, you are still seeing it among the printers currently or previously linked with your computer. In such a scenario, you can make use of your device's Print Server Properties to remove a printer.
Open your computer's settings and navigate to 'Devices.'
On the left, under related settings, you'll see an option by the name 'print server properties.'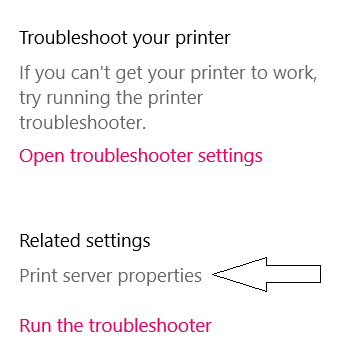 Another way, and a rather quick one, of opening Print Server Properties, is to open the 'Run' execution and type the following and hit Enter:
 printui /s /t2
Anyway coming back, clicking on the Print server properties link will open a separate dialog box enlisting different properties. Choose the 'Drivers' settings.
It will then show all the printers stored in your computer's inventory.
Click the one you want to uninstall and press 'Remove' from the bottom of the box.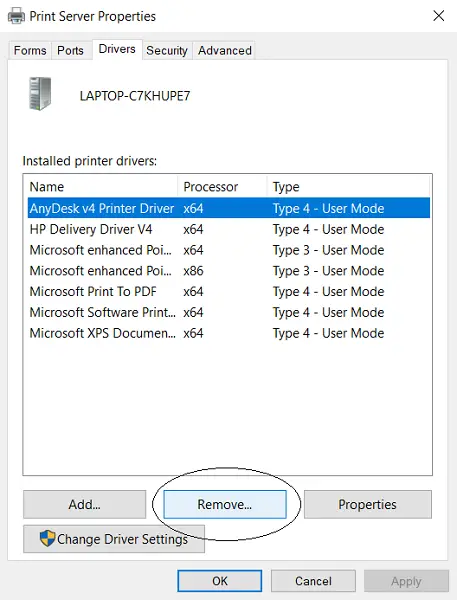 Now, you'll be given a choice; to either only remove the driver or the driver package along with it. Select the one suitable to you and click 'OK.'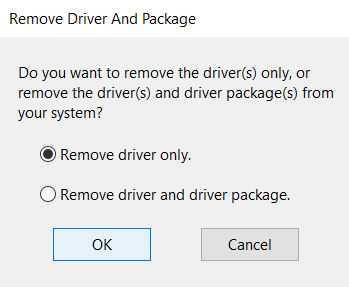 4] Uninstall Printer using Command Prompt
You can also make use of the Windows Command Prompt to remove a printer from your device.
Select Start and after searching for the Command Prompt, run it as administrator.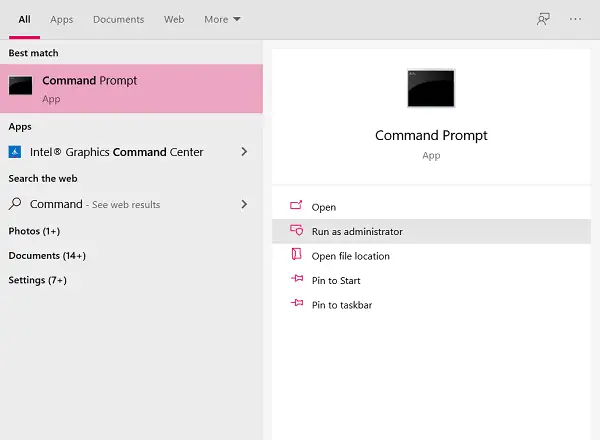 Type out the following command to get a list of printers that are stored in your computer's memory and press 'Enter'.
wmic printer get name
Proceed by typing out the following command and replace 'Printer Name' with the name of the printer you want to uninstall as it is mentioned in the list generated using the above prompt. Press Enter to complete the process.
printui.exe /dl /n "Printer Name"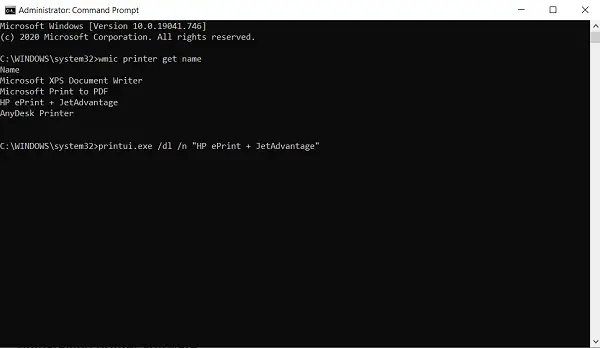 This should help if your Deleted Printer keeps reappearing.
5] Uninstall Printer using Registry Editor
The Windows Registry is the collection of Windows Settings' databases. It is in this Windows Registry that the settings of most software programs and hardware are stored. The Registry Editor is the gateway to making edits or scanning the existing program settings. This, too, can be used to uninstall printers from your Windows 10 PC.
In the Run command, type regedit.exe and press enter to open the Registry Editor.
In order to locate the printers linked with your computer, enter the following key.
HKEY_CURRENT_USER\SOFTWARE\Classes\Local Settings\Printers\Roamed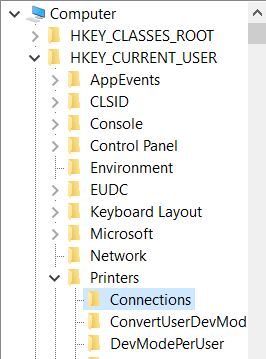 Use the following key, then.
HKEY_LOCAL_MACHINE\SYSTEM\CurrentControlSet\Control\Print\Printers

This will help present you with the list of printers, from where you can right-click the particular printer and click 'Delete.'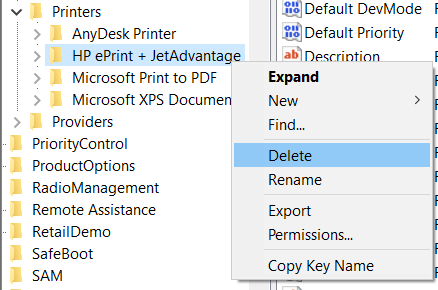 There are several more methods you can follow in order to uninstall printers from your computers like using the PowerShell or the Print Management settings, all of which are just as good as the aforementioned ones.
Hope you find the post useful.